Exclusive: Labour would give tax rebates to firms that pay living wage
Ed Miliband vows to tackle the issue of low pay as his 'central mission'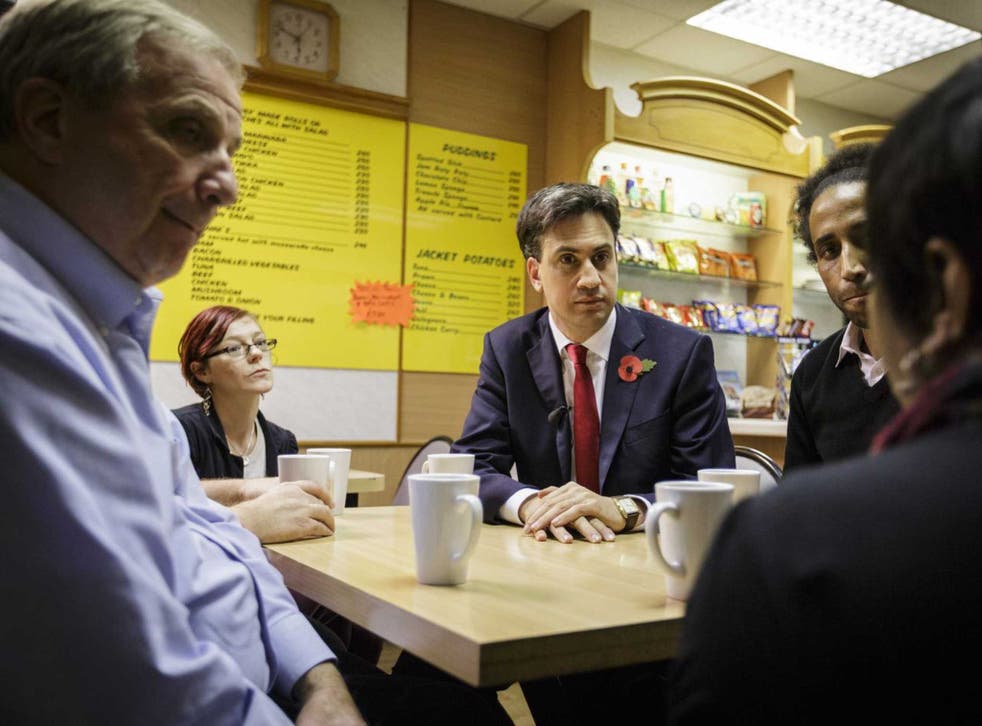 Firms that pay their staff the living wage will be given a tax rebate of up to £1,000 for each worker by the next Labour government, potentially increasing incomes for millions of employees, Ed Miliband pledges today.
In an interview with The Independent on Sunday,, the Labour leader said it would be his government's "central mission" to spread the living wage, currently set at £7.45 an hour, across the country, and among private and public sector employers.
A Labour government would encourage businesses to sign up to "make work pay contracts" within the first year of parliament. In return, for every low-paid worker whose earnings were lifted to the living wage, firms would receive up to £1,000, or an average of £445, for each individual, for 12 months.
The money would be funded directly from the increased tax and National Insurance revenues received by the Treasury, and from savings made in tax credits and benefit payments, which would be lower because more people would be lifted out of in-work welfare. For every extra £1 that employers pay to raise earnings to the living wage, the Treasury saves 49p in lower social security payments and higher tax revenues. The Government would pay back 32p to firms for every £1 saved.
The policy marks a shift away from the previous Labour government's reliance on tax credits to lift the incomes of low earners. Research has shown that, among the 400 firms and councils that pay their staff the living wage, staff retention rates and morale are higher.
New rates for the living wage – the rate for workers to live on, judged by the Living Wage Foundation – will be announced tomorrow. Current rates are £7.45 nationally, and £8.55 in London.
Mr Miliband told The IoS: "This is a wealth creation agenda as well as a wealth distribution agenda. Dealing with issues of low pay, ensuring that companies don't have such a high turnover of staff, giving incentives for a higher-pay agenda, is absolutely part of a wealth creation agenda. It's not just about a wealth distribution agenda.
"There is no route to tackling the cost of living crisis that doesn't go through tackling the issue of low pay. This will be the central mission of the next Labour government: to spread the living wage across the country. Millions of people could benefit and I think it's a pro-business agenda as well as a pro-worker agenda."
He went on: "For years we've known that government is spending quite a lot of money on supporting those paid less than the living wage. Let's convert that into actually giving an incentive to employers to get over the hump of getting to be a living-wage employer.
"And government will actually save money on social security as a result of this, and employers will even be better off, helping tackle the cost of living crisis."
A report by Alan Milburn, the former Labour Cabinet minister and now an adviser to the coalition on social mobility, found that 4.8 million people are being paid less than the living wage – 1.4 million more than in 2009. New analysis by The IoS shows that that figure has now risen to more than 6.5 million.
Mr Miliband insisted that the Make Work Pay contracts would not lead to more bureaucracy for employers, and that Alan Buckle, the deputy chairman of KPMG International, would look at introducing the measure in as simple a way as possible, as part of his continuing review into low pay.
The Labour leader added: "Why have the Tories been so comprehensively left behind on this cost-of-living crisis? Because they've got nothing to say ideologically about it, because they want to encourage the rate of low pay, more of a hire-and-fire culture, weaken any rights, weaken agency workers.
"I think this is about an even bigger question than the cost of living crisis, which is: what kind of country do we want to recover to be? Who do we want to recover to be, as a country? Who does Britain work for? Does it just work for a few people at the top – or does it work for everybody?"
Analysis by The IoS of new government data released to MPs last week shows that 6.6 million working people – more than one in five of all workers across the country – are not being paid enough to live on. That is almost double the 3.4 million workers in that situation in 2009. Fifteen per cent of those in full-time work and 40 per cent of part-time workers are not being paid a living wage.
Constituency-by-constituency analysis of wage rates reveals massive differences across the country, ranging from just 3.2 per cent of full-time workers in parts of London to 40 per cent of full-time workers in the North Wales constituency of Dwyfor Meirionnydd, which includes Porthmadog and Blaenau Ffestiniog.
As far as part-time workers are concerned, West Bromwich East is the worst place in the country when it comes to pay – with 75 per cent earning less than the living wage.
Speaking to mark the start today of Living Wage week, which aims to focus attention on the problem of working poverty, Neil Jameson, executive director of Citizens UK, said: "It is more important than ever that hard-working families are paid enough to live – not just to survive."
Some 30,000 workers will get a pay rise as a result of the new national living wage. The rate is above the compulsory minimum wage, currently £6.31 for those over 21.
More than 420 businesses and organisations, including KPMG, Legal and General, JP Morgan, Great Ormond Street Hospital and the National Portrait Gallery, now pay their workers enough to live on. But only 27 of the total number are major employers with workforces of more than 500 people. The vast majority of Britain's 1.9 million employers are not accredited by the Living Wage Foundation.
Case study: 'Getting the living wage made me feel I mattered to my company'
John Barkarr, 43, London. Married with two children. Works for a small charity which pays the living wage
"London is so expensive and the cost of everything you need seems to increase all the time – food, accommodation, fares, things my children need for school. When the cost of their school dinners went up, it was only by a bit, but paying it every day for two kids adds up. They don't qualify for free meals, and it meant we were struggling.
"The move to the living wage has changed my life for the better. It has given me a little extra to spend on my wife and kids, and that brings joy to a man. It means we have a proper family life; we can do things together like going to the cinema or a play centre. Even better, being paid the living wage made me feel as if I mattered to my company.
"It showed they valued me. I felt they were genuinely looking out for me, and that gives you strength and energy. I don't think 'I don't want to be out of a job'; I think 'I really don't want to be out of this job'. It makes me want to give more. I always liked this job but now I like it even more."
Join our new commenting forum
Join thought-provoking conversations, follow other Independent readers and see their replies