Exclusive: Tory Eurosceptics to defy Cameron with manifesto pledges in next year's general election
Up to 100 MPs will call for EU exit regardless of concessions won by PM, with many in marginal constituencies seeing it as the only way to save their seats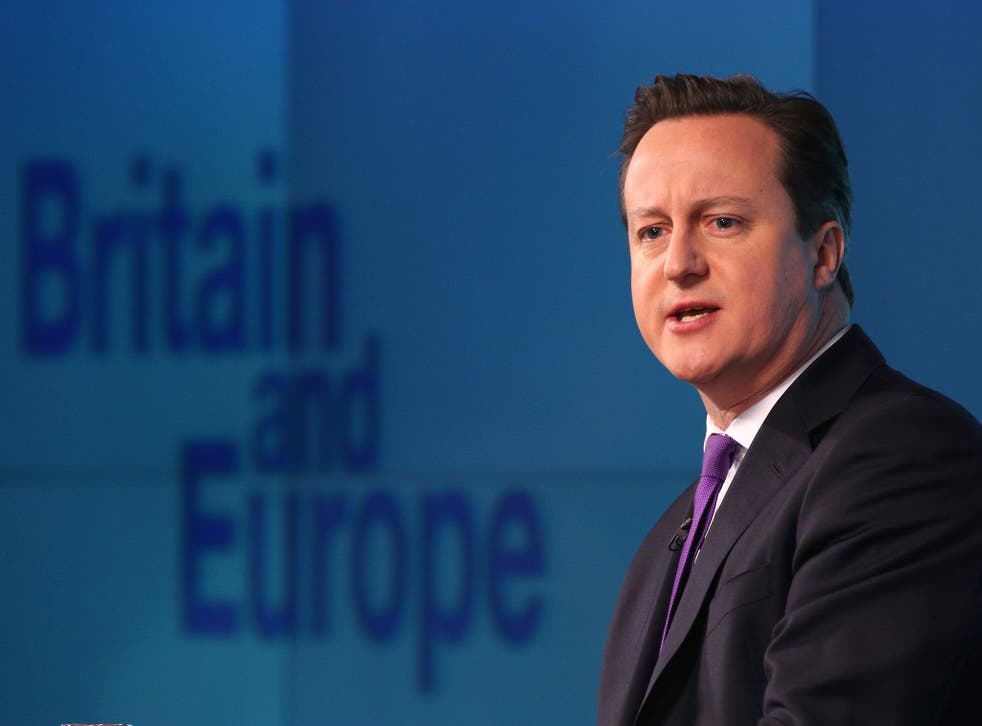 David Cameron faces a damaging new revolt over Europe as up to 100 Conservative MPs prepare to defy him by declaring they will vote to leave the European Union no matter what concessions he wins for Britain.
Rebel Tory Eurosceptics will pledge in their personal manifestos at next May's general election that they will definitely vote for the UK to quit the EU in the referendum Mr Cameron has promised in 2017. This would be widely seen as a vote of no confidence in the Prime Minister's ability to win a good deal for Britain when he renegotiates its membership terms after the election.
It would echo the warning by Douglas Carswell, the former Tory MP who defected to Ukip last week, who claimed Mr Cameron was not "serious" about EU reform and wanted to recommend voting to remain within the union. Mark Reckless, Tory MP for Rochester and Strood, told The Independent: "My election manifesto will confirm my view that we should leave the EU."
Other Eurosceptics predicted today that between 50 and 100 Conservative MPs would make the same pledge in their election material. A revolt on that scale would be almost impossible for Tory HQ to prevent.
There are strong parallels with the 1997 election, when the majority of Tory candidates vowed in their local addresses to oppose joining the euro. The rebels included Mr Cameron, who stood unsuccessfully in Stafford. They defied the "negotiate and decide" stance of John Major, then Prime Minister, who issued a plea to the rebels "not to bind my hands", to no avail. Tory divisions surfaced during the campaign and Labour won a landslide victory.
Another Tory MP said: "Many colleagues in marginal constituencies see an 'out' pledge as the only way to save their seat. 'Outers' in non-marginals will also make the pledge."
Tory MPs who want to leave the EU

Show all 4
Tories plotting the move hope that Ukip might "go soft" on Tory candidates who promise to vote to leave the EU whatever the outcome of the post-election negotiations.
The Tories have ruled out an electoral pact with Nigel Farage's party but it could be difficult to stop informal pacts locally. "If the whips and Tory HQ try to crack down on it, they will just draw more attention to the party's split and make it a bigger story," said a third MP who intends to make a "vote out" promise.
Mr Cameron may harden his line at this month's Tory conference by saying he is prepared to recommend an "out" vote to the British people if he fails to win a good enough deal. But some Eurosceptics are already discounting the impact of such a move. One said: "It is unlikely to work with the public or MPs because Cameron is not trusted."
Tory gloom over Mr Carswell's surprise defection increased as a poll by Survation for The Mail on Sunday suggested the former MP will easily win the by-election he has triggered by resigning his seat. He will fight under Ukip's colours.
The survey put Ukip on 64 per cent in the Clacton constituency, with the Tories trailing on 20 per cent, Labour on 13 per cent, the Liberal Democrats on 2 per cent and others on 1 per cent. When Tory supporters were asked whether they regard Mr Carswell as a hero or traitor, 49 per cent replied "hero" and 17 per cent "traitor."
The poll suggested that the Tories' plan to warn that voting Ukip next May could put Ed Miliband into Downing Street may cut little ice. When Ukip supporters were asked about such a warning, 16 per cent said it would make them more likely to vote Ukip, 15 per cent less likely to back Mr Farage's party and 69 per cent that it would make no difference.
Zac Goldsmith, Tory MP for Richmond Park, said he could be tempted to defect to Ukip if the party "entirely embraced the environmental agenda".
Tory aides insisted that the Conservative manifesto would reflect Mr Cameron's strategy, giving the public the final say on Britain's EU membership.
Mr Cameron hopes his drive for EU reform will be boosted by the decision at the weekend to appoint Donald Tusk, the Polish Prime Minister, as President of the European Council of the 28 national leaders.
After an EU summit in Brussels, Mr Cameron said: "I'm delighted obviously with what Donald Tusk has said about the importance of reform in the EU and addressing the concern that Britain has in the EU."
Mr Tusk said he "could not imagine" the EU without Britain as a member, insisting it would be possible to "reach an agreement" on issues such as freedom of movement of labour.
Federica Mogherini, the Italian Foreign Minister, was appointed the successor to Baroness Ashton as the EU's foreign affairs chief.
Mr Cameron used the summit to lobby Jean-Claude Juncker, the new European Commission President, to give an economic brief to Lord Hill, Britain's new member of the Commission. One option would be the financial services portfolio, a move that would reassure the City of London, which is worried about EU regulation.
But no decisions have yet been made by Mr Juncker, who is expected to unveil his list of commissioners next week.1
Join our new commenting forum
Join thought-provoking conversations, follow other Independent readers and see their replies