First Minister Peter Robinson brands Martin McGuinness a 'dictator' over breakdown of talks on future of Northern Ireland
Nationalist leader had blamed unionists for former US diplomat Dr Richard Haass's failure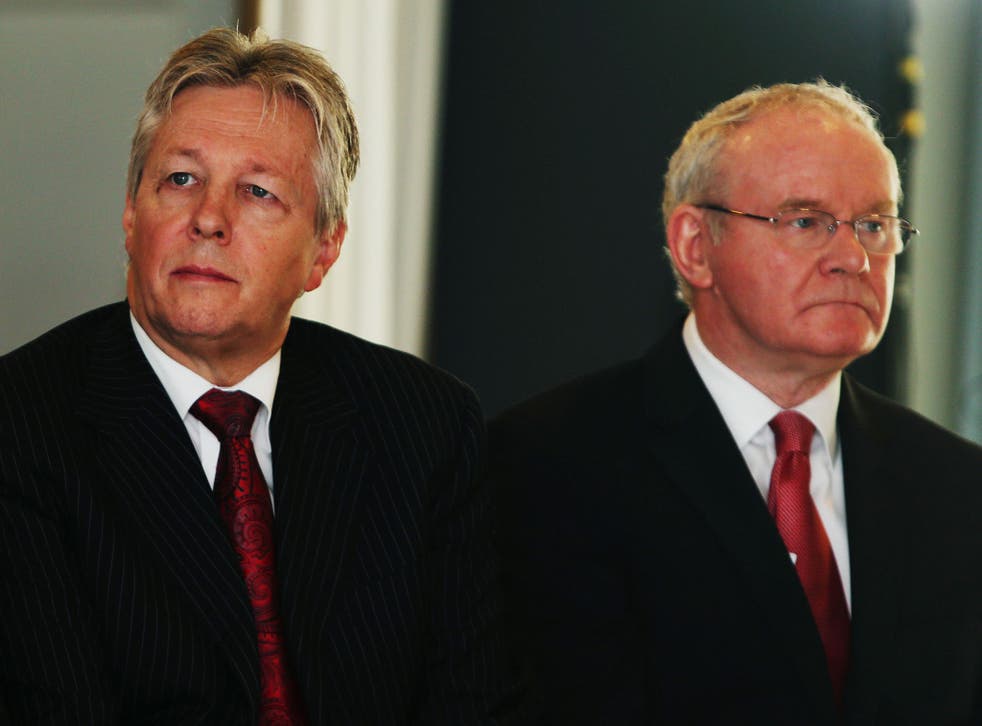 Simmering political tensions in Belfast have erupted into open rhetorical warfare, with unionists and republicans angrily blaming each other for recent failed attempts to make progress.
Martin McGuinness, Sinn Fein's Deputy First Minister, accused unionist parties of "dancing to the tune of extremists" in failing to agree to a deal in recent talks. He claimed unionist leaders had told him that in Belfast the Orange Order, the main Protestant marching organisation, was "one and the same" as the Ulster Volunteer Force, an illegal paramilitary group. This, he said, had impacted on the recent unsuccessful negotiations chaired by former US diplomat Dr Richard Haass.
But in an angry response, First Minister Peter Robinson of the Democratic Unionist Party accused the republican leader of being unhelpful. He declared: "He speaks as if it is every other party's requirement to move to his position, and if they do not then he considers it to be a lack of leadership on their part. He speaks as if he is not one of the parties but rather the controller and dictator of how the process will operate."
Mr Robinson's DUP deputy leader Nigel Dodds added that republicans should "stop wallowing in the filth of murder".
The heated rhetoric is a sign that the political atmosphere, which has been strained over the past year, has reached a new level of sourness. The DUP and Sinn Fein are in coalition in a power-sharing system together with three other parties, but have long been deadlocked on many issues.
The Haass talks were established to tackle three of the most toxic problems: those of regulating marching and flag-flying, and dealing with the past. But despite producing seven draft documents, agreement was not reached on any of them.
In the last phase of negotiations, Barack Obama and David Cameron were kept abreast of the state of play, with Mr Cameron and US vice-president Joe Biden telephoning to urge the unionist parties to clinch a deal. The Irish government also pressed for accord.
But the talks broke up on New Year's Eve. Dr Haass, who has returned to the US, has since issued several appeals to the Belfast parties to come to reach last-minute accord, but without success. Sinn Fein and the SDLP, another national party, accepted the Haass proposals, but the DUP and the Ulster Unionists refused to do so.
Join our new commenting forum
Join thought-provoking conversations, follow other Independent readers and see their replies