Former Chancellor George Osborne urges Theresa May to back expansion of Heathrow Airport
'Time for a decision on airports and go for Heathrow'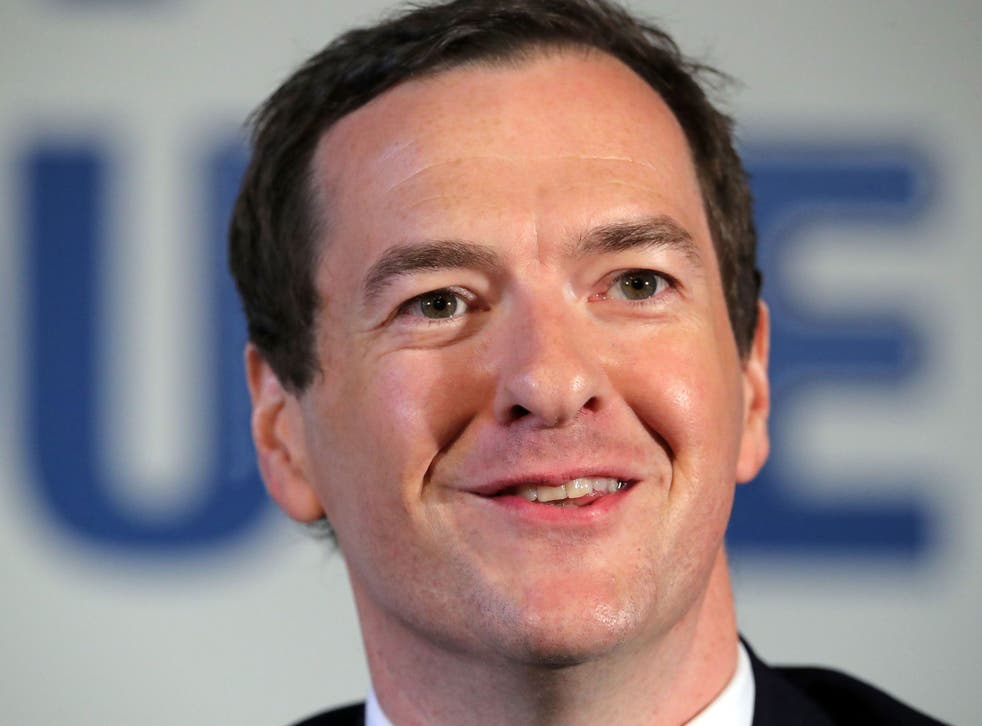 George Osborne has intervened in the airport expansion debate by urging Theresa May to back the expansion of Heathrow Airport.
Mr Osborne, the former Chancellor, who was removed from his post in July when Ms May became Prime Minister, said the west London hub needs increased capacity so that Britain can be "outward-looking, free-trading and global".
A decision on the capital's airport capacity is expected to be announced within the next few weeks after the Prime Minister told delegates at the Conservative conference the Government needed to make "big" and "sometimes even controversial decisions about our country's infrastructure."
She added: "It is why we will press ahead with plans for High Speed 2, linking London and Birmingham and, eventually, towns and cities in the North. Why we will shortly announce a decision on expanding Britain's airport capacity."
Her predecessor, David Cameron, had delayed such a decision until after the referendum on Britain's membership of the European Union.
The former Chancellor claimed that although building a second runway at the latter could be considered, it should not happen at the same time as Heathrow expansion. In a series of Twitter messages, the Conservative MP for Tatton wrote: "Time for a decision on airports and go for Heathrow.
He added: "Economic case overwhelming. Connects Northern Powerhouse. Ensures Britain is open to world. If we want Britain to be outward-looking, free-trading and global, we must expand the great airport that connects us to that world and that trade.
The most delayed UK airports in pictures

Show all 10
"We can consider Gatwick expansion. But not at the expense of Heathrow - and not in parallel or else, in practice, nothing will get built." But John Sauven, executive director at Greenpeace, described expansion of both airports in the capital as the "worst of both worlds".
But a decision to expand Heathrow could create tensions within the Cabinet as Justine Greening, the Education Secretary, has previously vowed to "win" the battle against the expansion of the aiport.
Ms Greening is one of several high-profile Conservatives, including the former London mayoral candidate Zac Goldsmith, who have openly opposed plans to build another runway, arguing it would mean extra noise pollution for their constituencies.
The Education Secretary, who is also the MP for Putney, said during the Tory conference in Birmingham: "It's a debate that I'm still aiming to win…. It's one of those issues that has people with very different views, but I'm certainly going to put my views across, and we'll see where we end up on the decision."
When asked by BBC Radio 5 Live if her position in Cabinet would be "untenable" if the decision went against her, Ms Greening would not comment on a scenario that she described as "hypothetical".
Sadiq Khan, the London mayor, however, has called for an extra runway to be built at Gatwick rather than Heathrow. In a letter to the Prime Minister, also signed by 30 cross-party London MPs, council leaders and London Assembly members, he claimed a second runway at the west Sussex airport would be the best choice for the capital.
The world's worst airports

Show all 13
Sarah Clayton, co-ordinator at AirportWatch, an umbrella group of environmental organisations and community groups, said: "It's the most crazy time for the Government to be building a runway, they've got Brexit, no idea what's happening with the pound, with the economy.
"The whole thing is madness."
She suggested that if both airports got the go-ahead for a new runway, then it would mean Gatwick would not be able to expand as it would lose out in competition with Heathrow for airlines. And if the runways were built, it would entail billions of pounds of spending on infrastructure which would have to be paid for by the taxpayer, she added.
Of communities near Gatwick and Heathrow, and under their flight paths, Ms Clayton said: "People are really scared, they're genuinely distraught."
Aviation minister Lord Ahmad, asked in the House of Lords earlier this week whether the Government will consider supporting one of the two Heathrow options as well as Gatwick, replied: "As far as expansion is concerned, the Commission reported back on the need to increase capacity by 2030 with the addition of one runway in the South East, and that is where the Government's decision is focused."
Register for free to continue reading
Registration is a free and easy way to support our truly independent journalism
By registering, you will also enjoy limited access to Premium articles, exclusive newsletters, commenting, and virtual events with our leading journalists
Already have an account? sign in
Register for free to continue reading
Registration is a free and easy way to support our truly independent journalism
By registering, you will also enjoy limited access to Premium articles, exclusive newsletters, commenting, and virtual events with our leading journalists
Already have an account? sign in
Join our new commenting forum
Join thought-provoking conversations, follow other Independent readers and see their replies