Four visits in nine months and statements in the Commons on the controversial Rajapaska regime: why does the 28-year-old MP for Stockton James Wharton care so much about Sri Lanka?
His opponents say James Wharton's defences of Colombo regime are influenced by his travels –but he insists he's no cheerleader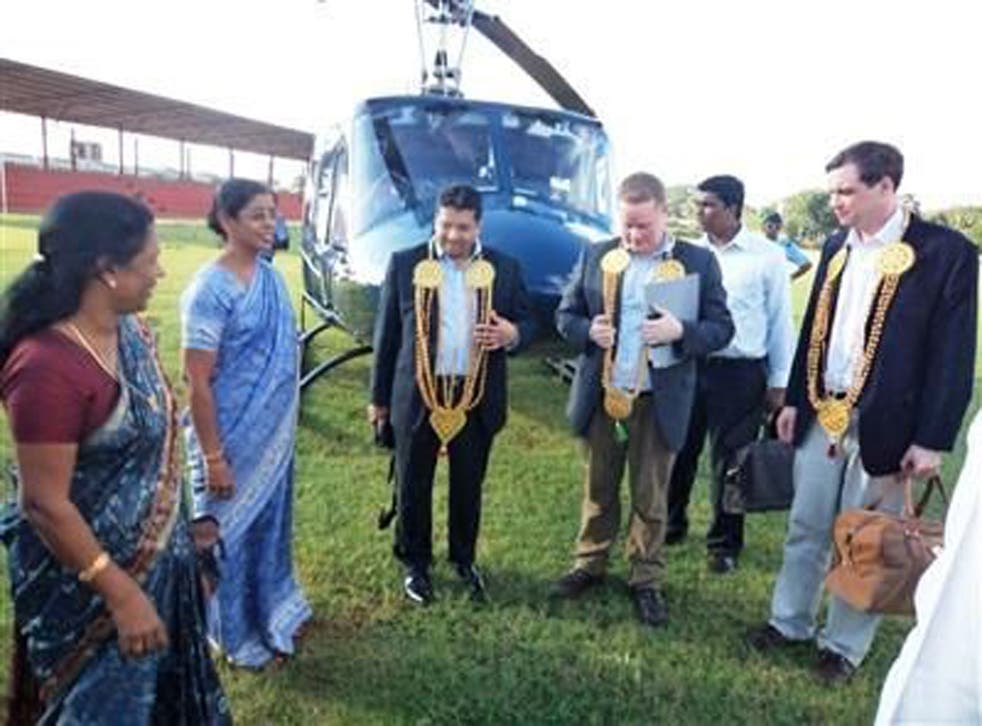 For a 28-year old backbench Tory MP it was a highlight of his young political career. James Wharton beamed for the camera as he accepted a ceremonial plate from the Sri Lanka Defence Secretary Gotabhaya Rajapaksa.
Wharton was the head of a delegation of nine UK parliamentarians on a journey to the South Asian nation in July and August of this year as guests of the Sri Lanka government – which is anxious to improve its international reputation in the wake of the bloody civil war that ended three years ago after Mr Rajapaska masterminded the army's success.
Mr Wharton was returning to familiar territory. He had also been a guest of the Sri Lankan government on a trip in January, when he visited the cities of Colombo, Killinochi and Jaffna.
Then in March he flew out again, this time with a non-governmental organisation, International Alert, as one of two politicians accompanying a group of second generation Sri Lankans from the UK.
And in September, he was back in Sri Lanka again – his fourth trip in nine months – as a member of a Commonwealth Parliamentary Association delegation.
In his short time as an MP, Mr Wharton, who has no significant Sri Lankan community in his Teesside constituency of Stockton South, has also attended official Sri Lankan functions in Britain on at least five separate occasions in the past 12 months. He has also spoken in the House of Commons on Sri Lankan matters.
In February he joined the British-educated High Commissioner Christopher Nonis to toast Sri Lanka Independence Day. In June, he met President Mahinda Rajapaksa during his visit to London to celebrate the Queen's Diamond Jubilee (Mr Wharton had also met the President in December 2010, barely six months after being elected to Parliament). In August this year he again returned to the High Commission so that Mr Nonis could introduce him to members of the Sri Lanka Olympics team after it arrived to take part in London 2012.
Questioned by The Independent over the level of his involvement in Sri Lanka affairs, Mr Wharton said: "I am very much not… the Sri Lankan government's cheerleader."
Mr Wharton adds that the lack of Sri Lankans in his constituency is "an advantage" because it allows him to make an independent contribution to the debate. "It means I can take an objective view on Sri Lanka without having pressure from either of the big two diaspora communities that live in the UK."
Mr Wharton spoke out during a Parliamentary debate on Sri Lanka in February this year, saying that a report by a United Nations panel of experts, which detailed allegations of human rights violations by the Sri Lanka government and the rebel Tamil Tigers during the civil war, should be treated with caution. "Is it not clear that, while the report sets out a narrative and raises legitimate concerns, it must not be taken as a factual account?" he asked.
The Sri Lanka civil war ended in a bloody slaughter that has attracted widespread concern from UN bodies and NGOs. Allegations of human rights abuses by the Sri Lanka army were raised by Channel 4 in its documentary Sri Lanka's Killing Fields but were denounced as "baseless accusations" by Gotabhaya Rajapaksa.
In September last year, Mr Wharton took part in another Parliamentary debate in which he defended the Sri Lankan government's military campaign to bring an end to the civil war. The Sri Lankan Army's actions, the MP argued, amounted to "an effective but ruthless military campaign of the sort necessary to put down an organisation such as the LTTE using military means".
Mr Wharton says he has made friends on both sides of Sri Lanka's ethnic divide and that he hopes to make a contribution to building peace in a country that is still recovering from conflict. "There are areas that haven't been resolved and areas where people have irreconcilable differences but there are a large number of areas where people could work together to make life better for the people in Sri Lanka."
Asked about the frequency of his visits to Sri Lanka and the country's High Commission in London he said: "I don't think it's disproportionate or unreasonable, no."
Mr Wharton told this paper that he wished to introduce more balance into the discussion. "I do not pretend that things are absolutely fine in Sri Lanka, it would be ridiculous to do so. But I do think that the debate we have in the UK about it is very one-sided."
In December 2011, at Portcullis House in Westminster, Mr Wharton sat alongside Mr Nonis as the High Commissioner presented to parliamentarians a report on Sri Lanka's 'Lessons Learnt and Reconciliation Commission' which was set up to help bring peace to the country. The MP is said to have commended Mr Nonis on his "very thorough overview". After meeting the President in June, Mr Wharton described the visit as a "watershed" moment in relations between Sri Lanka and the United Kingdom.
Mr Wharton said he had travelled to Sri Lanka with International Alert in March because "I felt it was important to go with other organisations and not be seen to be in the pocket of one side or the other". The trip was jointly arranged with the Royal Commonwealth Society – which has Christopher Nonis, the Sri Lanka High Commissioner to the UK, as its deputy chairman.
Asked about his apparent obsession with Sri Lankan affairs, Mr Wharton said his interests were partly business-related on behalf of his constituents. "I've got a number of companies on Teesside that do a lot of work out there." He declined to identify the companies.
He said he had become aware of British economic connections with Sri Lanka after flying to South Asia. "I will be honest with you the business connection is only something I realised after getting involved when I was out there and came across various British companies that were doing work. Marks & Spencer are manufacturing most of their garments in Sri Lanka, there are companies in my patch up here that do a lot of work out there, engineering and things."
The Sri Lanka government was formerly represented by the lobbying companying Bell Pottinger but Mr Wharton said he had not had any dealings with any such companies. "I have not been engaged by any lobbying companies about Sri Lanka at all."
He said that he had not declared in the Register of Members' Interests the gifts he had received from Sri Lanka officials, including the ceremonial plate, because they were not of sufficient value. "It's normal on those visits to exchange a token of friendship or appreciation, it's a tradition or custom that they have in a number of countries."
Mr Wharton's interest in Sri Lanka echoes that of the former Defence Secretary Liam Fox, who was a frequent visitor to the country despite having no obvious responsibilities for it. Dr Fox was forced to call off one visit to Colombo in late 2010 after his controversial assistant Adam Werritty had already flown on ahead amid reported concerns from the Foreign Office.
When Mr Wharton first visited Sri Lanka at the start of this year he went with his researcher Christopher Duggan. The MP said that he had not been part of a parliamentary delegation and required some support. "The itinerary was packed and yes, to be frank, we did a lot of work whilst we were out there."
But John Mann, a Labour MP who has also travelled to Sri Lanka with the Royal Commonwealth Society, said the country still had "huge human rights problems" and that Mr Wharton had become too close to the government.
"There's a reason why he has been invited so many times by the Sri Lankan government, paid for by the Sri Lankan government so many times and that they are wining and dining him so often at the Sri Lanka High Commission in London," he said. "This is not a very effective use of parliamentary time and he's going to have difficulty explaining it to his constituents."
Sri Lanka: What they say
UN Secretary-General's Panel of Experts on Sri Lanka
"The Panel's determination of credible allegations reveals a very different version of the final stages of the war than that maintained to this day by the Government of Sri Lanka... The Panel found credible allegations, which if proven, indicate that a wide range of serious violations of international humanitarian law and international human rights law was committed by both the Government of Sri Lanka and the LTTE, some of which would amount to war crimes and crimes against humanity."
James Wharton MP in Parliament after trip to Sri Lanka
"The Sri Lankan Government launched a campaign to bring the civil war to an end – an effective but ruthless military campaign of the sort necessary to put down an organisation such as the LTTE using military means. We have heard much discussion of some of the atrocities that are alleged to have been committed during that campaign, but in the context in which it happened we must all understand that the LTTE was one of the worst oppressors of the Tamil people during and before the conflict."
Join our new commenting forum
Join thought-provoking conversations, follow other Independent readers and see their replies