Fracking: The great debate
It's either the answer to our energy supply problem, according to David Cameron. Or a toxic threat to the environment, if you believe Caroline Lucas.  So which of them is  right? Tom Bawden, Environment Editor, weighs the evidence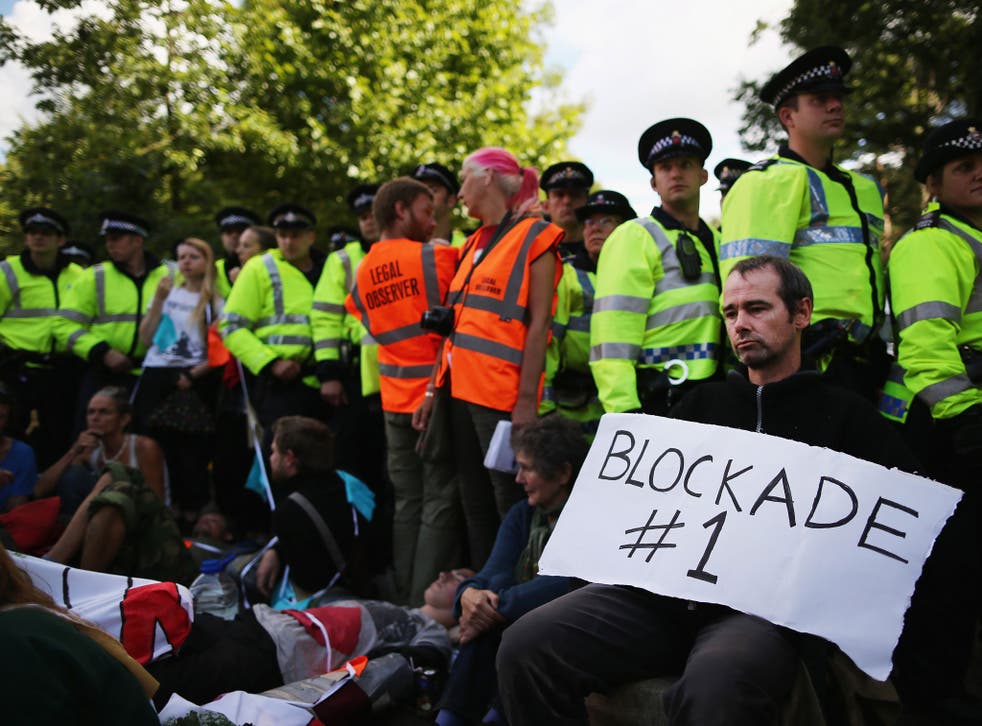 The statements below were made by David Cameron, a fracking enthusiast, and the Green Party MP for Brighton Pavilion, Caroline Lucas, who was arrested last week for protesting against potential fracking at Balcombe, West Sussex. The process releases oil and gas from shale rock by blasting a mixture of sand, water and chemicals into it at high speed.
Will fracking lead to cheaper gas prices?
David Cameron: Fracking has the real potential to drive prices down … gas and electric bills can go down when our home-grown energy supply goes up.
Caroline Lucas: Prices are set to keep rising.
Tom Bawden: The Prime Minister's claim looks disingenuous at best. Even an executive of Cuadrilla, Britain's most prominent fracking company, was caught on tape admitting that a domestic shale gas revolution would be extremely unlikely to reduce prices, and if it did, it would only be by a "very small" percentage.
Mr Cameron cites the example of the US, where a shale gas revolution has driven down prices to barely a quarter of UK levels. But there is a major, game-changing difference between the UK and the US. The US is essentially an isolated market, meaning that an increase in supply will push down prices because gas producers have limited scope to export to a higher bidder.
The UK is plugged into an integrated European market through a series of giant gas interconnectors, while fledgling liquefying techniques are making long-distance export more common. As a result, even a massive increase in UK gas production would be unlikely to dent the prevailing European price. And as Ms Lucas points out, the global gas price could well go up in the coming decades, on the back of growing demand from Asia.
Will it be good for the economy?
David Cameron: Fracking will create jobs in Britain.
Caroline Lucas: [George] Osborne's gas strategy looks like nothing short of a disaster for the economy.
Tom Bawden: Mr Cameron cites a study estimating that the shale gas industry could create 74,000 jobs, while other studies have made predictions as high as 150,000. The truth is, it's virtually impossible to known until we have a clearer idea how much of the 1,300 trillion cubic feet of shale gas estimated to lie underneath Britain can be commercially extracted in the face of local opposition.
The answer to this question is unlikely to be known with any degree of certainty for at least a decade. Nonetheless, the chances are that it will generate at least thousands of jobs and billions of pounds of revenues in the coming decades. Whether this will provide a net benefit or a net deficit to the economy is far less clear.
Ms Lucas reckons the economy would do much better if Britain redoubled its efforts on renewable energy, making the country a global leader in the area and freeing us from a dependence on potentially rising gas prices.
She might have a point. The British economy would be £20bn a year better off by 2030 if it favoured offshore wind over gas-fired generation as the driver of an essential overhaul of the country's energy infrastructure over the next two decades, according to a recent report by the think tank Cambridge Econometrics. Will fracking lead to water pollution?
David Cameron: Nothing is going to happen in this country unless it is environmentally safe.
Caroline Lucas: Residents close to drilling sites in Lancashire and Sussex have rightly expressed fears about the risk of pollution to drinking water.
Tom Bawden: The Prime Minister's apparent assurance that fracking will be environmentally safe is technically wrong, on the basis that no method of natural resource extraction can ever be guaranteed not to cause some kind of spillage or pollution.
By contrast, Ms Lucas is right to raise the dangers that fracking could pollute drinking water – a point memorably brought home in the documentary Gasland, where a Colorado resident claims his water has such high levels of methane that it has become flammable – and ignites his tap to make the point.
Water pollution is a particularly grey area, partly because there are always natural pollutants, including methane, in the water, making it extremely difficult to definitely prove a connection. For example, regulators concluded the Gasland burning tap was caused by "biogenic" gas that has been detected in local groundwater for years, and had nothing to do with fracking.
Nonetheless, plenty of studies suggest a link between fracking and deteriorating water quality. One, published in Proceedings of the National Academy of Sciences on the impact of drilling in the Marcellus Shale in the states of New York and Pennsylvania, found that four-fifths of nearby wells contained methane and that concentrations of gas were higher than in those further away. Fracking-induced fractures usually remain separated from ground- water aquifers by thousands of feet of rock, meaning that poorly sealed well casings are seen as the most likely cause of any water pollution.
Can fracking cause earthquakes?
David Cameron: There is no question of having earthquakes.
Caroline Lucas: In focusing entirely on the potential seismic effects of fracking, this report tells us nothing about the wider environmental impact.
Tom Bawden: It appears that Mr Cameron is unaware of the report Ms Lucas mentions – commissioned by Cuadrilla after reports of tremors in the Blackpool area – which concluded that it was "highly probable" that Britain's first fracking activity was the cause. However, as she hints, earth tremors are a relatively insignificant concern – small, often likened to a lorry going past the front door, and pose a far slighter risk than, say, air, noise and water pollution and water shortages (the process uses huge quantities of water) and the industrialisation of the countryside.
Join our new commenting forum
Join thought-provoking conversations, follow other Independent readers and see their replies