Freedom of speech: Is it my right to offend you?
Last week, a political figure tweeting a cartoon about Mohamed prompted death threats. In a civilised society, we need to know how to express views without censorship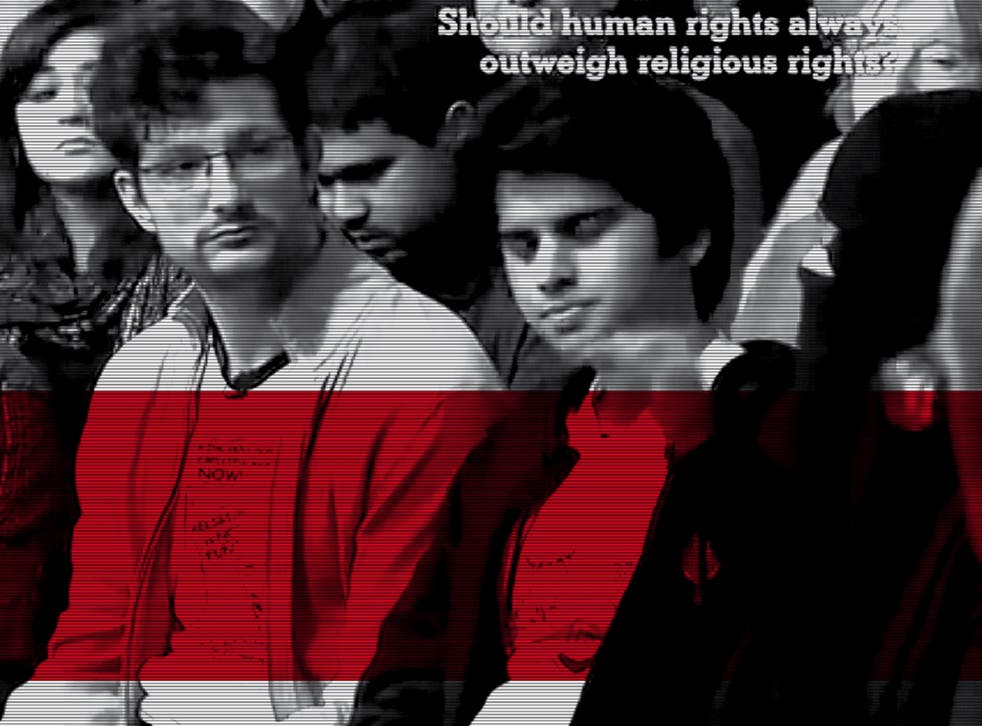 Maajid Nawaz is a former Islamist who now campaigns against extremism as the executive director of the Quilliam Foundation. He is also a Liberal Democrat parliamentary candidate. Three weeks ago, he appeared on the BBC's religious debate programme, The Big Questions. On that show, two atheist students wore T-shirts featuring cartoons of the Prophet Mohamed. Nawaz declared that he was not upset by the images. After the show, he tweeted one of the cartoons, declaring that his God was greater than to feel threatened by it. And then everything went mad.
Nawaz has faced an appalling string of death threats. About 22,000 people have signed a petition calling for his deselection. Thousands more have leapt to his defence. Last week, Nick Clegg promised that he would not be deselected. But as various media outlets have reported on the subject, they, too, have faced criticism for their squeamishness: no one has shown uncensored the cartoon at the centre of the storm.
There is so much to unpack here. Where to begin? Well, how about, for the record, a simple declaration: Maajid Nawaz has an absolute right to tweet a picture of the Prophet Mohamed. I would not vote for any political party that dismissed him for doing so. But actually, this is the least interesting, least fruitful aspect of the whole discussion. This is primary school stuff.
Practical freedom of speech, graduate-level freedom of speech, is not a black-and-white issue, not just a matter of misquoting Voltaire; it is a subtly calibrated scale. It involves questions about social context, and discretion. And, if you look closely at what happened with Maajid Nawaz, those complexities become inescapable.
The first step in the process that culminated in threats to Maajid Nawaz's life was an email from an audience researcher at Mentorn, an independent production company, to two LSE students, Chris Moos and Abhishek Phadnis. They are members of the LSE's Atheist, Secularist and Humanist Society and, last October, they were threatened with removal from the university's freshers' fair for wearing T-shirts that featured images from Jesus and Mo, an online comic with an enthusiastic atheist following.
Ultimately, the university apologised, but the pot had been stirred, and in January the company behind The Big Questions got in touch about participating. The question to be debated was: "Should human rights always outweigh religious rights?" According to Chris Moos, the two students had not intended to wear the T-shirts, but the production company researcher gave them a nudge. "If you wanted to wear your T-shirts on the show, that is fine – however, we would ask that you wear a shirt over the top that could be unbuttoned," he wrote. "If Nicky would like to see the shirts, he can ask you to unbutton your shirt to show it and we can do a close-up and therefore promote discussion."
"I was quite surprised," says Moos. However, Mentorn insist that the idea of wearing the T-shirts was the students' own; they go as far as to say that "any suggestion that the students were encouraged to wear the T-shirts is entirely unfounded", which seems a bit odd, when you reread that email. Either way, towards the end of the show, their moment came.
"You guys wore some T-shirts?" said Campbell.
Moos nodded. "Would you like to see them?" he asked. "Well, I mean, if you - yeah," said Campbell, who certainly didn't seem to know about his agreement with the researcher. (Mentorn says that neither he nor his editor were expecting the T-shirts; certainly it seems more like a cock-up than a conspiracy.) The two unzipped. Phadnis and Moos were not filmed in close-up, and the camera did not linger on them. But the cartoons were visible from an oblique angle.
It has been reported that both men's tops featured the image that Maajid Nawaz later tweeted: a simple cartoon in which Jesus says, "Hey", and Mohamed, "How ya doin?" In fact, though, that's not quite the whole story. That was one of the T-shirts, but the other featured the two figures holding a banner demanding: "STOP DRAWING HOLY PROPHETS IN A DISRESPECTFUL MANNER NOW!" "If this doesn't work," Mohamed says, "I say we start burning stuff."
This still seems wholly innocuous to me. But Sahar al-Faifi didn't find it funny. She was one of two Muslim women sitting next to Moos and Phadnis. Because she was wearing a niqab, you could only see her eyes, but it was obvious that she was dismayed. "It was really surprising," al-Faifi, a molecular biologist and activist, says. "No one told us it would happen. The Prophet Mohammed is very dear to us as Muslims. It felt hurtful, very unfortunate."
When I told her that the production company had known that the students were going to wear the shirts, she was taken aback. "If that's true, that is shocking," she said. "I mean, if they want to encourage them, that's fine, but they should at least tell the other panellists about it."
In the heated debate that followed, no one thought to ask al-Faifi the really important question: not whether she found the T-shirt offensive, but whether she would ban it. "No, I wouldn't go that far," she says now. "I would rather work on promoting respect and tolerance." She, at least, is innocent of any free speech violation; all she was doing was expressing her own disgust. And doing so is just as valid an expression of free speech as the image that precipitated it.
The MP David Lammy, also taking part, tried to find a middle ground. He remains a little agonised now. "I certainly didn't take offence myself," he says. "Part of living in a liberal democracy is understanding that people have the right to express their feelings. But at moments like this, members of minorities can feel incredibly isolated."
That term "offence" is a curious one. It describes an emotional state, and it ought to line up with words like "hurt", or "insulted". But it is often used in a thoughtless way, as if "offence" were a persistent and predictable state, like a broken limb, or a demolished house. We place it with words such as "assaulted", or "threatened", or "molested". We let it seem to mean an indisputable violation, instead of a subjective matter of culture and disposition.
If we could agree an amnesty on "offence", and talk instead about, for example, "distress", we might have a clearer view of things. Those who wear the T-shirts might recognise it is possible to maintain a right without exercising it, and that to do so can be a simple act of kindness; those who wish they wouldn't might recall more readily that their feelings are, ultimately, a private matter.
I can see why someone like Chris Moos would find that an objectionable idea, though. "I'm not the one who makes a confrontation," he points out. "Offence is taken, not created. Just to say that some people might be offended – it's not an argument that people can demand that you not exercise your basic right."
Maajid Nawaz took roughly the same view. "I'm a Muslim," he said. "That T-shirt doesn't threaten me whatsoever." But while his declaration on air didn't draw much bile, his subsequent tweet certainly did.
If there are any villains in the piece, you might argue that those who orchestrated that outrage have a claim on the title. They might not have called for legal sanction against Nawaz, but to demand his deselection is a step further than mere anger: it is an attempt at political intervention, and one with the obvious potential to have a chilling effect.
There's Muhammad Shafiq, the activist who organised the petition and called Nawaz "Ghustaki Rasool", Urdu for "defamer of the Prophet" – a plainly incendiary label. There's George Galloway, who called Nawaz "rancid". And then there's Mohammed "Mo" Ansar, a self-styled community leader without quite enough evidence that the community in question agrees.
He, too, has been one of the most prominent of Nawaz's critics. But Ansar has history with Nawaz, who stole his thunder by orchestrating the announcement of Tommy Robinson's departure from the English Defence League when Ansar had just spent 18 months making a documentary with him. Did that history play a part? Who knows. It is, at the very least, worth bearing in mind.
The subject has stayed on the news agenda. And this has raised a whole new set of questions over freedom of speech. Channel 4 News showed the cartoon, but blacked out the image of Mohammed. Newsnight didn't show it at all.
The cartoonist behind Jesus and Mo – who stays anonymous for his own safety – was interviewed by both programmes, and was infuriated by the absence of the image. "It's a very innocent picture!" he said. "He's just saying, 'How ya doin'?' I was very disappointed."
Ian Katz, the editor of Newsnight, took to Twitter to defend his decision; one of his more vigorous critics, David Aaronovitch, said that he had "bottled it, like everyone else". And at Newsnight or at Channel 4 News or at any newspaper – none of the printed press ran it, either – it's true that it's hard to discount the possibility that caution plays a part. Then again, it is relatively easy to be fearless when your own life is the only one at stake, rather harder when you work at an organisation that employs journalists in Pakistan.
In any case, that is not Katz's argument. "There is an obvious issue around offence … one of the problems is that it has been represented as an extremist view," he says. "But I know from the soundings I have taken that it's a mainstream Muslim position to think it's offensive."
There are limits to this; whether a position is reasonable surely must be defined by a more abstract standard than how many people think it. But it is true to say if so many people will be upset, and in particular if those people already have a justified sense of alienation, you better have a very good reason for defying their sensibilities. The upset is not just some abstract concern about blasphemy; it is about the sense that their norms are fodder for point-scoring ridicule by the majority.
To Aaronovitch and Moos and the cartoonist, the protection of freedom of speech requires that you exercise it. But they would, presumably, say that Nick Griffin's rights can be protected without repeating his views ad infinitum. Everyone draws a line somewhere. And, in this case, the image is so simple that to see it adds nothing to the viewer's understanding of the issues in play. Says Katz: "A lot of the people disappointed with us for not using it really wanted a demonstration of liberal virility rather than more informative journalism."
It will not have escaped you that this piece is also unaccompanied by the cartoon – the editor's decision, but one I agree with. When I told the cartoonist, he was disappointed.
"Either way, you're taking sides," he said. "You have a difficult decision to make. But I think we lose more, in this case, by not showing it."
The LSE students shared that view. "The editors of Newsnight and Channel 4 News have bought into the fiction that censoring the cartoon is the neutral position," Abhishek Phadnis said by email. "It is not. It is perhaps unique to free-speech issues that those who report on them become part of the story themselves … To show the cartoons is, in fact, the neutral position – in that it can be done without implying support for either side."
It is hard not to admire Phadnis's passion. It is hard to resist the urge to stick two fingers up at the kind of people who would send death threats to a man for saying that his God was too great to be disturbed by a mere cartoon and those who would silence him must be resisted.
The thing is, real life does not allow us to leave it at that. If the intricacies of this story tell us anything, it is that the freedom of speech is not a static concept; its exercise plays out differently at a freshers' fair and in a public debate and on Twitter and in the news. It is easy to say: I defend to the death your right to say it. It is harder to ask the question that follows: how are we going to make this work?