Gay marriage first: How Ed got down on one knee to propose to Russell... and made a little piece of history
The first couple to take advantage of the new same sex marriage Bill talk to Oliver Wright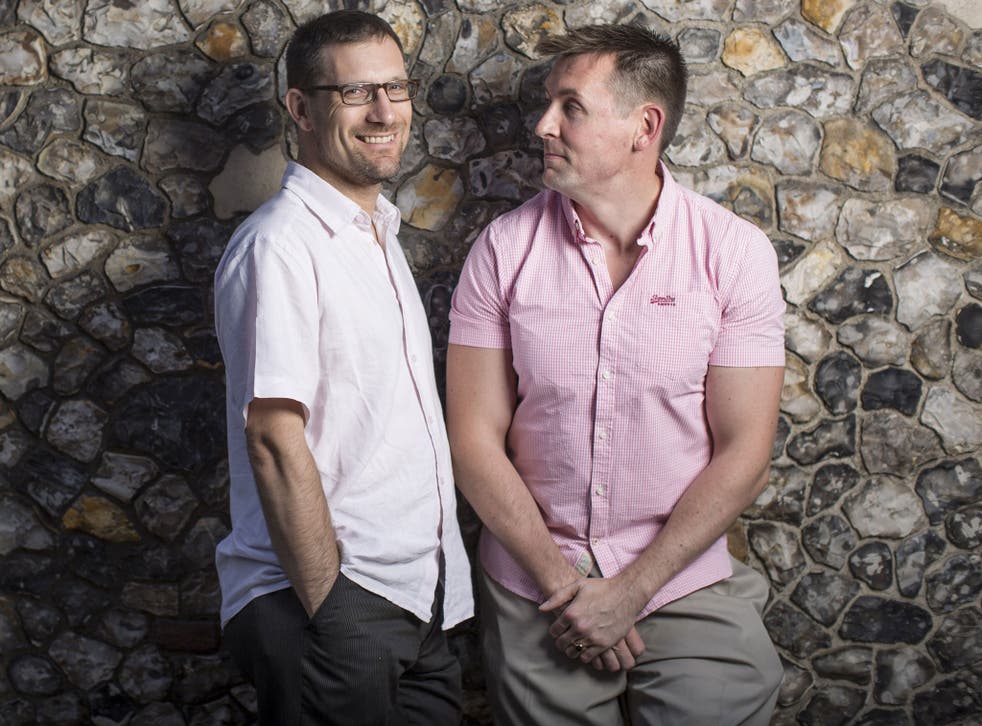 It's not every couple who get their forthcoming nuptials mentioned by Hansard – the official record of Parliamentary proceedings.
Or make a little piece of history in The Times – the paper famous for its births, marriages and deaths column.
Or indeed get the news relayed to over 120,000 people via the Twitter account of the Deputy Prime Minister.
But then it's not every couple who get engaged outside the mother of Parliaments, under a statue of George V, with an Erasure song playing in the background – moments after it becomes clear that it is now their legal right to do so.
Ed Fordham and Russell Eagling are, almost certainly, the first couple in England to take advantage of the Government's new gay marriage act. The couple, who have been together for 15 years but have not been in a civil partnership, were outside the House of Lords taking part in a vigil to put pressure on peers to approve the Marriage (Same Sex Couples) Bill.
When word came out that the legislation had been approved without a vote, Ed got down on one knee and asked Russell to make their relationship formal.
"I knew when it was passed by the Lords that the final hurdle had been overcome and would become law," Ed told The Independent.
"I had two rings in my pockets: my great-grandfather's wedding ring which was rather small and my father's 21st birthday present which was rather larger. I was just hoping one of them would fit.
"I was there thinking I've got to get this right. I'm not doing it for show. And then the choir that were there started singing an Erasure track and I thought 'right' – and went down on one knee and bingo I was there."
Russell said he had no idea what was about to happen. "It was a complete surprise – if anything can be a complete surprise if you've been together for 15 years - but I honestly had no inkling it was coming."
The surprises didn't end there. The next day the Liberal Democrat MP Julian Hubbert mentioned their engagement in the House of Commons – making history but earning himself a rebuke from the Speaker.
"This is a monumental day for many people; be they straight, gay, lesbian or bi, they will benefit from the freedoms and opportunities in the Bill," he said.
"Perhaps the whole House will join me in congratulating Ed Fordham, who last night got engaged to his partner, Russell Eagling."
The couple, who have been active in the Liberal Democrats for years and are old friends of the Deputy Prime Minister and his wife, then found that their happy news was reaching an even wider circle. "On a personal note, congratulations to my friend & @LGBTLD Vice-Chair @edfordham who is getting married!," Mr Clegg tweeted to his 120,000 followers.
Ed decided at that point he might as well tell the rest of the world as well so placed the first ever gay engagement notice in The Times. "The engagement is announced between Edward, son of Mr and Mrs Fordham of Spalding, Lincolnshire, and Russell, son of Mr and Mrs Eagling of Southwell, Nottinghamshire," the announcement read.
Despite all the firsts Ed and Russell say they are not planning to try to become the first gay couple to actually tie the knot.
But when they do they are thinking of perhaps having the service in a Unitarian Church – a denomination that is keen to participate. Ed jokingly describes them as the "Lib Dems at prayer".
So why is gay marriage important? Ed puts it very simply."I'm a family historian and I want our marriage recognised in records.
"I don't want family members to say that was uncle Ed and that bloke who lived with him.
"I want them to say that was uncle Ed and uncle Russell."
Register for free to continue reading
Registration is a free and easy way to support our truly independent journalism
By registering, you will also enjoy limited access to Premium articles, exclusive newsletters, commenting, and virtual events with our leading journalists
Already have an account? sign in
Register for free to continue reading
Registration is a free and easy way to support our truly independent journalism
By registering, you will also enjoy limited access to Premium articles, exclusive newsletters, commenting, and virtual events with our leading journalists
Already have an account? sign in
Join our new commenting forum
Join thought-provoking conversations, follow other Independent readers and see their replies