'Adorable' Ed Miliband mobbed by Chester hen party as approval ratings continue to soar
Labour leader stepped out of his battle bus to chants of 'Selfie! Selfie! Selfie!'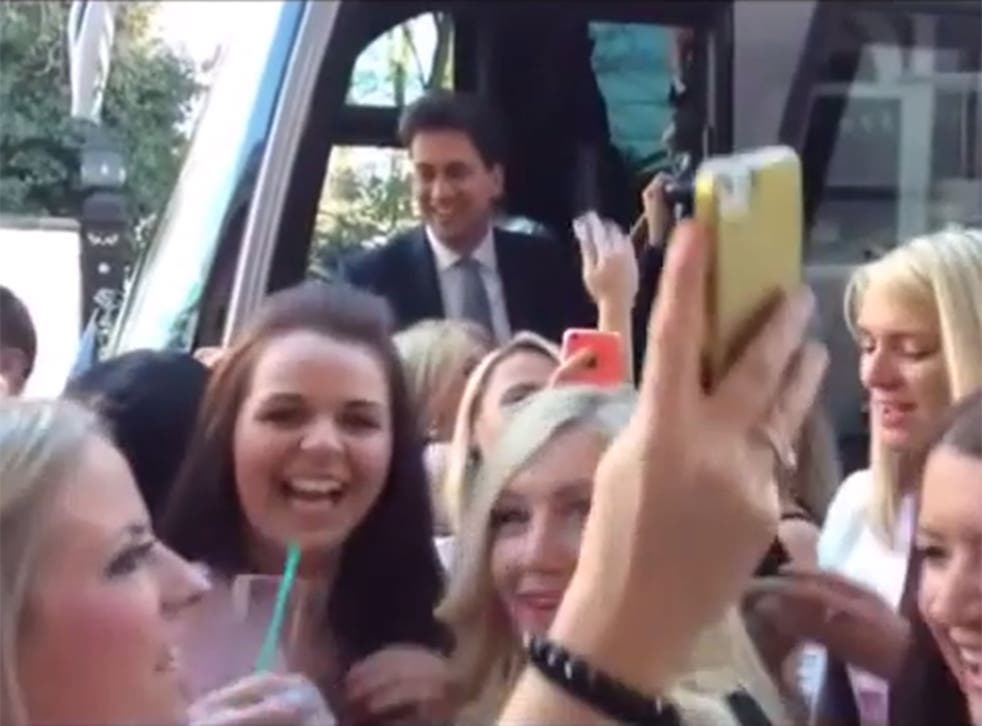 Ed Miliband's personal approval ratings are at a record high as the election campaign enters its final stages – but the polls aren't the only evidence that his fortunes are improving.
The Labour leader was mobbed by a hen party on Saturday during what should have been a routine visit to Chester, was described as "the stripper" in the ensuing deluge of selfies on Twitter and even secured an invite to the wedding itself.
Clearly a hit with the group from Knutsford in Cheshire, Mr Miliband invited bride-to-be Nicola Braithwaite for a tour of the battle bus itself before emerging at the door to chants of "Selfie! Selfie! Selfie" and "hashtag Ed!".
The incident was captured by the Chester Chronicle, and footage showed members of the hen party describing the politician as "adorable" and "lovely", with some suggesting he had won their votes.
And almost as soon as the Labour leader returned to the safety of his bus the images started to be posted on Twitter.
General election 2015: The worst gaffes and controversies

Show all 36
Ms Braithwaite herself wrote: "Maybe he'll make the big day!"
Her sister Kathryn added: "Only my sister can have a pic with Ed-Miliband UKLabour #ed #henparty."
Samantha Steele described it as the "ultimate selfie" while Anna Heaford joked: "The stripper had just arrived for nicolab13 hen do..! #EdMiliband."
Anna Yearley, Mr Miliband's political secretary, tweeted: "Definitely the best part of our day - Ed & the hen party."
Join our new commenting forum
Join thought-provoking conversations, follow other Independent readers and see their replies