Britain First 'acting like Ukip henchmen' by invading meeting of activists in revenge for pub protest against Nigel Farage
One member of the far right group was arrested following the incident, which was captured on camera by both sides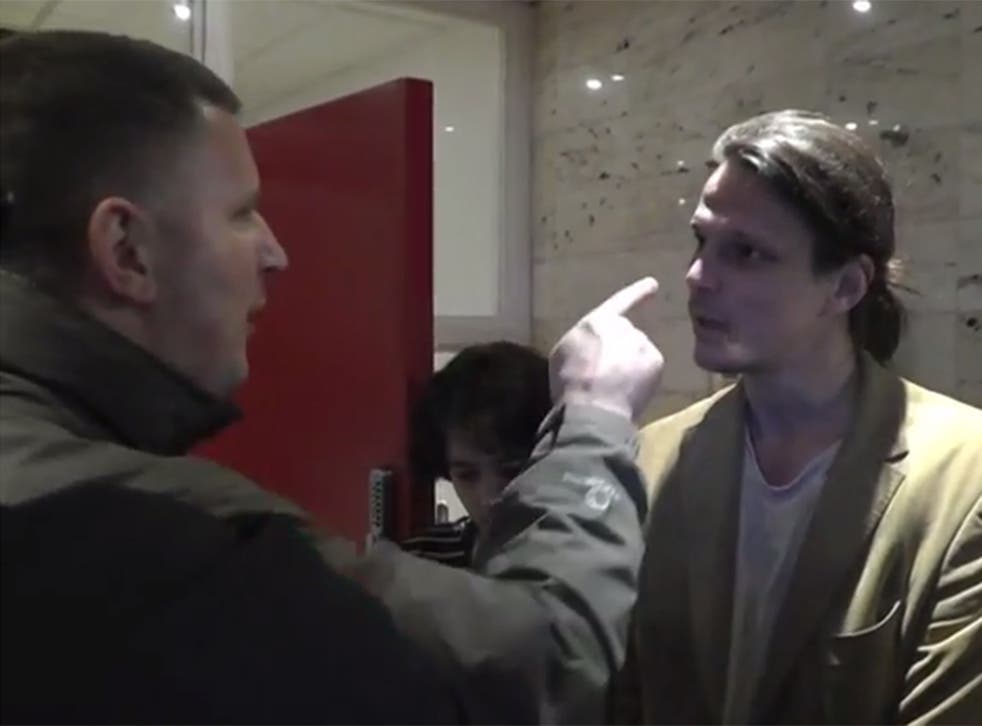 A member of Britain First has been arrested on suspicion of assault after the far right group invaded a meeting held by the activists who confronted Nigel Farage in his local pub a week ago.
Around 10 members of Britain First, dressed in its green and black merchandise, stormed the headquarters of a charity in Old Street, London where the Beyond Ukip group was discussing the events that sparked controversy in Downe, Kent on Sunday, 22 March.
On a video posted to the Britain First Facebook page, its leader Paul Golding proclaimed that they were there "to give these traitors their comeuppance".
"We've found the same people who harassed Nigel Farage and scared his family, and as you can see the cowards are barricading themselves inside a room rather than face the righteous anger of British patriots," Golding said. "We're here to give them a taste of their own medicine."
After organising what they called a "diversity cabaret" in Downe last week, Beyond Ukip members confronted Mr Farage in the pub where he says he was having Sunday lunch with his family. The Ukip leader has since said that his children were so frightened by the activists that they ran away.
Mr Glass said his group had been reflecting on how things went in Kent and apologised "wholeheartedly" if it was indeed the case that the children were scared – adding: "It was no-one's intention to scare his family."
But he said the group had not seen any children present at the time, and that he was otherwise "so proud of what happened in Downe".
"It was so heart-warming to see people from all groups come forward in a peaceful manner to challenge prejudice and speak up against systemic injustice," he said, and insisted they "would do it again".
Ukip's confusing policies

Show all 7
A spokesperson for Ukip was not immediately available to comment, but while Mr Farage cannot choose who offers him support the association with Britain First's actions threatened to distract from the party's major immigration policy launch on Tuesday morning.
Mr Farage has previously tried to distance himself from the extreme right – to which Britain First has responded that it "understands" how Ukip must play the "political game", and told its supporters to "ignore Ukip's necessary political bluster".
Last week, a Ukip spokesperson said it was not embarrassing but farcical that Britain First was supporting them. "We're just not where they think we are," he said. "On the fringes of our politics are nutters and we don't want them anywhere near us."
A spokesperson for the Met Police told i100 that officers had responded last night to an incident where "8-10 men [were] attempting to disrupt a political meeting organised and attended by members of the public".
He said there were no reports of injuries but that "a 48-year-old man was arrested on suspicion of assault" and detained for questioning.