Budget 2015: Chancellor throws the kitchen sink at Ed Miliband with barbs for the Labour leader and perks for voters
Opposition leader bruised by jibes about his family and his domestic arrangements - but Office for Budget Responsibility warns of deeper spending cuts in 2016-18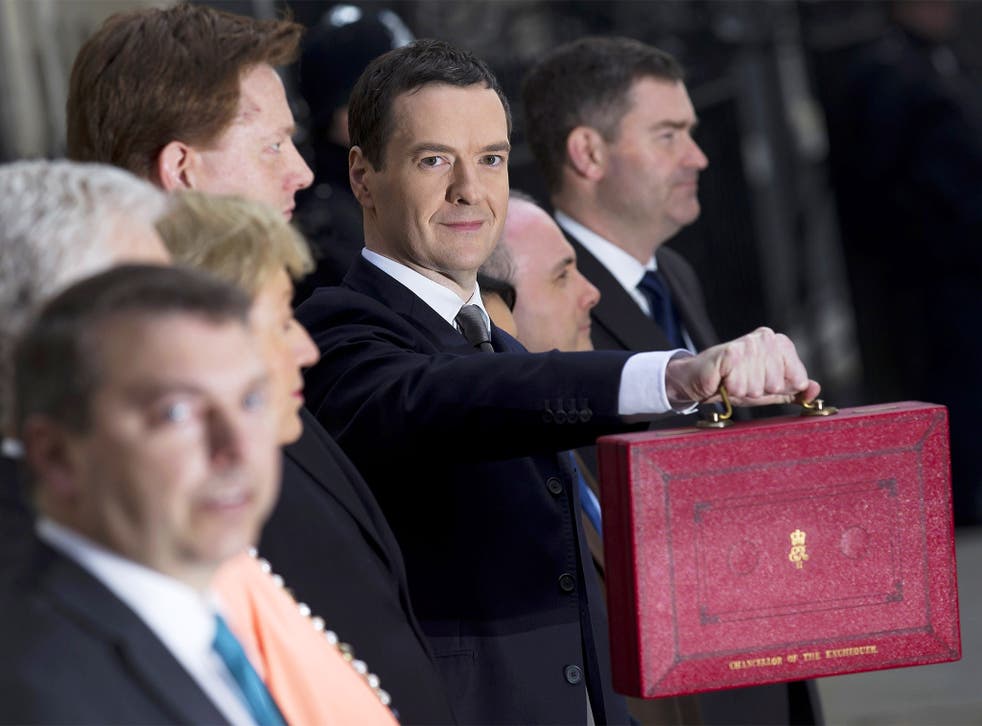 George Osborne tried to pull the rug from under Labour's election campaign in a highly political Budget which also attempted to reassure voters who doubt Tory motives.
The Chancellor claimed he could ease his austerity programme, promising that spending on public services would rise by £29bn more than planned in the final year of the next parliament if the Tories retain power in May.
He reduced his proposed surplus for the 2019-20 financial year from £23bn to £7bn to allow more to be spent on services.
Mr Osborne, who peppered his speech with jibes at Ed Miliband, was accused of moving the goalposts to deprive Labour of a key official statistic – that state spending would return to the level of that during the 1930s depression era. Tory ministers admitted privately they had been "spooked" by a parallel that reinforced their "nasty party" image.
Budget 2015: George Osborne unveils pre-election package

Show all 7
Mr Osborne said his revised plans – made possible by lower inflation, oil prices and borrowing and by faster growth – would mean that state spending would now fall to the level it was in 2000, when New Labour was in power. "The sun is starting to shine," he said. "Britain is walking tall again." However, he failed to end the argument about a return to the 1930s. Labour insisted the parallel was still valid, citing a calculation by the Office for Budget Responsibility (OBR) that public spending as a share of gross domestic product would fall to the level seen in 1938. But another OBR measure cited 1964.
The OBR punctured Mr Osborne's attempt to signal an end to austerity by warning of deeper spending cuts over the next three years. It predicted "a much sharper squeeze on real spending in 2016-17 and 2017-18 than anything seen over the past five years, followed by the biggest increase in real spending for a decade in 2019-20". Tory officials replied that the OBR had not taken account of their party's proposed £12bn of welfare cuts.
The Chancellor studded his Budget with personal barbs aimed at the Labour leader. He recalled that Mr Miliband defeated his brother for the Labour leadership, saying that the party could not be "a band of brothers". He announced a review of "deeds of variation" – a way of changing a will after someone has died. Tories have accused Mr Miliband of avoiding tax by benefiting from a change to his father's will, which he denies.
The Chancellor joined David Cameron in mocking Mr Miliband for having "two kitchens" in his north London home. A Labour source called it "a massively misjudged performance" by Mr Osborne which was "over the top and arrogant".
Mr Osborne was criticised for mentioning the NHS only once, in a passing comment. He also failed to make a major announcement on home building – despite the housing crisis – and schools funding.
As exclusively revealed by The Independent, Mr Osborne's surprise "rabbit" was a shake-up of the tax on savings. He abolished it for 95 per cent of taxpayers –17 million savers – who will no longer see their income from savings taxed at source.
Basic rate taxpayers will receive a £1,000 annual personal savings income allowance, which will be worth £500 for people on the 40p higher tax rate. It will not benefit people with incomes over £150,000, who pay the 45p top tax rate.
The Chancellor hopes his "savings revolution" will woo pensioners. He balanced it by unveiling a "Help to Buy individual savings account" (Isa) under which the Government will top up the savings of people trying to raise a deposit for their first home. For every £200 they save, the Treasury will add another £50 to help them buy a home worth up to £250,000 (or £450,000 in London).
He helped low earners by raising the personal tax allowance to £10,800 next year and £11,000 in 2017. He kept 100,000 taxpayers out of the 40p higher rate band by raising the threshold by more than the rate of inflation. Delighted Tory MPs said that would bolster their party's appeal to middle class doubters.
Mr Osborne sought to disrupt Labour's spending plans with a £920m-a-year increase in the levy on banks, which Labour has earmarked to expand childcare.
He stole Labour's plan to cut the lifetime limit on a pension pot attracting tax relief from £1.25m to £1m. Labour had planned to use the saving to help fund its proposed cut in university tuition fees from £9,000 to £6,000 a year. But Labour insisted both schemes would go ahead, with a higher bank levy and the £2.7bn tuition fee cut financed by other means.
The Chancellor invaded Mr Miliband's favourite "living standards" territory by claiming that people would be better-off at the end of this five-year parliament than when the Coalition was formed in 2010. He claimed the backing of the Institute for Fiscal Studies.
However, Labour challenged his numbers, citing what it called more reliable figures showing that people are still worse off. Ed Balls, the shadow Chancellor, said: "If George Osborne wants to have a row with the British people, and tell them 'You are better off, really', that is fine by us."
The Resolution Foundation think-tank said the Treasury's living standards measure was "flawed" as it includes the incomes of universities and trade unions. Matthew Whittaker, the foundation's chief economist, said: "The claim that living standards are now above their 2010 level is debatable. It's true on one measure but not on others. On our preferred measure, we believe average incomes are still around 4 per cent short of their pre-downturn level."
Another think-tank, the IPPR, warned that the recovery could be built on another personal debt bubble. Tony Dolphin, its chief economist, pointed to OBR figures showing that household debt will soar to a record 171 per cent of income by 2019, surpassing the 168 per cent in 2008.
Join our new commenting forum
Join thought-provoking conversations, follow other Independent readers and see their replies