Budget 2015 - the swing seat: Chester - a Roman city at the centre of a modern-day struggle for power
The Conservatives are hoping to hold on to the Cheshire seat, but most people in the street seem underwhelmed by the contents of George Osborne's red briefcase
Helen Carter
Wednesday 18 March 2015 21:35 Comments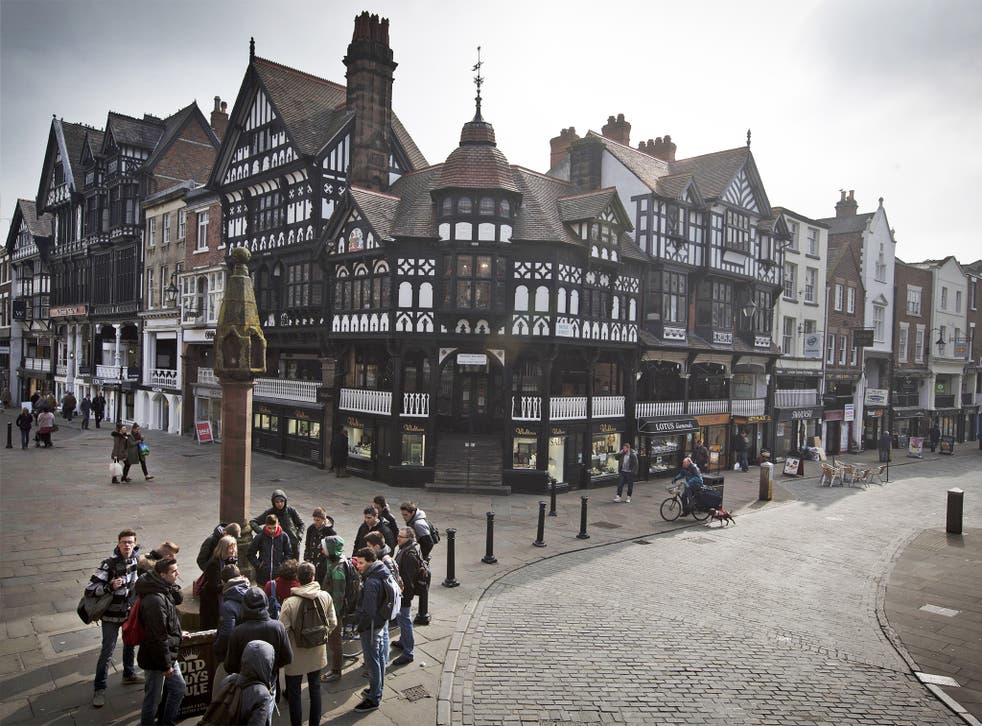 If, after George Osborne's final Budget before the general election, the indecision of voters out and about in the refined, medieval city of Chester was anything to go by today, then the result is going to be a close call. Again.
The city has the slimmest of majorities for the Conservatives (2,583) after MP Stephen Mosley seized the seat from Labour at the 2010 election. It is a key Labour target if the party is to stand any chance of returning to power.
According to Lord Ashcroft's poll released earlier this week, Labour currently has an 11 per cent lead.
Since Roman times, the city has been at the heart of various power struggles. When the Roman Empire fell, a number of petty kingdoms were set up in its place. King Arthur is said to have fought a key battle here; St Augustine had come to Chester to try and unite the church and Æthelfrith of Northumbria defeated a Welsh army at the Battle of Chester.
Budget 2015: George Osborne unveils pre-election package

Show all 7
Despite the modern day consequences of this latest battle, for some, there was a mood of scepticism and indecisiveness after Mr Osborne revealed the contents of his red briefcase. "You are expecting a good-news Budget before an election and I'm a bit sceptical about it," said Dan Garner, 46, an archaeologist from the Cheshire city.
Mr Garner said raising the income tax allowance would mean he was "a bit better off" and he also welcomed the 1p off beer duty as "obviously a gesture in the right direction" for a beer drinker like himself.
He divulged that he voted Liberal Democrat at the last election but now said he was a "floating voter".
Mr Garner, who chairs the local archaeological society, feared the effect of further austerity policies if the Conservatives returned to power.
"I expect the Liberal Democrat party to do badly so it's whether they are a viable party to support or not. I'm looking at the other options."
However, the Budget had been "really good" for business according to some after the news that the economy had grown by 2.6 per cent.
Ajay Patel, 38, a manager at a patisserie chain, hails from a family who always voted Labour but will vote Conservative after being impressed by the positive changes in the economy. He welcomed the new personal savings allowances.
"The Government's record on the economy makes it easier for the younger generation to work," he said. He pointed to lower petrol prices as an example.
But while Mr Patel was clearly impressed, Mike Edwards, who runs heritage tours on a First World War vehicle, said although he supported the Government's policies, he was "not necessarily" a Conservative voter. What he was certain of, however, was that he wasn't a Ukip supporter.
Anne Forrester said there had been a missed opportunity to increase the threshold for inheritance tax. She has always voted Liberal Democrat. Many hard-working families are now paying over the odds on inheritance tax as a result of the punitive thresholds, she said.
Although the city is one of the key seats at the election, some people had no interest in Westminster politics.
Outside the Dublin Packet pub, Jamie Faulkner, 27, admitted he'd never voted and didn't intend to vote. "I don't know enough about politics and what people are saying makes no sense to me," said the bar supervisor. "It's not that I don't care, I just don't understand the politics." Even the changes in beer duty didn't pique his interest.
Mr Mosley told The Independent he was untroubled by the snapshot of likely voting patterns and was confident of returning for a second term in May. He said he had seen positive economic changes and a "huge fall" in unemployment during his tenure.
He described the positive response he had found while out on the doorsteps which "feels pretty much the same as it did in 2010" with Conservative voters remaining true to their party and Labour voters staying loyal, too.
Register for free to continue reading
Registration is a free and easy way to support our truly independent journalism
By registering, you will also enjoy limited access to Premium articles, exclusive newsletters, commenting, and virtual events with our leading journalists
Already have an account? sign in
Join our new commenting forum
Join thought-provoking conversations, follow other Independent readers and see their replies