Conservatives silent auction: This is what Tory donors bid for at the party's fundraiser – and what everyone else has to say about it
Lots included a bronze statue of Margaret Thatcher and a '10k Iron Man Endeavour' with Iain Duncan Smith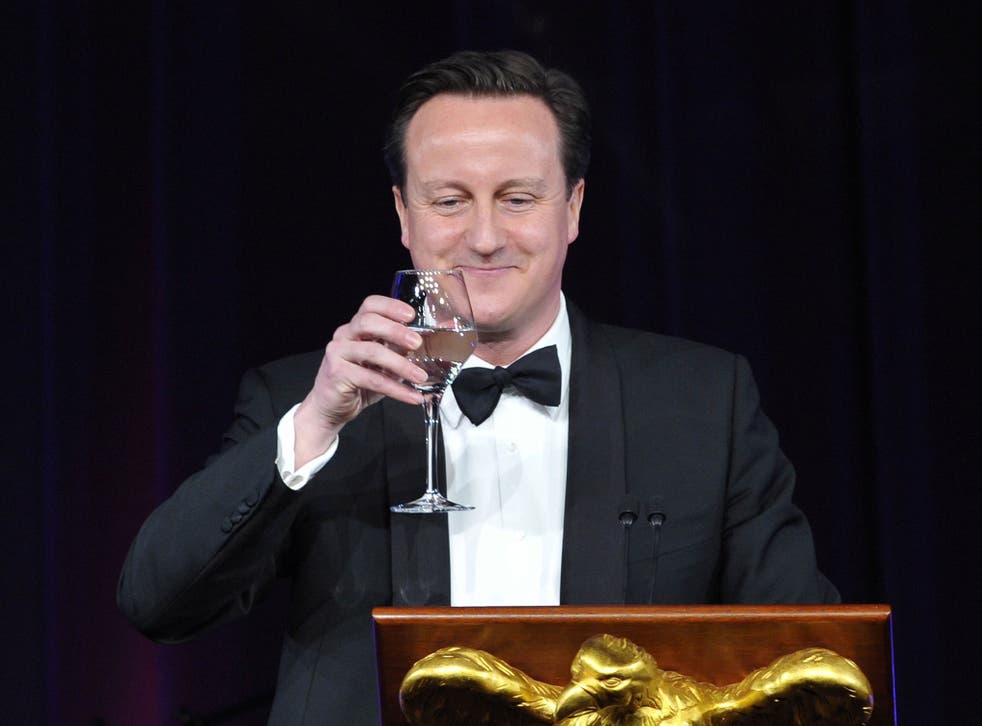 While today David Cameron was set to prompt business leaders to increase the pay of ordinary Britons, last night he was encouraging them to spend hundreds of thousands of pounds on private jet getaways to Italy, Swiss chalets, pheasant shooting trips – and signed copies of George Osborne's budget.
Those were just some of the lots that featured in a silent auction at the Tory party's Black and White gala, its final fundraiser before the start of the election campaign.
Party donors had already paid up to £15,000 per table for a place at the secretive event, where dinner was scheduled to go on for three-and-a-half hours with speeches by Mr Cameron and the Conservative chair Lord Feldman.
According to Buzzfeed News, the star lot in the auction was a luxury trip for two to Santorini, Italy, including champagne breakfast, private spa and chef and a "carefully stocked wine cellar" – sold to one donor for £220,000.
Lot 2 was a bronze scale model of the statue of Margaret Thatcher that stands outside the House of Commons – though less than 20cm tall, it reportedly went for £210,000.
Major donors to the Conservative Party

Show all 10
According to a reporter from The Times, a donated JCB digger sold for £50,000 while a night's exclusive use of private members club Annabel's went for £110,000, The Spectator said.
Conservative donors, whose ranks include almost half of the country's richest hedge fund managers, were also offered a number of lots giving them exclusive access to government ministers.
They included "shoe shopping with Theresa May", breakfast and "an early morning 5k run" with the Education Secretary, Nicky Morgan, and an optimistically named "10k Iron Man Endeavour" with Iain Duncan Smith.
Some people on social media have expressed outrage at the apparent profligacy of the auction at a time when the Prime Minister has overseen what the TUC's Frances O'Grady called "the worst fall in living standards since Queen Victoria was on the throne".
Kevin Blowe wrote on Twitter that the items represented "obscene expense", while user @LUBOttom said it "sums up how they can play with life changing money".
A Twitter user called Ben wrote sarcastically: "The Tories are really just so much like the working public it's uncanny.."
Libby Tillman wrote: "It tells me all I need to know about the Tories that supporters spend more than I earn in a year for a seat at a fundraising dinner."
Andrew Spooner said: "The Tories are SO out of touch & so remote from the travails of ordinary British people they are now satirising themselves."
"Amazing obscene excess!" said Patricia Farrington. "Tories deserve contempt for these excesses when people struggle to eat or heat homes. Disgusting Tory arrogance."
Barry McCulloch, from Scottish business organisation FSB, said simply: "Shoe shopping. Dear god."
Join our new commenting forum
Join thought-provoking conversations, follow other Independent readers and see their replies