David Cameron, Ed Miliband and Nick Clegg all drawn into the cash for access scandal
Leaders met a businessman who posed as a prospective donor to their parties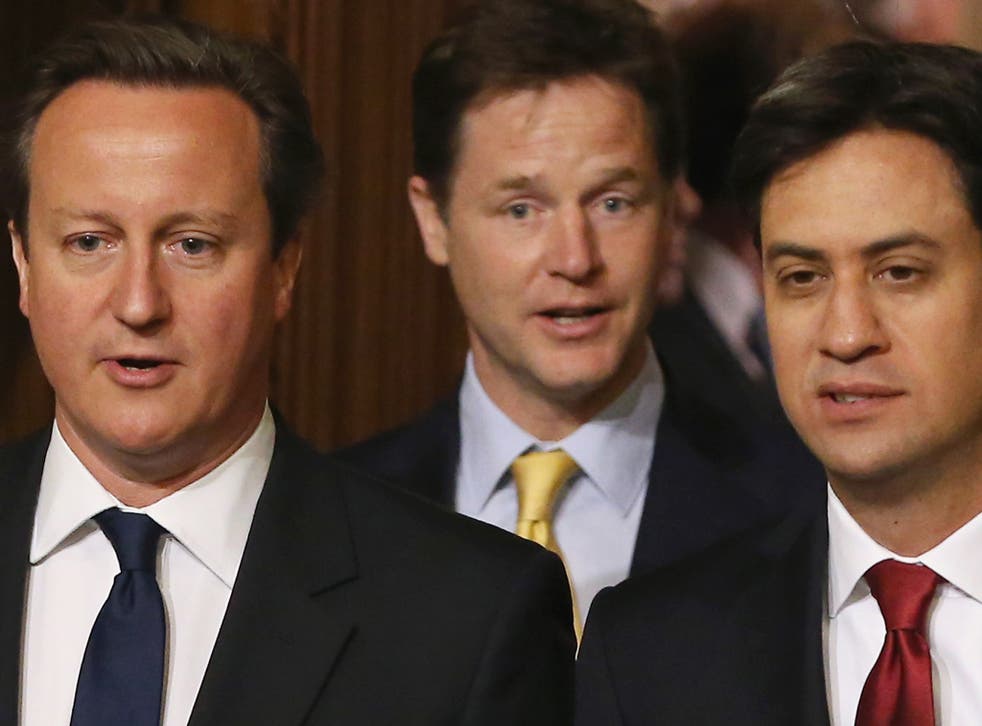 David Cameron, Ed Miliband and Nick Clegg all met a businessman who posed as a prospective donor to their parties in the latest cash-for-access revelations, according to a report.
Paul Wilmott, who was secretly working with Channel 4's Dispatches programme, pretended he was thinking about making substantial contributions to the Conservatives, Labour and the Liberal Democrats.
The programme, to be broadcast on Monday night, is expected to show him meeting Mr Cameron at a fundraising ball at the Grosvenor House Hotel in London in February, The Daily Telegraph reported. He was also secretly filmed meeting Mr Clegg and is understood to have met Mr Miliband as well.
Mr Wilmott reportedly shook hands with all three party leaders.
Experts' predictions for the general election

Show all 10
The Telegraph said he also discussed policies that could help his business interests with Labour's Chris Leslie, the shadow Chief Secretary to the Treasury, and also with Business Secretary Vince Cable.
A Conservative spokesman said: "The fact that donors are invited to attend events with senior figures within the party is clearly and openly stated on our website. All donations to the Conservative Party are properly and transparently declared to the Electoral Commission."
A Labour spokesman said Mr Leslie has "discussed economic issues with hundreds of industry experts in recent years", adding there was "no suggestion of any wrongdoing having taken place".
A Liberal Democrat spokesman said Mr Cable met many members of the public and businesspeople to discuss a wide range of issues.
Former Foreign Secretaries Jack Straw and Sir Malcolm Rifkind were suspended from Labour and the Tories respectively after they were secretly filmed discussing being paid to work for a fictitious Chinese company.
Join our new commenting forum
Join thought-provoking conversations, follow other Independent readers and see their replies