David Cameron pretends he feels 'really so passionately' about the election, a day after Tory donors slam his lack of inspiration
Video: The Prime Minister is getting 'bloody lively' ahead of May 7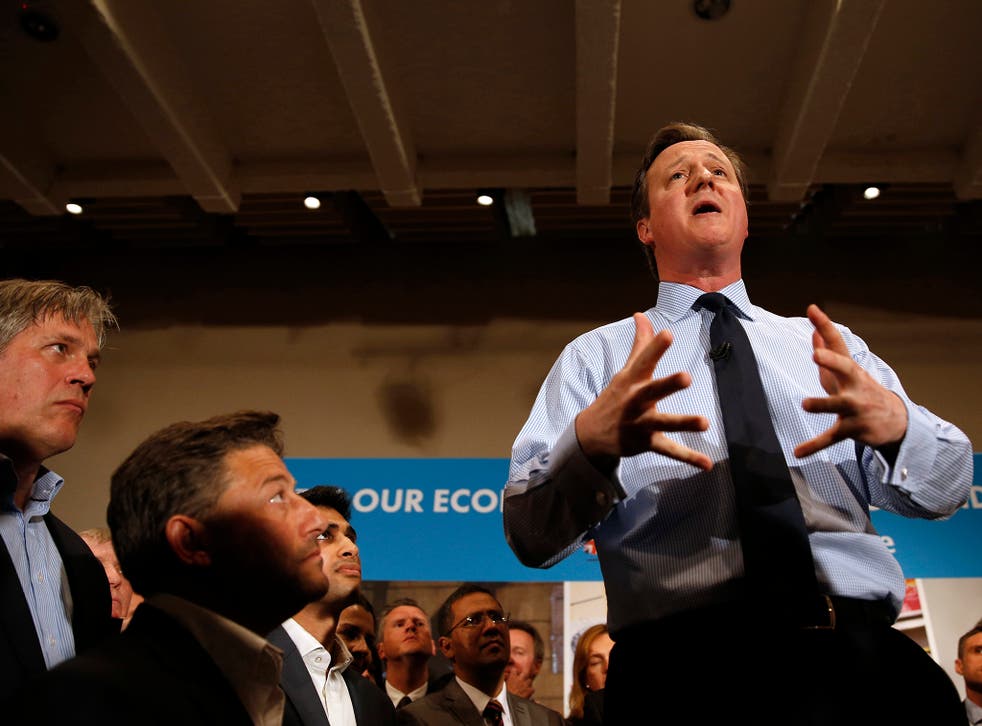 "I really feel so passionately about this election," David Cameron shouted this morning, trying to convince voters – and Conservative party donors – that he cared more than he has been letting on in the election campaign so far.
"If I'm getting lively about it, it's because I feel bloody lively about it," the Prime Minister added.
It was not a coincidence he was trying so hard to show a bit of passion a day after two Tory donors criticised him for a "curious lack of energy and belief in his campaign" and not the "slightest bit inspiring".
After delivering a speech to small business owners, thanking them for "fighting for Britain", he was forced to answer question after question from the media about the authenticity of his new-born passion.
So where did this sudden change in tone come from? "It's decision time – that's what pumps me up," he shouted.
One of the Tory donor critics was Peter Hall, an investment manager, who said Mr Cameron must "unleash visceral passion and belief in his vision of the future" and "get down and dirty".
So, what proof does the Tory leader have that he possesses such passion?
"When I hold those receptions at Downing Street and when I get the people who got start-up loans coming into Downing Street and telling me what they've done, often giving up a well-paid career, taking a risk, having a punt, having a go – that pumps me up."
In pictures: Experts' predictions for the General Election - 26/04/15

Show all 10
What Mr Cameron and the Tories have not lacked in the campaign so far is how passionately they believe/say a Labour/SNP government would lead Britain toward Armageddon. He continued his hyperbolic rhetoric, comparing a Labour government to an Arnold Schwarzenegger film.
"You know what they want to do? They say business is a predator," he said. "This is not some Arnold Schwarzenegger movie, this is what we're staring down the barrel of in 10 days' time if we don't get out there and fight for jobs and fight for enterprise and fight for our economy and that's we're going to do."
Was this his 'Hell Yes' moment – a reference to when Ed Miliband told Jeremy Paxman he was tough enough to be Prime Minister? "I prefer to carry out speeches in traditional English rather than hiring American coach," he said, forgetting that he too hires an American election strategist in Jim Messina, as well as employing an Australian, Lynton Crosby, who is in charge of his entire re-election bid.
A self-confessed "pumped-up" leader then delivered an impassioned final pep-talk, although there were so many mentions of the phrase "fight for Britain" that it sounded like he was preparing his troops for battle rather than talking to a room full of smart businessmen and women.
"Those of you who have worked hard, those of you who have put it in, those of you who want to build something, you have been in a fight, you've fought for fights, you've fought for our recovery, you've kept people on in the difficult times, you're building this country, you fought for Britain and I will always fight for you as your Prime Minister, knowing the economy comes first, there's nothing without a strong economy, you can have all the plans, all the dreams and all the policies and ideas in the world; they don't amount to a row of beans unless you have a strong economy, that's what we have in Britain, … go out there and fight, we can do it."
Join our new commenting forum
Join thought-provoking conversations, follow other Independent readers and see their replies