David Cameron tries to convince backbenchers he has changed leadership style in attempt to head off rebellions
With a majority of only 12, No 10 must keep the peace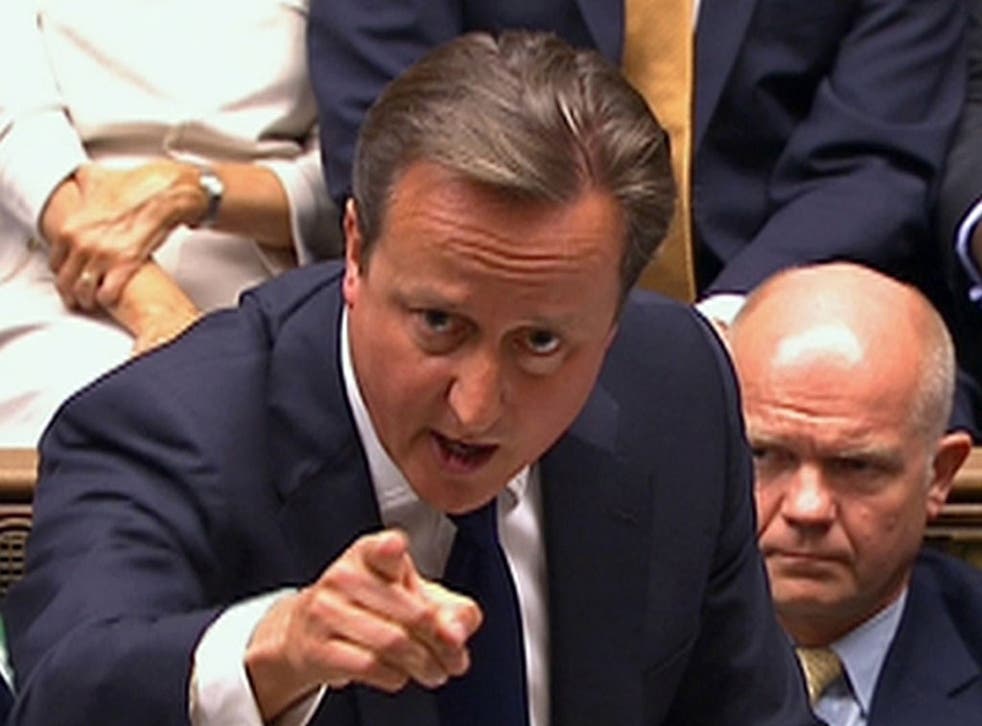 David Cameron will try to convince backbenchers that he has changed his leadership style, in an attempt to head off parliamentary rebellions that would wreck his legislative programme.
The Prime Minister has agreed to meet the powerful 1922 Committee as he completes his cabinet reshuffle, which included the sensational demotion of Chris Grayling from Justice Secretary to Leader of the House of Commons. Michael Gove replaces him, meaning Mr Cameron has now twice gone against the convention of making a lawyer Lord Chancellor.
Conservative backbenchers are in buoyant mood following Mr Cameron's surprise election victory last week, when he defied the odds to secure a majority. However, he only has an advantage of 12 MPs, meaning that the "awkward squad" of independently minded Tories who felt slighted during his first term of office could easily defeat new Bills.
Mr Cameron called Graham Brady, who leads the back benches as chairman of the 1922, early on 8 May, as the results pointed to a Tory majority, and later held a 45-minute meeting with him at No 10.
The Prime Minister wanted to see how he could work more effectively with backbenchers, who felt their policy-making nous and career prospects were ignored during the coalition years as Liberal Democrats filled many ministerial posts. They have also complained that Mr Cameron has relied too heavily on a close-knit group of advisers and high-ranking MPs.
Backbench sources said that Mr Cameron was "at least showing willing" and showing "positive signs" in trying to restore relations with his MPs, while a senior figure said that the Prime Minister appeared to be "turning over a new leaf".
Best General Election 2015 quotes

Show all 10
Mr Brady said: "David Cameron and I want to make sure that there is proper consultation early on in the policy-making process and that is borne out in the Prime Minister's decision to accept my invitation to the 1922 meeting at 11am on Monday morning."
However, some backbenchers are concerned that Theresa May has already declared that she will seek to revive a proposal to strengthen the online surveillance powers of security services and police. It was derided as the "snoopers' charter", but the Home Secretary pointed out that the Lib Dems are no longer in a position to block the plans; this was "one very key example" in which the Tories could now introduce their preferred legislative programme.
However, there is a civil libertarian wing of the party, led by former leadership contender David Davis, who backed Nick Clegg's opposition to the Bill, which party sources suggested might still be minded to block this legislation if it is not significantly amended, in what would be an early sign of the precarious nature of having such a slender majority.
Mr Cameron's advantage is even less than that which John Major enjoyed in 1992, and he wants to make sure that his second five years in power is not as troubled by fractious internal rows as his predecessor's.
Mr Major struggled badly with rebellious backbenchers who were particularly furious over Britain's membership of the European Union. He was infamously caught labelling three particularly troublesome cabinet members – thought to be Michael Portillo, Peter Lilley, and Michael Howard – as "bastards".
Mr Cameron has the advantage that even his harshest internal critics are in bubbly form after last week's unexpected outright victory. One said that there were "problems" with the campaign, but conceded that Mr Cameron could simply point out that he had won: "That's the nature of politics."
On 8 May, the Mr Cameron reappointed Ms May, Philip Hammond, and Michael Fallon as Home, Foreign and Defence Secretaries respectively. George Osborne retained the position of Chancellor, but was also effectively made Mr Cameron's deputy, as First Secretary of State.
Mr Cameron's demotion of Mr Grayling was a surprise, but will please prison officers and lawyers who have been dismayed by legal aid cuts, overcrowded prisons, and the semi-privatisation of the probation service. Unions regularly used a papier-mâché replica of Chris Grayling's head in their protests against cuts – vital to control costs in what is one of the world's most expensive legal systems, he said.
Mr Grayling will now steer legislation through Parliament instead. Mr Gove, who moves from chief whip, is another controversial figure, as he angered teachers with radical reforms when he was Education Secretary. Nicky Morgan replaced Mr Gove last year and it was also confirmed last night that she will keep the portfolio.
The Conservative think-tank Bright Blue said: "David Cameron's leadership and modernisation of the Conservative Party have been vindicated. His impressive electoral success and the improving economy now give him the authority to prioritise a compassionate and progressive policy programme that builds the Big Society and reforms public services – which, after all, is what he is most passionate about."
Join our new commenting forum
Join thought-provoking conversations, follow other Independent readers and see their replies