David Camerons' kitchen: A microcosm of the hierarchical society a Tory victory would give us
If the Tories win this election, expect an un-austere, self-conscious and, ultimately, hypocritical society of socially engineered superiors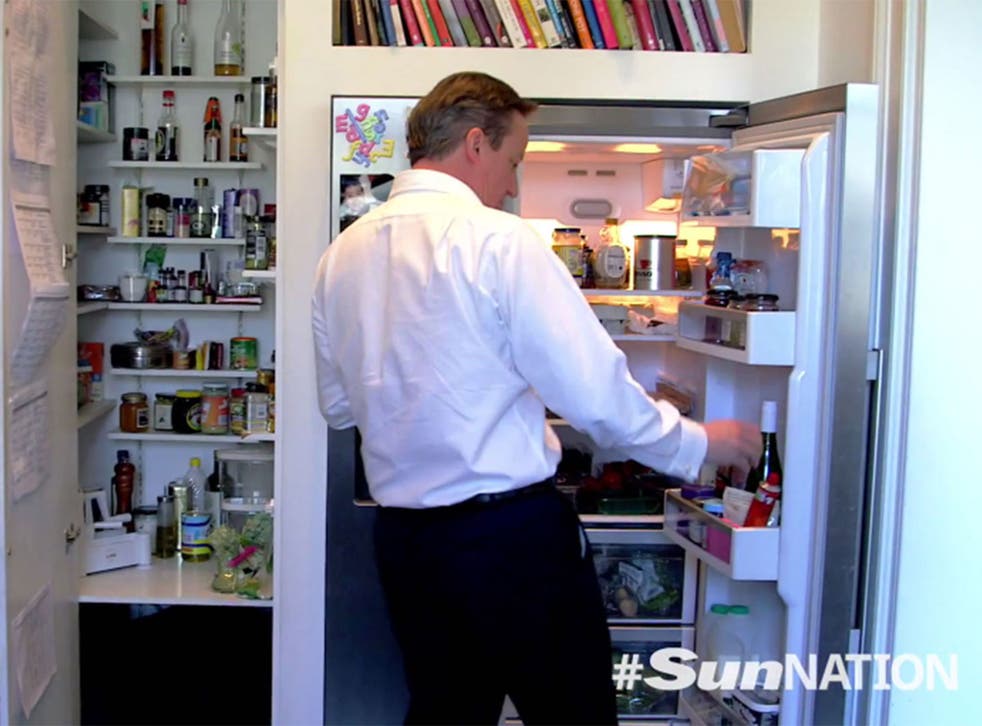 Very rarely do I feel sorry for David Cameron, but seeing him sitting alone in his unnervingly perfect kitchen, eating nothing but a sardine sandwich for lunch, made me want to rush home from work, garnish a bird with streaky rashers, stick it in the oven at gas mark 7, and head over to Downing Street with a juicy roast chicken.
Surely that small but lavishly appointed space can't be Dave and Sam's only kitchen? It isn't, of course. There's another, larger one available to the family, who live in a flat over No 11 because the one above No 10 is too bijou for their capacious tastes. Perhaps, when he isn't being tracked by a team from The Sun, the PM lunches in that one on succulent joints of beef dripping in juices and accompanied by mountains of fluffy white roast potatoes.
That's what Churchill would have done, washing the manly feast down with lashings of finest cognac. But it's hard to believe on this evidence that David Cameron has the stomach or the gumption for that. He'd be too worried about splattering the pristine work surfaces with fat.
Where does good, old-fashioned British bulldog fare fit into this trendy, Richard Curtis-style Notting Hill tourist infomercial of a kitchen, with its unscuffed Jamie Oliver saucepans and floating shelves from his mother-in-law Lady Annabel Astor's furniture company (okadirect.com; tempting discounts for blood relatives and their First Lord of the Treasury spouses, no doubt)? Nowhere, that's where.
And whatever would Winston have made of the fridge? When the Camerons spent £30,000 of our cash to create this second kitchen, you'd have thought they would have done their bit for a home-grown industry quaking from the aftershocks of the financial crash by buying British. They could have had a top-of-the range Lec LSC324 freestanding fridge-freezer for little more than a grand. But no, they had to have the stainless steel, swank and dead-cool ice dispenser of a double-door, American-style fridge-freezer. On our dime (our 30,000 dimes to be precise) they went for a £2,000, German-made Neff. Is that why we fought Hitler? To put state-of-the-art Teutonic electricals in one, if not both, of the PM's kitchens?
Election 2015: Focus groups make unflattering comparisons

Show all 4
Honey from god-fearing English hives isn't good enough either, apparently, for the hoity-toity Camerons. A glimpse into their larder reveals a jar of New Zealand Manuka from Waitrose costing £21, thanking you kindly. Snooty Notting Hillites don't just spread this apian gold on their organic wholemeal toast. In that faux-hipster way of theirs, they believe in its medicinal properties, taking it for everything from cold sores to indigestion. Over-the-counter remedies like Gaviscon and Rennie's, as trusted by millions of ordinary Brits, are beneath their contempt.
All in this together? Sure we are, assuming we can all afford 30 quid for a bottle of Jim Barry Shiraz like the one insouciantly placed beside the Anolon Advanced SureGrip knife-block set, for which you and I paid John Lewis £150.
For their children's sake, I hope some bossy spin doctor restocked the fridge, removing the Coke cans and Cadbury's Cream Eggs (what a joyless Easter those little ones have in store!) that ordinary kids turn to for cheer and energy, when they troop home exhausted from school, and replacing them with carrots, broccoli and other sombre ingredients for a brain-boosting, pre-homework smoothie. Not much prospect of a wholesome sugary snack coming from that sterile, maximum-capacity box.
If it's true that the kitchen is the heart of the home, then this one – and possibly its owner – requires an urgent transplant. There's nothing wrong with having a fancy-schmancy kitchen, of course. My own is 18 years old, and boasts Le Creuset casserole dishes and costly brass saucepans. The hob has no buttons missing, the oven doesn't smoke, and the lighting units work fine. But one of the floor-to-ceiling arched windows mysteriously collapsed just before Christmas, and since I haven't been able to afford to replace it, it's still boarded up.
Then again, I don't have a wife out earning a fortune at Smythson's while the old man's left at home fixing himself a lousy sardine sandwich, Too bad he doesn't have time to use the £355 Rancilio Silvia espresso machine, or even visit the bathroom. He keeps an electric toothbrush on the table, next to the Weetabix, so he can hurriedly brush his teeth in the sink and avoid breathing oily fish fumes over the Panamian ambassador in the afternoon.
No home-making for Samantha. Not for her the siren call of the Domestic Goddess, the Homemade Home or even The Great British Bake Off. She's far too busy sticking to her feminist principles, flogging Boston bags of softest goatskin to minor Saudi royals at £995 a pop, to make her husband a proper lunch in that immaculate kitchen.
It's not that they don't know how to make it look grubbily lived in, or festoon it with crusty old pizza boxes from Domino's, or disorganise their kitchen cupboards. If they wanted to, they could knock Wayne and Waynetta Slob into a cocked hat. It's that they don't want to. On principle.
No ideological slippage into an – albeit ironic – aesthetic of typical rushed-off-their-feet, no-time-to-clear-up, heartwarming slovenliness. It's gleaming, zeitgesty, Daylesford Organic, studied chic with Mr and Mrs Cameron – or nothing.
And that is exactly what we will get if Dave wins the election. An un-austere, self-conscious and, ultimately, hypocritical society of socially engineered superiors.
A Britain made in the image of that sad, self-consciously flawless Cameron kitchen: smart, functional, humourless, horribly healthy and about as much fun as a Manuka honey, feta and fresh herb salad for kitchen supper with a bunch of cheque book-flashing Tory donors.
Join our new commenting forum
Join thought-provoking conversations, follow other Independent readers and see their replies