Election 2015: Harriet Harman revives the battle bus – but this time the target is female voters
Senior women in all three parties were unhappy that the nature of the last campaign in 2010 was male-dominated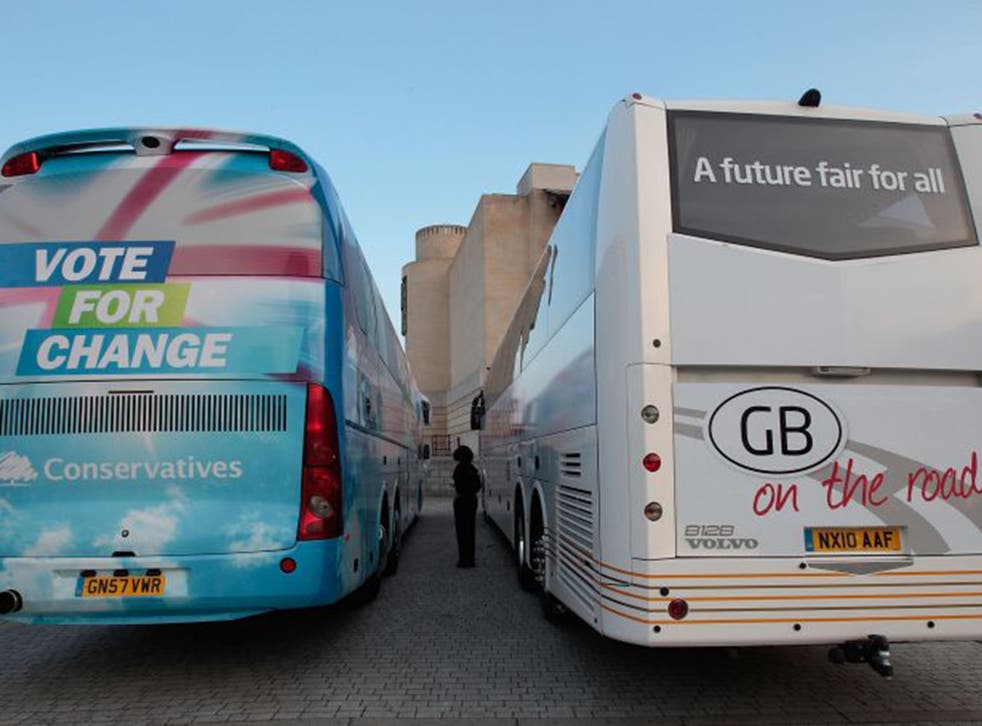 It is 10 years since the last general election battle bus was parked up for the final time. But Harriet Harman, Labour's deputy leader, is to relaunch the tradition in the run-up to 7 May with her own battle bus to reach thousands of female voters across the country.
Ms Harman and Gloria De Piero, Labour's women and equalities spokesperson, will launch the battle bus later this month for their tour entitled "Woman to Woman". Other female shadow cabinet ministers will join the tour, which sources said would be "interactive" and hear the "real experiences of women". They want to tap into a network of female activists, campaigners and candidates to speak to women voters who are, figures show, increasingly turned off the ballot box.
Battle buses – which were usually executive coaches filled with the party leader, aides and journalists – used to be a key fixture of the modern-day UK general election campaigns until 2005, when access to Tony Blair was scaled back and only the Tory and Liberal Democrat leaders kept theirs. In 2010, none of the main party leaders had a formal battle bus throughout the campaign, leaving the focus on the televised leaders' debates.
Even though 2010 was supposed to be the "Mumsnet election", some senior women in all three parties were unhappy that the nature of the campaign was male-dominated – mainly because of the TV debates. House of Commons Library figures obtained by Ms Harman show that the number of women who didn't vote in 2010 was 1.1 million higher than the number of men who didn't, or some 9.1 million female voters. In 1992, 78.2 per cent of women voted compared with 77.2 per cent of men, while in 2005, only 64 per cent of women voted compared with 67 per cent of men.
Ms Harman is also planning to launch a "women's manifesto" to coincide with her tour, which will go to all regions of England as well as Wales and Scotland. The battle bus will park up outside schools, factories and shopping centres. Some in the Labour Party are uneasy about a "women's manifesto", insisting that the sort of issues that are supposedly female – such as childcare and education – do not concern women without children but are high on the list of priorities for fathers.
A Labour source said: "This is going to be a big part of the short campaign. Half the Shadow Cabinet is female, and figures show that women are being hardest hit by cuts to benefits and spending. The slogan is going to be 'woman to woman'."
It is unclear, however, whether the driver of the women's battle bus will be a man or a woman.
Register for free to continue reading
Registration is a free and easy way to support our truly independent journalism
By registering, you will also enjoy limited access to Premium articles, exclusive newsletters, commenting, and virtual events with our leading journalists
Already have an account? sign in
Register for free to continue reading
Registration is a free and easy way to support our truly independent journalism
By registering, you will also enjoy limited access to Premium articles, exclusive newsletters, commenting, and virtual events with our leading journalists
Already have an account? sign in
Join our new commenting forum
Join thought-provoking conversations, follow other Independent readers and see their replies