Election 2015: Labour's pink Woman to Woman campaign bus may be off-colour, but the party is still ahead in the polls
Survey of voting intentions proves pink is still working better than green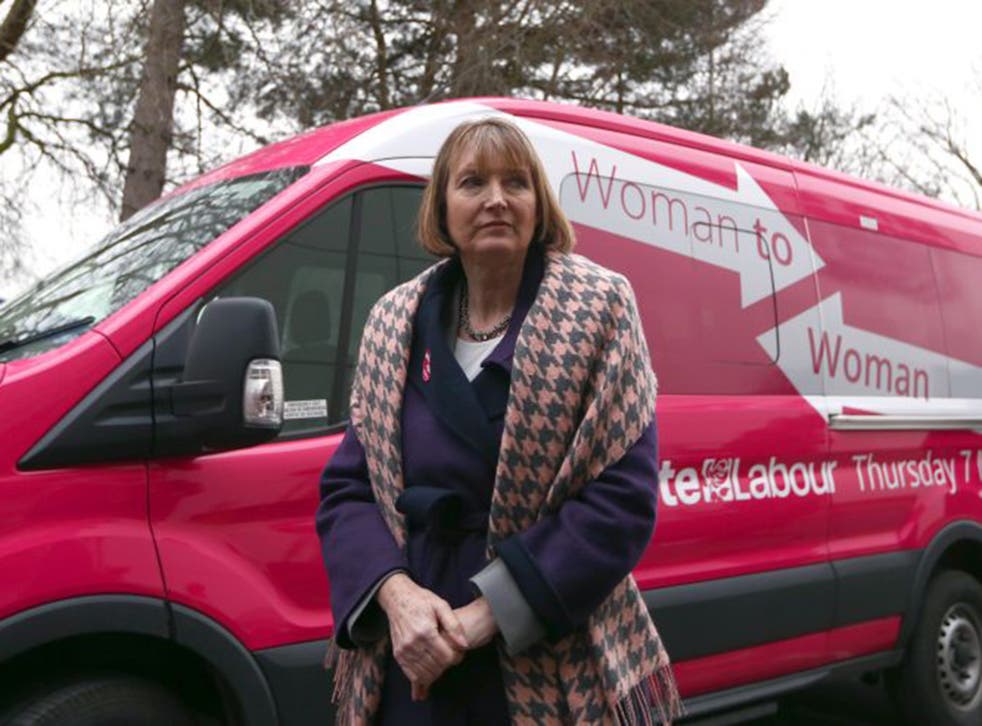 Most voters think Labour's pink Woman to Woman campaign bus patronises women, according to a ComRes poll for The Independent on Sunday. The poll found that 57 per cent of women and 55 per cent of men agree that "by travelling around Britain in a pink bus to try and attract female voters, the Labour Party is patronising women".
The bus – which Harriet Harman, Labour's deputy leader, described as "magenta" – aims to reach the nine million women who didn't vote at the last election. But the choice of colour has been criticised by campaigners against gender stereotyping.
Some female Labour MPs who support the Let Toys Be Toys campaign against gender-specific marketing have been privately embarrassed by the row.
Our poll also found that women voters support the campaign against the marketing of toys and books, often colour-coded pink and blue, at either girls or boys.
The poll found that 44 per cent of people agree that "shops should put less emphasis on aiming some toys at girls and others at boys"; 33 per cent disagree. Just over half of women polled agree (52 per cent), compared with 36 per cent of men. More men disagree (39 per cent) than agree.
Experts' predictions for the general election

Show all 10
The poll shows little change in overall voting intention, with Labour's two-point lead and the slight decline in Ukip support since last month reflecting the current average of all polls.
After the row in the Commons last week about tax avoidance, 41 per cent say the Government could do more "to stop large companies from moving their profits overseas to avoid paying tax in the UK", whereas 36 per cent say there is "little the Government can do".
But Ed Miliband's attack on the Prime Minister for taking donations from tax avoiders has failed to find decisive support. Asked who would be "more effective at cracking down on tax avoidance and evasion", opinion is equally divided: 31 per cent for Miliband and 31 per cent for David Cameron, with 38 per cent saying they don't know.
Asked to choose between Mr Cameron and Mr Miliband on a number of statements, the Prime Minister has the advantage on "the qualities needed in a leader" (a 25-point lead), "managing the economy" (23 points), "managing immigration" (16 points) and even "would be more likely to raise standards in schools" (3 per cent).
Mr Miliband is ahead by only one point on "would make me and my family better off". "Managing the NHS", however, gives him a decisive 10-point advantage.
Asked to say who was likely to be prime minister after the election, 40 per cent named Cameron and only 22 per cent Mr Miliband, despite Labour's lead in the polls, although 38 per cent chose "don't know". Only 49 per cent of Labour voters expect Miliband to be prime minister in May, compared with 80 per cent of Conservatives who expect Cameron to stay at No 10.
The poll also asked about Ukip and the Green Party, whose rising support in the run-up to the election threatens to destabilise the three established parties. Asked if these parties have "some good ideas about how to run the country", 41 per cent say that Ukip does and 35 per cent say the same about the Greens. But more voters (42 per cent), disagree that Ukip has good ideas, and 55 per cent say that "Ukip would be dangerous if it had any power".
The figures for the Greens are lower because people are more likely to say they don't know about them, but even so, more voters agree that the Green Party would be dangerous in power (37 per cent) than disagree (29 per cent).
Join our new commenting forum
Join thought-provoking conversations, follow other Independent readers and see their replies