Election results: SNP power to be mostly impotent as Tory policy set to prevail in Westminster
56 SNP Mps will be bunched on the Opposition benches for the next five years, and largely impotent in any attempt to defeat Tory policies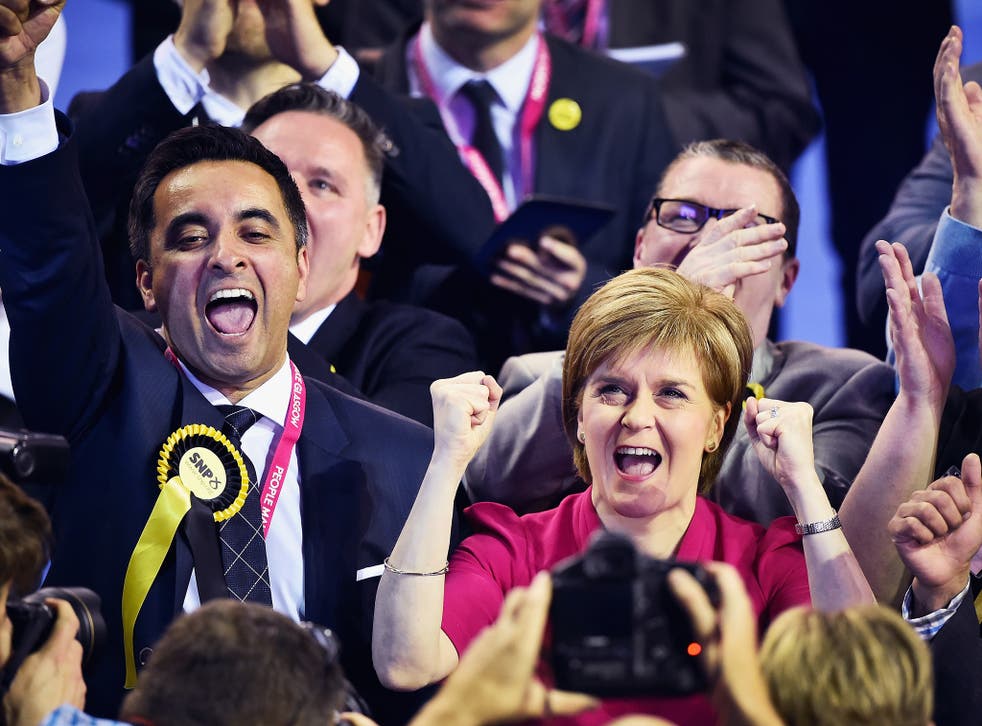 The huge posters of Nicola Sturgeon are still everywhere. But if her proclaimed promise of giving Scotland a "strong voice" in Westminster now looks impossible to deliver, no one is complaining. In Glasgow's George Square, as a bunch of kilted stragglers waited for a late bus to take them home after the main city count, one shouted "Cameron, we're coming for you!"
Hang-overs in Scotland are routinely addressed by a bottle of Irn Bru. The hyper-sugary drink, so legend goes, eases pain. But in a hotel in Finnieston, some SNP supporters said their hang-over was entirely celebratory.
"Another Tory government is a f***ing disaster, no question. But even if there was 59 Labour MPs from here, England still voted Tory. Better we're there than anyone else."
England voting Tory is the get-out clause, the excuse, the upturned political logic that will allow SNP diehards to proclaim a victory, when the arithmetic in Westminster tells a different story.
The major political figures who lost out in the General Election

Show all 16
From six to 56 MPs is astonishing, unprecedented and unbelievable. When Kirsten Oswald walked through the doors of Williamwood High School in Clarkston to be greeted by screaming and shouting nationalist supporters, she put her hand to her mouth and said "Oh my God, I can't believe it." She had just beaten Labour's Scottish leader and a politician with cabinet experience. Her party had not just beaten their opponents, but nearly obliterated them.
The downside that might require downed sorrows and much Irn Bru is that the 56 SNP Mps will be bunched on the Opposition benches for the next five years, and largely impotent in any attempt to defeat Tory policies, budgets or initiatives.
Do supporters care? Does the nationalist cause look down-trodden and despondent that the alliance of progressives Ms Sturgeon promised would reach agreement, now looks illusionary? Locals in the West End's Park Bar didn't seem to think so.
John, from the Highlands but working in a small Glasgow online start-up, said Nicola Sturgeon had made clear that the election wasn't about independence. Then he added, to laughter from his nearby mates: "But everything's about independence. This beer, his hat, that table, that dog over there. That's why we can celebrate, and Cameron or Boris f***ing Johnson don't annoy us anymore."
The group said they were annoyed at one word uttered by the Prime Minister outside Number 10. Taking out his i-Phone, Cammie, another programmer, pulled up a picture of the BBC's huge street map jigsaw of the results outside Broadcasting House in London. He pointed to the small yellow area covered in yellow. "That is us. Scotland. Does this – all of it – look like "one nation"? No, it doesn't. And that's the Tories problem, no ours."
Join our new commenting forum
Join thought-provoking conversations, follow other Independent readers and see their replies