Eurosceptic Conservative MPs demand major concessions when David Cameron renegotiates Britain's EU membership
'Cameron could usually ignore his critics under the Coalition - but with his majority down to 12, a rebellion by a small number of Tories could defeat him'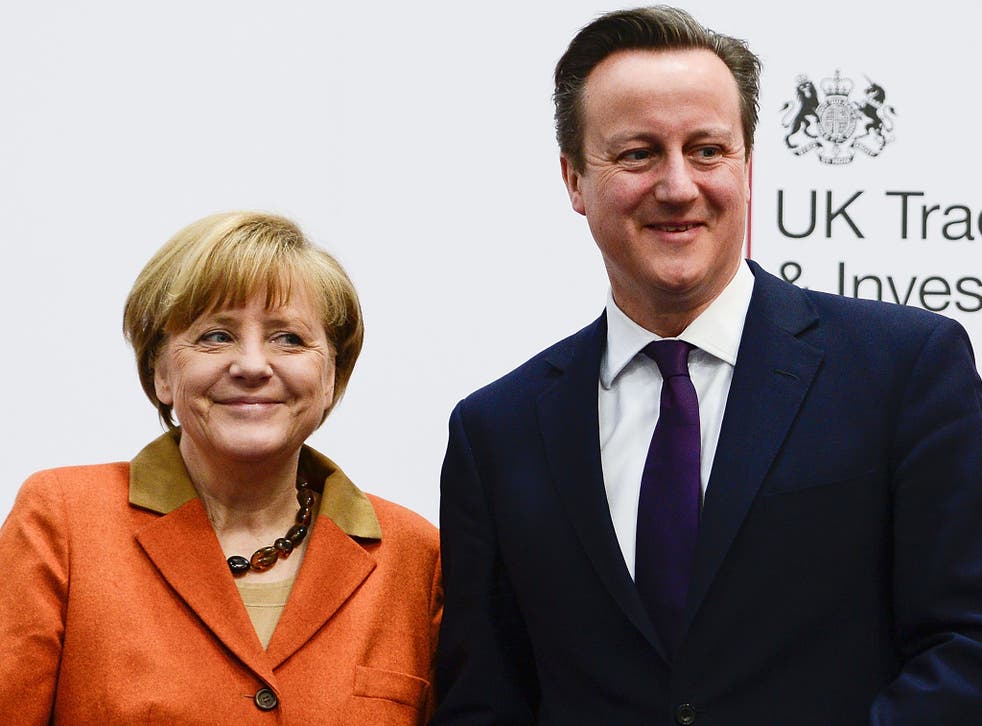 David Cameron's brief honeymoon after his stunning election victory ended as Eurosceptic Conservative MPs demanded that he win major concessions when he renegotiates the terms of Britain's EU membership.
The Europhobes admit the Prime Minister's unexpected triumph has strengthened his position in the party, and insist there will be no repeat of the rebellions over Europe which destabilised John Major's government in the 1990s.
However, they are already raising the bar high on a new EU deal and warning that they will campaign to leave the 28-nation bloc in the 2017 referendum if he secures only cosmetic changes.
One Eurosceptic MP said: "He has won a breathing space and he must be allowed to get on with it [the EU talks]. But we have also won new muscle because he will need our votes in the Commons." Mr Cameron could usually ignore his hardline critics under the Coalition because the Liberal Democrats gave him an overall majority of more than 70. But with his majority down to 12, a rebellion by a small number of Tories could defeat him.
In his first interview since Thursday's election, Mr Cameron told Channel 4 News: "The first thing is to get the renegotiation going. We will be doing that soon. I've already made calls to European leaders. Then the referendum. I'm confident we're going to get the right result."
But Peter Bone, a Tory Eurosceptic, said: "I think he'll go to Europe, I think he'll negotiate very well, but I think he'll fail to get the British people want, not because of his efforts, but because [of] the European bureaucrats. They live on a different planet. I'll campaign to stay out of the European superstate. We'll see what the British people decide."
David Davis, a Eurosceptic who was a Government whip during the Major era, believed there would not be a repeat of the revolts in the 1990s. He told the BBC's Andrew Marr Show: "We have done it before and we know what it feels like… people have got the option of talking to him [Mr Cameron] more than before. And if they don't like the outcome they can actually campaign against it in the referendum."
However, Mr Davis said he wanted to see Britain win a special opt-out if an EU measure affected the national interest, saying that might persuade him to vote to stay in the Union. "That, for me, is the acid test, it's not the only one, I grant you, but it's the central one," he said.
But there would be little chance of Mr Cameron winning such special treatment. Brussels officials say other member states would make similar demands, causing gridlock inside the EU.
On 11 May the Prime Minister will complete the line-up of his first all-Tory Cabinet. On 10 May he announced that Iain Duncan Smith will remain as Work and Pensions Secretary and that Baroness (Tina) Stowell of Beeston will stay as Leader of the Lords and will be given full Cabinet status, which she did not enjoy under the Coalition because there were five Lib Dem Cabinet ministers. Six out of the eight posts already announced have seen ministers keep the same job.
Mr Cameron will tell the 1922 Committee of Tory MPs at Westminster on 11 May: "We will renew our relationship with Europe, ensuring we get a better deal for the British people – culminating in an in/out referendum."
He will say: "We are the party of one nation – and that is how we will govern. After the great Labour recession – so much of the last five years was about repair and recovery. It fell to us to put the economy on the right track and to get Britain back to work….The next five years will be all about renewal. It will be our task to renew a sense of fairness in our society – where those who work hard and do the right thing are able to get on. We will make sure our economic recovery reaches all parts of our country."
New cabinet: what we know so far
In keeping with the very limited nature of the reshuffle so far, it has been announced that Nicky Morgan will continue as Education Secretary and Minister for Women and Equalities, while Baroness Tina Stowell will stay as Leader of the House of Lords.
Late on Saturday evening it emerged that Michael Gove would be moved to the Department of Justice from his previous role as Chief Whip. Gove had held the latter role for less than a year after being removed from the post of Secretary of State for Education last July.
He will be replaced by Mark Harper, formerly a minister of state at Work and Pensions and the immigration minister at the Home Office, while outgoing Justice Secretary Chris Grayling becomes Leader of the House of Commons and Lord President of the Council, the post vacated by William Hague, who has stood down as an MP at the election.
David Cameron began announcing his new Cabinet via Twitter on Friday afternoon, within hours of his thumping election win being confirmed.
What does five more years of the Tories mean for Britain?

Show all 8
There has been no change at the great departments of state: George Osborne remains Chancellor of the Exchequer. The Prime Minister has also made Osborne his official number two by naming him First Secretary of State.
Also announced on Friday, Theresa May will remain Home Secretary, Philip Hammond will stay on as Foreign Secretary, and Cameron is also keeping Michael Fallon as Secretary of State for Defence.
Tom Brooks-Pollock
Join our new commenting forum
Join thought-provoking conversations, follow other Independent readers and see their replies