Free from Lib Dem shackles, Cameron able to unleash most radical legislative programme in British history
The central campaign pledge was an EU referendum, which will either appease Eurosceptic backbenchers or spark yet another civil war on the issue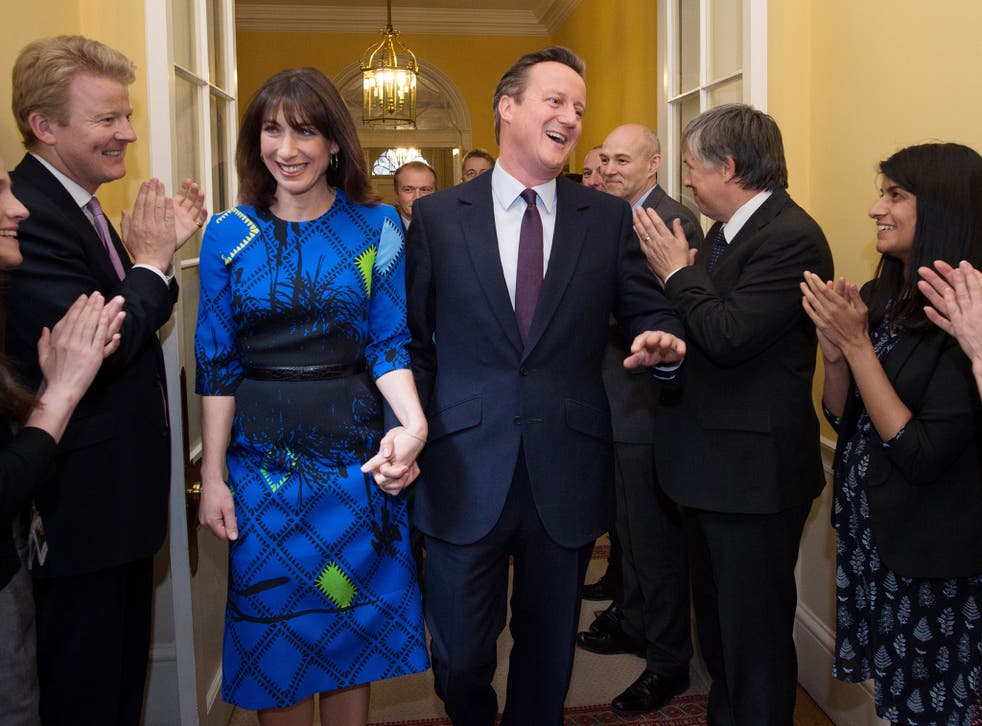 After five years of being constrained by Liberal Democrats, David Cameron is now able to unleash an unabashed legislative programme that could make his premiership one of the most radical in Britain's history.
The central pledge of his campaign was an in/out referendum on Britain's membership of the European Union to be held in 2017, which will either appease Eurosceptic backbenchers or spark yet another civil war on the issue.
Mr Cameron might well give in to pressure to fix the poll for a year earlier, so that the referendum does not haunt nearly half of his second, and final, term of office in the way that the Scottish independence vote lingered over the coalition. Big business would be pleased by a shorter campaign as that would unsettle trade with Britain's biggest partner for a shorter space of time, but will continue to be worried that people will vote "out" – not Mr Cameron's preferred option.
Although Mr Cameron is unlikely to ruffle the markets by campaigning for a Euro exit, he will have to placate his right wing by taking on Europe over the Human Rights Act. This codifies the European Convention on Human Rights into British statutes, but some senior Tories have argued that it provides foreign criminals with too many protections and means that UK legal decisions can be appealed in Strasbourg.
The major political figures who lost out in the General Election

Show all 16
They want this replaced by a British Bill of Rights and Responsibilities, although proposals will spark protests from civil liberties groups.
Alongside plans for human rights law reform, David Cameron will seek to renegotiate a fresh deal for Britain with the European Union ahead of the planned referendum. Priorities will include changes to the benefits system, the reduction of business red tape and a rebalancing of power in favour of national parliaments at the expense of Brussels.
With Europe crossed off, the Tories will also want to deal with the other major reason they have conceded votes to Ukip: immigration. Mr Cameron pledged to cap net immigration to tens of thousands during the last parliament, but it has soared to nearly 300,000.
This was another area of disagreement with the Lib Dems, who argued that Britain benefited from an influx of skilled workers. Senior Tories, though, said the housing crisis deepens as homes need to be found for as many as 100,000 immigrant families annually.
Either way, the growing shortage of homes has been a thorn in the side of Mr Cameron's administration, though construction started to plummet at the end of Gordon Brown's premiership as the financial crisis hit housebuilders.
The Conservatives want to increase home ownership by expanding the right-to-buy programme – which offers council tenants discounts on the market rate – to housing association tenants. Housebuilders listed on the London Stock Exchange had their share prices increase as the Conservatives won their final seats on Friday, suggesting that investors think that Mr Cameron will create an economy to help these companies thrive.
Economically, the Tories have vowed to balance the books by 2018, but this will require £12bn of welfare cuts that they failed to specify during the election. John Hills, director of the centre for analysis of social exclusion at the London School of Economics, has warned that this could mean "hitting lone parents and disabled people" which would "create pressure on food banks and hardship on a scale that would be hard to imagine".
Mr Cameron is now fully committed to the Lib Dem policy of raising the starting point of income tax, even though he opposed it before entering coalition.
Join our new commenting forum
Join thought-provoking conversations, follow other Independent readers and see their replies