General Election 2015: Can the Tories double their MPs in Scotland - to two?
On the campaign trail with Scottish Conservative John Lamont
James Cusick
Wednesday 15 April 2015 22:17 Comments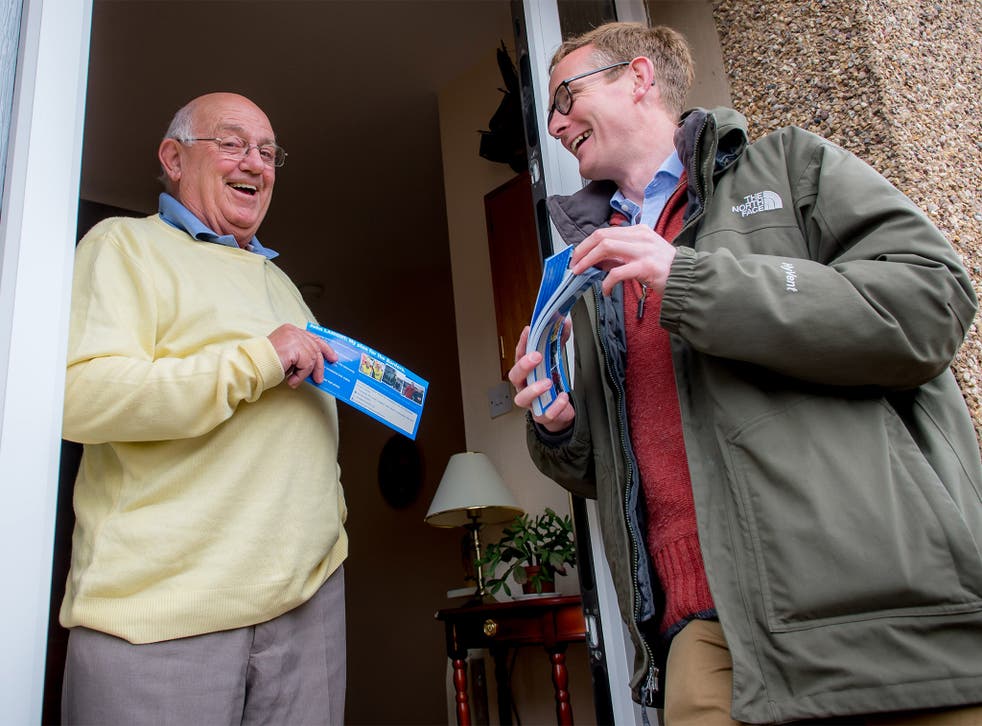 "Commander Charles Donaldson? Sorry, never heard of him." Along the main street in Galashiels and Kelso, the answer is the same. Memory of the last Conservative to serve this Borders constituency has faded deep into Scotland's political past.
The commander was a Tory MP in the Borders from 1951 till his death in 1964. In the by-election that followed, a 26 year old Liberal won. It's 50 years since David Steel triumphed in Roxburgh, Selkirk and Peebles. And the Liberals or Liberal Democrats, co-founded by Steel, have held the parliamentary territory since then.
On May 7 polls are forecasting that this half century of liberal tradition in the Borders and elsewhere on the mainland will end. Michael Moore, the former Scottish Secretary who has held the seat since 1997 when Lord Steel stepped down, is likely to lose half the vote-share that gave him a 5,675 majority in 2010.
This demise of the Lib Dems has produced a rare opportunity for Conservatives. If David Mundell, long the only Scottish Tory at Westminster, holds his neighboring Dumfriesshire seat, a victory for John Lamont in Berwickshire will mean the party, so the joke goes, able to field a tennis doubles for the first time in 23 years.
In pictures: Experts' predictions for the General Election - 11/04/15

Show all 10
These are strange times for Scotland's political arithmetic. With a Labour wipe-out predicted in some polls, Ladbrokes are offering low only odds for the Tories in Scotland having more seats than Labour. That isn't an anomaly, it's a revolution.
Lamont, aged 39, is a Tory rarity. The former Freshfields lawyer, whose family farms in the Borders, is the MSP for the parallel constituency in Holyrood, elected with an majority win.
He was chosen to fight the Westminster seat for the third time, after winning the first US-style primary contest held in Scotland. He came second to Moore in 2005 and 2010 and last time round the Lib Dems branded him a "well-meaning amateur". Now the Tory whip in Holyrood, controlling 15 MSPs, that label no longer fits.
Campaigning in Duns in the east of the large Borders constituency, Lamont is low-key and effective on the doorstep. Party HQ, recognising the PR potential of a rare Scottish success, have sent him help. A steady stream of volunteers seem aware that if they bring out the Tory vote – 34 percent in 2010 – that could be enough to see off the SNP surge fed by a massive swing away from Moore, and a dire Labour vote close to 2 percent, the lowest in Scotland.
Dressed down in jeans and a North Face anorak, wearing trainers and an open neck shirt, this is isn't the dress-code that Commander Donaldson would have approved of.
In the comfortable bungalows and tidy gardens of Trinity Park, a cul de sac not far from the small town centre, Lamont seems well known. Although it looks and feels Tory territory, nothing in Scotland is what it seems in 2015. Comments on the doors vary from "I saw your mum in church" to "They [the SNP] are still acting like they won the referendum. It's dreadful."
Lamont is steady in delivering the official party line: "They'll be pulling Ed Miliband's strings" and nods casual approval when someone says "I fear what'll happen if the nationalists win" or "I can't believe what's happened. We've been Liberal for so long." Lamont says he doesn't hold the answers. "I don't fully recognise the opposition in my own constituency."
In a less upmarket part of Duns, on the streets around Briery Place, the SNP's voice feels louder. Lamont's strategy is to ask "Were you happy with the referendum result" and work from there. The support varies, but when someone says "My husband shoots on your dad's farm" a "T" for Tory is recorded.
Lamont was Ruth Davidson's campaign manager when she won the 2011 leadership contest. "I knew she was the best candidate and someone the party needed," he says.
These pro-Davidson credentials suggest a moderniser, or a young politician aware that Scottish Tories need a different, more crafted voice to survive. But that assessment would be a mistake.
In Duns Parish Church earlier this week, in the first all-party hustings before election day, Lamont had an opportunity to appeal to unsure voters who might take him over the winning line. He didn't take it.
After an opening address that focused on a possible Labour-SNP coalition, that he said would put UK's economic recovery at risk, he then took questions from the audience seated in the kirk.
There were immediate and loud shouts of "Shame! Shame on you!" when Lamont described families on benefits as a "life-style choice". Someone in the audience said it was "immoral" that he'd used such a description. Both the SNP candidate, Calum Kerr - who ran the Yes campaign in the Borders last year - and Moore, recognised the open goal and mounted the obvious offensive.
As Kerr focused on the nationalists' anger at in-work poverty, low pay and the Borders having a "raw deal for too long", and the kirk hustings gave Moore the opportunity to "apologise" on tuition fees, a question on the rise of food banks meant another controversial answer from Lamont.
The Tory MSP said food banks being "advertised" in local Job Centres had contributed to their higher profile. That again brought angry shouts from the audience, one asking "Is using a food bank a life-style choice too!"
On national television, where he would be expected to be appear regularly if he wins on May 7, Lamont would have been pilloried for these two comments. So will they matter? One of his opponents summed him as a "Nice man who just can't hide what he is – a Tory." The insult may only hurt if he loses.
---
The Independent has got together with May2015.com to produce a poll of polls that produces the most up-to-date data in as close to real time as is possible.
Click the buttons below to explore how the main parties' fortunes have changed:
All data, polls and graphics are courtesy of May2015.com. Click through for daily analysis, in-depth features and all the data you need. (All historical data used is provided by UK Polling Report)
Register for free to continue reading
Registration is a free and easy way to support our truly independent journalism
By registering, you will also enjoy limited access to Premium articles, exclusive newsletters, commenting, and virtual events with our leading journalists
Already have an account? sign in
Join our new commenting forum
Join thought-provoking conversations, follow other Independent readers and see their replies