General Election 2015: As a draw looms, Tories and Labour try to address their big weakness
It is unlikely that trying to steal each other's clothes will improve voters' trust in politics, or give either side the advantage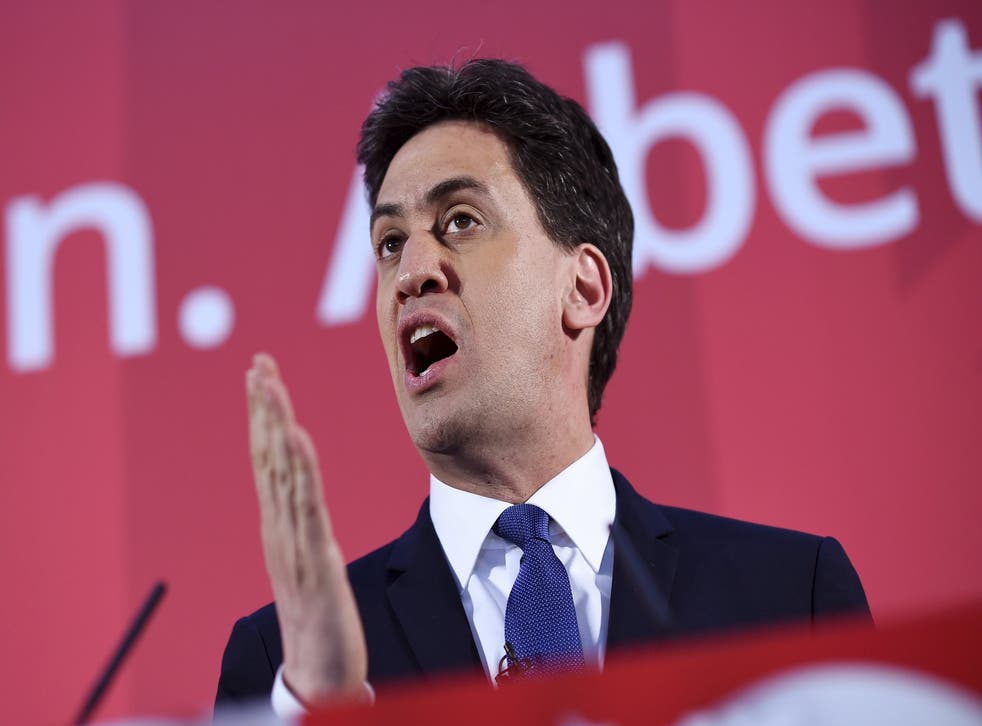 It was the week in which the Conservatives and Labour changed places in an attempt to tackle the weaknesses that prevent either of them edging ahead in this neck-and-neck election.
Launching the Labour manifesto, Ed Miliband put the spotlight on the need to cut the deficit rather than on the goodies that parties traditionally display. In contrast, David Cameron served up plenty of sweeteners as he tried to rebrand the Tories as the "party of working people" and played down the bad news to come on spending cuts. Rather enviously, Labour clocked up £25bn of unfunded Tory spending pledges, including £8bn for the NHS and £10bn of tax cuts. "We would be crucified for doing this," one senior Labour figure complained. The Tories argue that they achieved £10bn of tax cuts and £7bn extra for health in the past five years and so have earned the voters' trust to do it again.
Behind the scenes, there were doubts in both parties about this shameless display of political cross-dressing. Blairites have nagged Mr Miliband to get serious about the deficit ever since he became Labour leader. "This is four years too late," one snarled. New Labour would have tackled the party's undoubted weakness on the economy first, before springing plans to reform it to tackle inequality on an unsure electorate. David Miliband would have done it that way round if he had won the leadership battle. "You have to clear the undergrowth before you can rebuild," one friend said.
Tory modernisers welcomed the burst of sunshine added to the party's manifesto in a last-minute rewrite – and Mr Cameron's reassertion that he is "compassionate Conservative". But, like their Labour counterparts, they wondered whether it was too little, too late. As one Tory adviser put it: "The workers' party would not have cut the 50p top rate of tax, would it?"
Inevitably, both the Tories and Labour deny changing their strategy. Tory officials insist they always planned a three-stage campaign: setting out the economic choice between "competence and chaos", going positive with "retail offers" in the manifesto, and then returning to the "core choice" before 7 May.
In pictures: Experts' predictions for the General Election - 04/04/15

Show all 10
Although the wording of Labour's manifesto pledge on the deficit was decided only six days before publication, officials insist the party is repeating the cycle it began last November, when it unveiled the first of its five manifesto pledges: to cut the deficit every year. Re-running the sequence, Labour will move on to immigration today, the NHS in the coming week, then education and young people, before ending its campaign on living standards.
Yet both parties have made some tweaks to tackle the negatives exposed during the campaign. Mr Miliband is performing better than many Labour folk expected, as his personal opinion poll ratings rise from an admittedly low base. "It's a relief that he is not looking like Mr Bean," one Labour insider said, "but we still have a problem on economic competence." One possible explanation for Labour's tougher language on cuts is as a recognition the party must do better in England to compensate for the heavy losses to the Scottish National Party it faces north of the border.
Similarly, some Tories admit privately that they needed to tackle perceptions that they were the "nasty party" and "party of the rich". One said: "We needed a firebreak, so we had to go positive." There is relief among Tory ministers that Labour has moved on to their favoured territory on the economy. They see this as Mr Cameron's best hope of securing the "late break" he needs to ensure the Tories are the largest party. Some Labour advisers fear a late Tory boost when make-your-mind-up time comes.
The cross-dressing is not making for an honest campaign. It is left to independent experts such as the Institute for Fiscal Studies (IFS) to shine a light on the areas the two biggest parties do not want to talk about.
The IFS pointed out that, despite Labour's tough rhetoric, its flexible policy would allow its cuts to range from £18bn to... zero. And it said that the Tories were talking about the nice things on which they would spend money rather than how they would make £25bn of spending cuts, including £13bn on welfare. Meanwhile, both parties tell us how they would expand and improve the NHS when everyone knows it is heading for a financial crisis.
As the man in the middle, Nick Clegg did not have to switch sides when he unveiled the Liberal Democrat manifesto, but he will probably get no credit for consistency. He did not need to maintain the fiction he is going to win an overall majority, like Mr Cameron and Mr Miliband.
The Lib Dems left their options open for a post-election deal with either man, a reminder that the parties' programmes are really the opening shot for negotiations in a hung parliament. "The next government will not be about manifestos, it will be about [non-negotiable] red lines," one Labour figure said.
At least the Lib Dems listed their five "must get" policies on the front page of their document. Tory and Labour officials insist that they could hardly have three categories of policy – a "must-have deal-breaker", a "maybe" and "we don't really care about this one". Yet as hung parliaments become the norm, they should prioritise at future elections.
For now, the Tories and Labour are deadlocked in their mud-wrestling contest. It is unlikely that trying to steal each other's clothes will improve voters' trust in politics, or give either side the advantage as they struggle towards a messy draw.
---
The Independent has got together with May2015.com to produce a poll of polls that produces the most up-to-date data in as close to real time as is possible.
Click the buttons below to explore how the main parties' fortunes have changed:
All data, polls and graphics are courtesy of May2015.com. Click through for daily analysis, in-depth features and all the data you need. (All historical data used is provided by UK Polling Report)
Join our new commenting forum
Join thought-provoking conversations, follow other Independent readers and see their replies