General Election 2015: Dreams come true for these teenage girls as they meet their hero - Nigel Farage
'David Cameron does nothing and Ed Miliband is crap,' is the verdict from 14-year-old girls who bump into Ukip leader on their day off in the sun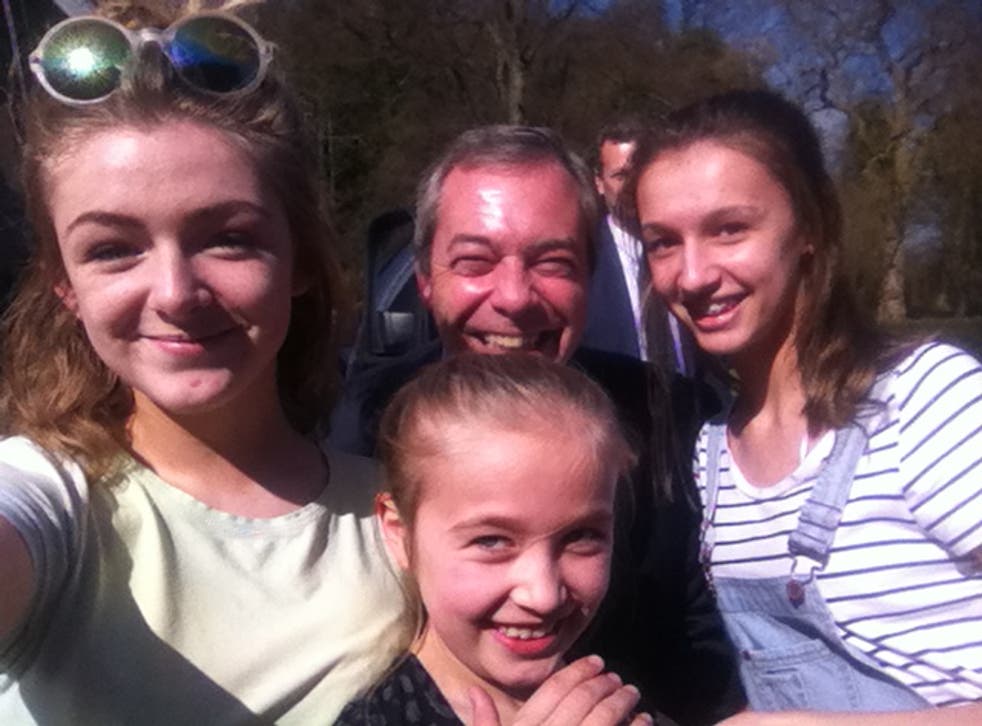 "He's our hero, he's the best person we've ever met," a group of giddy teenagers exclaimed after getting a selfie with their idol this afternoon.
You would have thought these 14-year-old teenage girls had met a member of One Direction, but the hero they were referring to was Nigel Farage.
As they strolled through Himley Hall Park in Dudley during their school holidays this afternoon, they spotted some Ukip banners and rushed over to see if their new hero, Mr Farage, was there.
And there he was, fresh after unveiling his party's defence policy.
"He's just the best person I've ever met in my life," said Sophie, one of the 14-year-old girls. "It's made our Easter holidays and when I go back to school I'm going to tell all my friends that I met Nigel Farage."
So why is he so much better than the other leaders?
"David Cameron says he's going to do all this stuff but he does nothing," was the verdict from her best mate Charlotte. "For the whole time he's been Prime Minister, he's done nothing – all he does is argue and he's losing to Ed Miliband and Ed Miliband is crap."
"Nigel Farage shook our hands and we're not going to wash our hands for weeks now," Sophie added, treating the Ukip leader as if he was the Pope.
Her sister, nine-year-old Chloe, went even further: "We should chop our hands off and sell them on eBay," she suggested, while her Mum grimaced in the background.
They may not be the type of demographic that Mr Farage is aiming to appeal to, but with a growing teenage fan base, the Ukip leader is already looking to the future, even if quits as leader by the time they can vote.
Sophie will have to wait until the next general election before she can cast her vote, but she has already decided who she is going to vote for. "I'll definitely vote Ukip, 110 per cent," she said.
But if Mr Farage gets his way, she and her mates will not be given a say in the proposed referendum on the European Union in 2017 because the party thinks 16 and 17-year-olds are brainwashed by "pro-EU colouring books". If he meets any more giddy teenagers, he might change his mind.
The Independent has got together with May2015.com to produce a poll of polls that produces the most up-to-date data in as close to real time as possible.
Click the buttons below to explore how the main parties' fortunes have changed:
All data, polls and graphics are courtesy of May2015.com. Click through for daily analysis, in-depth features and all the data you need. (All historical data used is provided by UK Polling Report)
Join our new commenting forum
Join thought-provoking conversations, follow other Independent readers and see their replies