General Election 2015: Ed Miliband to reveal Labour's 'NHS Rescue Plan'
The blueprint would include a drive to get 20,000 more nurses into training
Andrew Grice
Tuesday 21 April 2015 02:15 Comments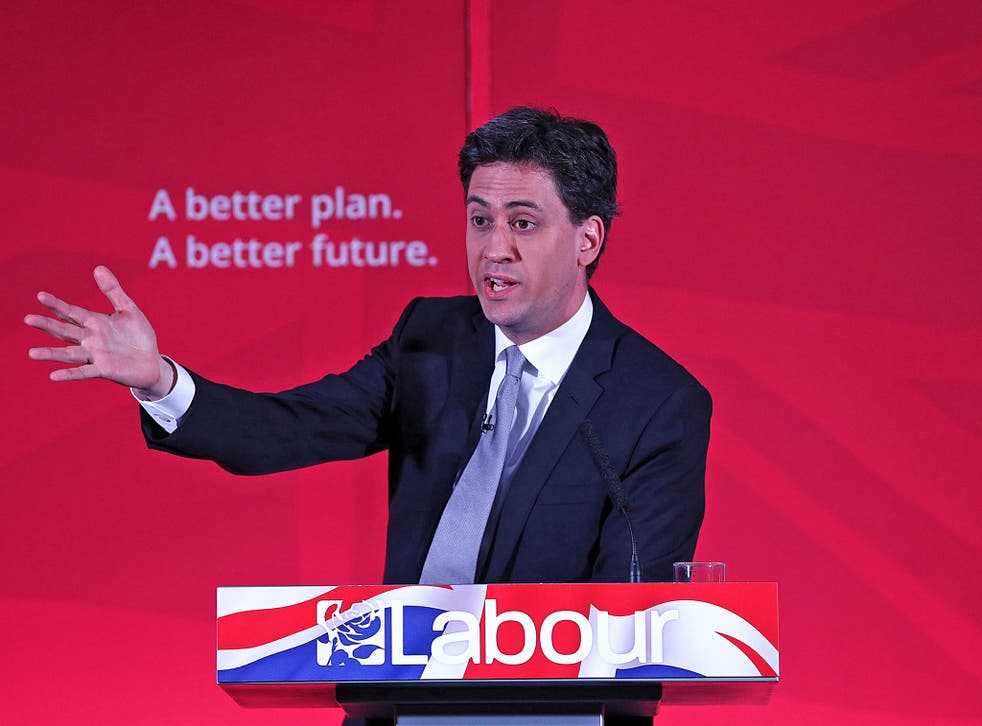 An "NHS rescue plan" would be implemented in the first 100 days of a Labour government, Ed Miliband will announce.
The blueprint would include an emergency recruitment drive to get 1,000 more nurses into training this year, the first of 20,000 to be appointed by Labour. Some 30,000 applications were turned down last year because of a lack of places. Labour has revealed replies to Freedom of Information requests showing that a third of NHS trusts were investigated last year over concerns about unsafe staffing levels.
Speaking to student nurses in Manchester, Mr Miliband will say that Labour's first Budget would include a levy on tobacco companies and a mansion tax on homes worth more than £2m to help raise £2.5bn for the NHS.
Labour's "rescue plan" would include early action to avoid a winter crisis and measures to reduce the number of old people in hospital who could be looked after in their own home. A Bill would repeal the compulsory competition laws brought in by the Coalition's Health and Social Care Act.
---
Are you undecided about who to vote for on 7 May? Are you confused about what the parties stand for and what they are offering? Take this interactive quiz to help you decide who to vote for...
Although Labour is devoting this week to campaigning on health, Mr Miliband has been warned that the issue will not win him the election. Writing for The Independent, Patrick Diamond, a Downing Street policy adviser under Tony Blair, says that Labour needs to spell out specific spending cuts rather than rely on putting a pledge to reduce the deficit every year on page 1 of its manifesto.
Mr Diamond said: "Labour must not be tempted to downplay the issue of economic credibility, surmising it can win the election on the NHS and living standards alone. The party needs to be specific about its fiscal plans, going beyond the pledge to withdraw the winter fuel allowance from wealthy pensioners, retaining the public sector pay freeze, and cutting bureaucracy."
Today Mr Miliband will dismiss the Conservatives' pledge of an extra £8bn a year for the NHS by 2020, describing it as "money they can't identify, with false promises which have an expiry date of 8 May stamped on them".
Accusing the Tories of causing an NHS staffing crisis, Mr Miliband will say it has not happened by accident but because of choices the Government has made. "This is not the NHS the British people want to see," he will say.
An Ipsos MORI poll showed that the NHS is the public's top concern, being cited by 47 per cent. Labour is seen by 36 per cent of the public as the party to best manage the NHS, with 23 per cent saying the Conservatives. But 41 per cent say the Tories are best able to manage the economy, with 23 per cent naming Labour.
A Tory spokesman said: "This is just another tired, desperate and false attempt by Ed Miliband to 'weaponise' the NHS for his own political gain. Our strong economy means we have been able to increase the NHS budget by £7.3bn. This means we have improved the NHS with 9,500 more doctors, 6,900 more nurses, and 1.3 million more life-saving operations every year."
---
The Independent has got together with May2015.com to produce a poll of polls that produces the most up-to-date data in as close to real time as is possible.
Click the buttons below to explore how the main parties' fortunes have changed:
All data, polls and graphics are courtesy of May2015.com. Click through for daily analysis, in-depth features and all the data you need. (All historical data used is provided by UK Polling Report)
Register for free to continue reading
Registration is a free and easy way to support our truly independent journalism
By registering, you will also enjoy limited access to Premium articles, exclusive newsletters, commenting, and virtual events with our leading journalists
Already have an account? sign in
Join our new commenting forum
Join thought-provoking conversations, follow other Independent readers and see their replies