General Election 2015: English teacher gives Ukip leaflet hilarious run down with red pen to point out glaring typos and mistakes
The councillors were criticised as being 'slapdash and careless' by the teacher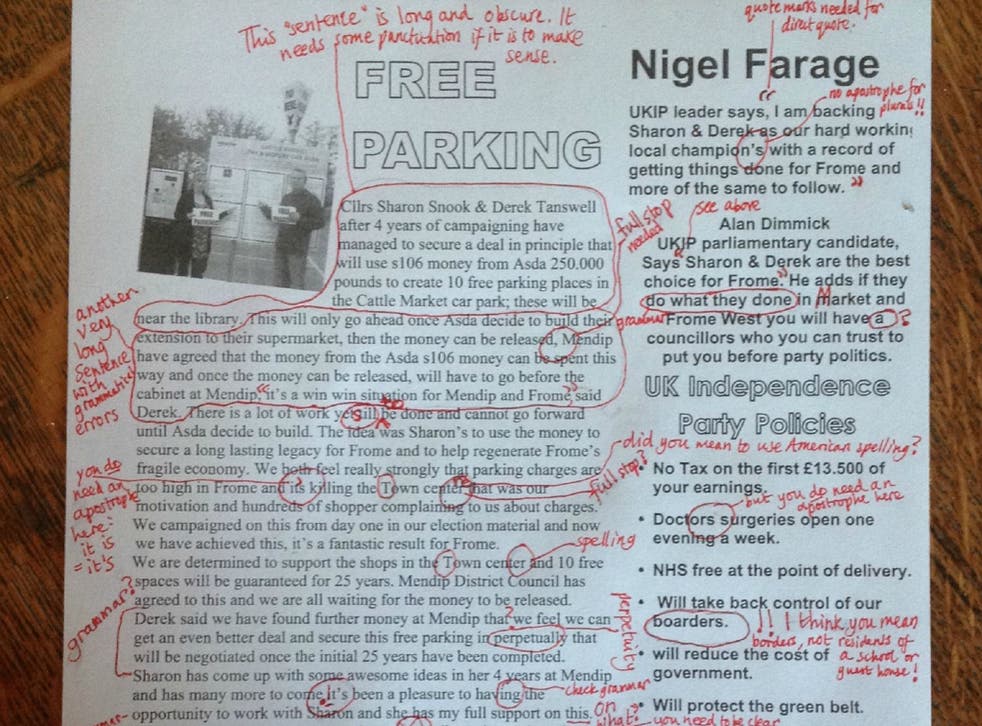 Ukip got a ticking off by one teacher who took her red pen to their election campaign leaflet, to show that it is riddled with mistakes – and that not even factoring in any policies.
Glaring spelling errors, misuse of punctuation and lack of speech marks can be spotted straight from the start of the flyer for Somerset councillors Sharon Snook and Derek Tanswell, who recently defected from the Liberal Democrats.
After waxing lyrical about free parking and the councillors having the backing of leader Nigel Farage, the party gets lambasted for using a "long and obscure" 65-word sentence without any effective punctuation.
The English teacher points out their abuse of the words "its" and "it's" and rogue capital letters in the middle of sentences for non-proper nouns such as the word "Town".
General election 2015: The worst gaffes and controversies

Show all 36
The word "perpetually" was used instead of "perpetuity" when talking about securing free parking and we can only assume they're talking about transport when using the word "busses".
Without any speech marks in the copy, it is difficult to know when one narrative starts and the other finishes.
"Your (sic) be able to go to the bank, paper shop, supermarket and coffee shops etc and enjoy free parking for the first time," Ukip enthuses in typo-filled pledges.
"Did you mean to use American spelling?" asked the teacher in her red writing next to the word "center". What happened to Ukip believing that British is best?
Talking about typos, when mentioning that the party "will take back control of our boarders", the teacher couldn't help but write: "I think you mean borders, not residents of a school or guest house!"
In massive glaring letters, the leaflet reads: "Frome needs you. Join the People Army (sic). If you vote Ukip your get Ukip (sic)."
Whatever that means.
The person who wrote the leaflet also found using apostrophes a bit baffling as they used the greengrocer's variety when talking about "hard working local champion's".
But then they forget to put one in when touching upon the issue of "doctors surgeries" – amid the mistakes that the teacher did not miss and fail to mark.
Suzy, an English teacher from Somerset, told The Mirror: "There is no shame in finding spelling, grammar and punctuation difficult. Some of my nearest and dearest have 'issues'.
"However, if candidates in Frome either do not recognise their weaknesses, or are too slapdash and careless to get them proofread, that does not bode well for running anything."
It is not the only Ukip piece of literature that has had the spell-check treatment.
With only 20 days until the General Election, any damage caused to pedantic grammar-loving voters may already be done.
Join our new commenting forum
Join thought-provoking conversations, follow other Independent readers and see their replies