General Election 2015: Farage in final push for Thanet South as campaign ends with more scandals about members' views
Ukip's campaign director denied the party's vote was being squeezed, insisting there had been a 'substantial broadening' of support in recent days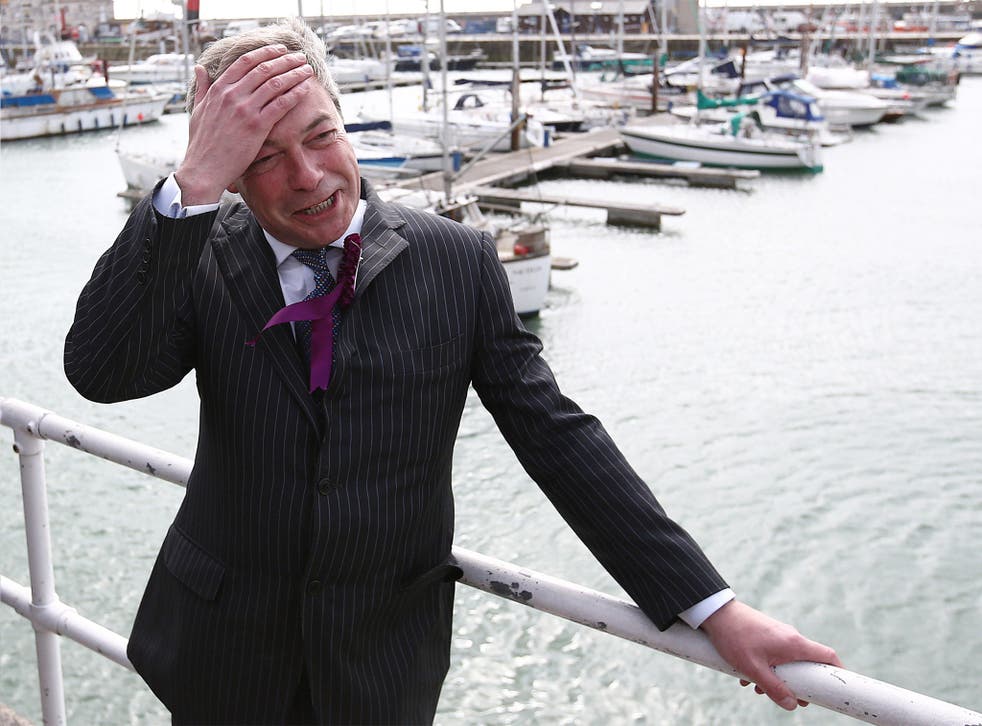 Ukip insisted it would defy expectations and win more seats and votes than the polls suggest as its election campaign ended with further embarrassing headlines about its candidates' views.
The party's leader, Nigel Farage, mounted a final push for votes yesterday in Thanet South where he is fighting a three-way battle with the Conservatives and Labour.
Ukip is confident of retaining its seat in Clacton, which was won by the former Tory MP Douglas Carswell last year, and has high hopes of winning another Essex seat, Thurrock, from the Conservatives.
Patrick O'Flynn, Ukip's campaign director, denied the party's vote was being squeezed, insisting there had been a "very substantial, energising and broadening" of support in recent days.
---
He said: "I think we will significantly, and perhaps dramatically, outperform the expectations of pollsters and pundits. That means doing much better than a political-class consensus of a vote share of around 10 per cent and one or two seats in the Commons."
However, the party faced renewed questions over its selection methods after a candidate was suspended for aiming abuse at a rival.
It moved against Robert Blay, who is standing in North East Hampshire, after the Daily Mirror published a video in which he appeared to cast racial slurs and to threaten to shoot his Tory opponent, Ranil Jayawardena, if he became prime minister. Police have launched an investigation.
In pictures: Experts' predictions for the General Election - 03/05/15

Show all 10
Another Ukip candidate, John Leathley, who is contesting Sedgefield in Co Durham, said he was "appalled and deeply ashamed" of comments he made online about the journalist Yasmin Alibhai-Brown who writes for The Independent. He said he was "very sorry" for being "so coarse".
Suzanne Evans, Ukip's deputy chairman, conceded the party needed to toughen its vetting of candidates. She said: "One of the things I'd be very keen to do is to have a look at our candidate assessment process and see how we can toughen it up because, while we are certainly no worse than the other parties, I would like to think we could be better."
Campaigning in Ramsgate, Mr Farage insisted he was not suffering nerves over the Thanet South result and appealed for support from people who wanted "real change". He said Ukip had fought a good campaign, adding: "We tried like hell to have a serious debate on big issues. We have not always been able to engage in those debates. I think the party has matured."
He said the election campaign had been "dominated by negativity" and complained that the public had been cheated out of a proper debate. Mr Farage, who has said he will resign as party leader if he loses today, added: "Sometimes it feels like I'm the smallest boy in the playground and they are all giving me a good kicking."
A survey by Lord Ashcroft last month found the Conservatives two points ahead of Ukip in Thanet South, 34 per cent to 32 per cent, with suggestions that Labour support was drifting to the Tories to stop Mr Farage. A poll by Survation last month for the Ukip donor Alan Bown found Mr Farage had 39 per cent of support in the constituency, ahead of the Tory candidate Craig Mackinlay on 30 per cent.
Join our new commenting forum
Join thought-provoking conversations, follow other Independent readers and see their replies