General Election 2015: Farage praises his activists as BBC airs racist slurs
The leader is among friends in Thanet, but a recently excluded member's remarks still echo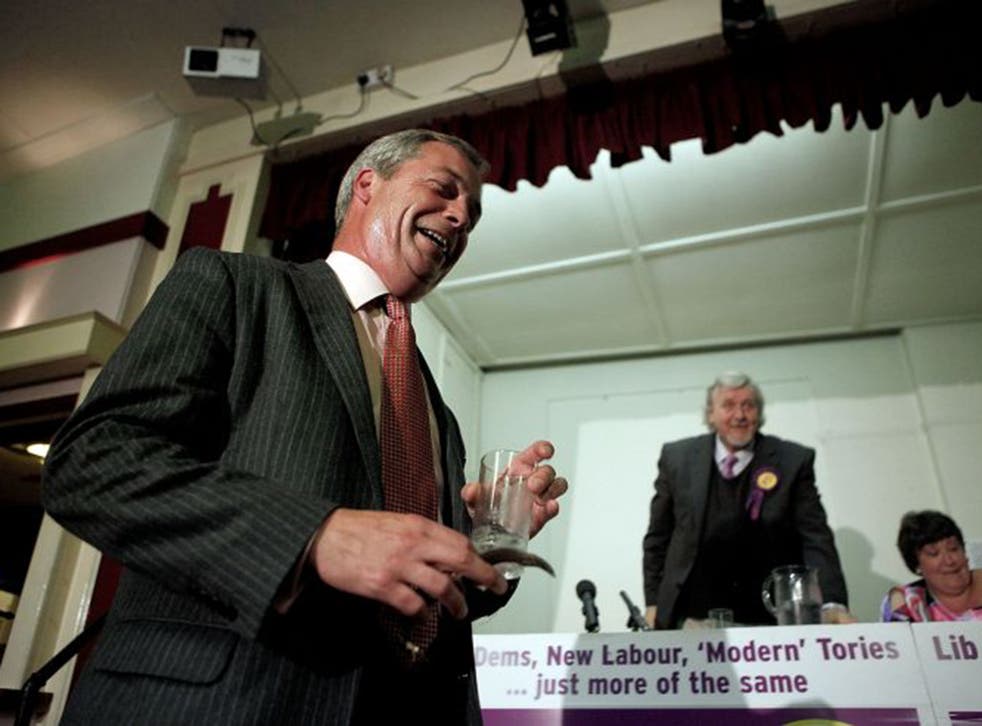 The prejudice widely perceived to be at the heart of Ukip is laid bare in a new documentary that reveals how support in Thanet, where the party's leader, Nigel Farage, is seeking election as an MP, is riddled with racism.
Yet in Meet the Ukippers, on BBC2 tonight, Mr Farage praises the activists – including a former National Front supporter – as his kind of people. In the film, Mr Farage says: "What I notice about the people in Ukip Thanet is that there is a real passion and determination to get this job done well. I couldn't have a team anywhere in England who I feel more comfortable with than these people."
During the documentary, Mr Farage blames the "hatred of the tabloid press" for the perception that Ukip is a racist party.
Martyn Heale, the local party chairman, boasts that Mr Farage is happy to stand "shoulder to shoulder" with him despite his past as a National Front supporter and says that Ukip declined his offer to resign over his far right past.
"I wasn't quite aware that it was as extreme as they said and after, I think, a year and a half, my wife and I decided that it was not the right thing for me to do so I left," said Mr Heale. "For Christ's sake, I was never a member of the Gestapo."
Rozanne Duncan, the former Ukip district councillor, speaks on camera about her dislike of black people. "The only people that I do have problems with are negros and I don't know why ... but I really do have a problem with people with negroid features, I really do.
"A friend of mine said what would you do if I invited you to dinner and I put you next to [one], I said I wouldn't be there, it's as simple as that, I said I wouldn't be there."
Ms Duncan recalls how she tried to block black people from getting supported accommodation in the 1980s. When asked if there was any particular group of people she wouldn't consider, she said: "Yes, negros."
When asked what she meant, she explained: "Black skin, black curly hair, wide nostrils, shiny skin, that's what I mean."
After those remarks, Liz Langton-Way, the local party press officer, commented: "She has been told time and time again to keep her bloody mouth shut and I thought that by now the message would have got through." The incident "made me think do I really want to be involved with these people because that was not what I was interested in."
Ms Duncan was expelled by the party for her remarks, but remains unrepentant. She says now feels "betrayed": "There are other people who have said far worse things, far more derogatory – chinky, poofter – and they haven't been expelled."
Meanwhile, Ofcom has revealed that it has received more than 4,900 complaints about the Channel 4 mockumentary Ukip: The First 100 Days, making it one of the most complained about programmes of the past decade. The satire speculated there would be raids on migrants, race riots, mass unemployment and Morris dancing if Mr Farage became prime minister.
Join our new commenting forum
Join thought-provoking conversations, follow other Independent readers and see their replies