General Election 2015: Labour-SNP 'coalition of chaos' would threaten UK, says David Cameron
Cameron: The SNP is 'acting as the chain to Labour's wrecking ball'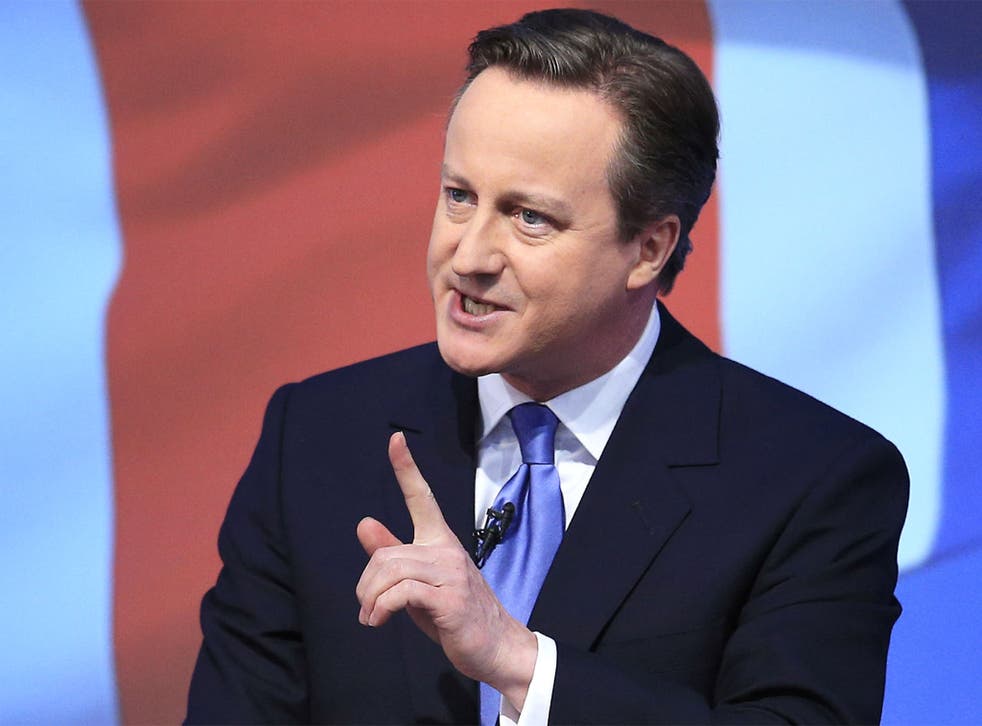 Labour and the SNP would form a "coalition of chaos" which would threaten the United Kingdom's survival if Ed Miliband wins the general election, David Cameron will warn during a campaign visit to Scotland.
The Tories accuse the two parties of acting harness over the last five years, voting the same way in the Commons on more than 90 per cent of occasions.
Mr Cameron's attack will come when he launches the Scottish Conservative manifesto in Glasgow.
The party holds just one seat north of the border, although it hopes it can benefit from tactical voting by opponents of independence anxious to halt the SNP surge.
Mr Cameron will say a "massive political fight" is underway in Scotland with Labour and the SNP "slugging it out", but will insist the two parties are ideologically very similar.
"If you take a step back they're really on the same side," the Prime Minister will argue.
"You have a weak Labour party, who want more spending, more borrowing, more debt and more taxes. And the people who will prop them up, the SNP – who want even more spending, more borrowing, more debt and more taxes.
"Together they pose a clear threat to the future of our United Kingdom, a coalition of chaos. The SNP acting as the chain to Labour's wrecking ball, running right through our economic recovery."
Mr Cameron will argue the Tories are the only party speaking above "these warring tribes and about what actually matters to working people" and pledge not to "do any sort of deal with any party that wants to break up our United Kingdom."
In pictures: Experts' predictions for the General Election - 11/04/15

Show all 10
He will also set out plans to encourage major companies to interview and hire armed forces veterans and detail moves to cut the telephone charges faced by military personnel posted abroad.
The Prime Minister will say he wants to boost to 500 the number of Combined Cadet Force Units in schools, giving more pupils the chance to learn the skills of leadership and self-reliance.
---
The Independent has got together with May2015.com to produce a poll of polls that produces the most up-to-date data in as close to real time as is possible.
Click the buttons below to explore how the main parties' fortunes have changed:
All data, polls and graphics are courtesy of May2015.com. Click through for daily analysis, in-depth features and all the data you need. (All historical data used is provided by UK Polling Report)
Join our new commenting forum
Join thought-provoking conversations, follow other Independent readers and see their replies