General Election 2015: Lib Dems 'would block new deal with Tories'
Party activists say there would not be enough support this time round - and coalition with Labour would be difficult too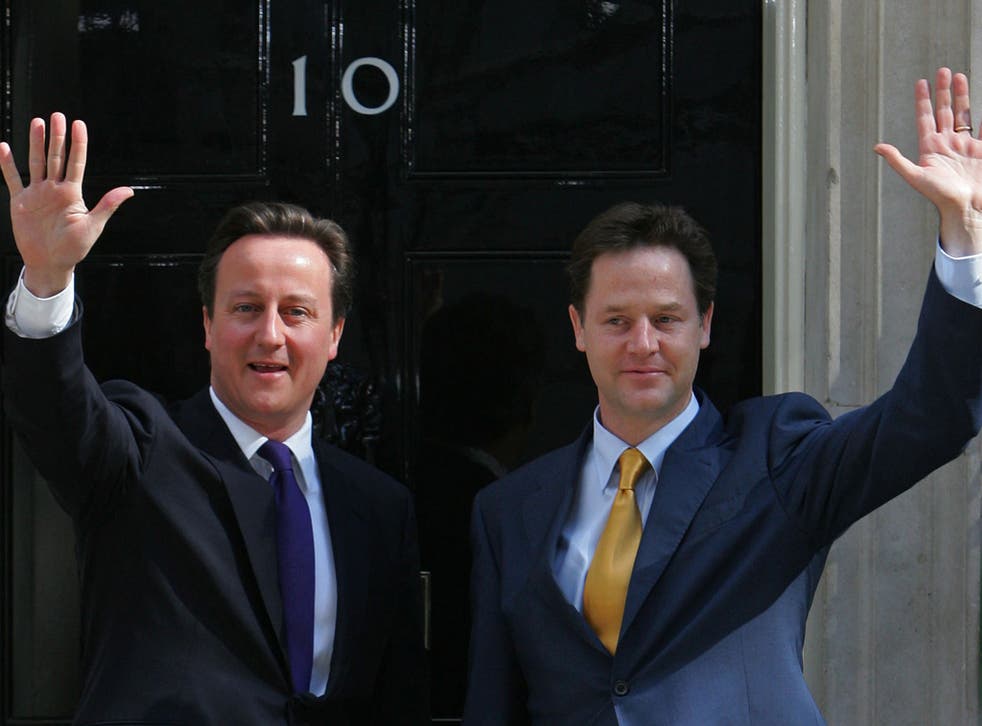 Liberal Democrat activists are planning to veto any attempt to form a second coalition government with the Conservatives.
Latest polls suggest David Cameron's party is unlikely to secure an overall majority, so it would almost certainly need the support of the Lib Dems to stay in power for longer than a few months. But senior Lib Dems have told The Independent on Sunday that such an arrangement is undeliverable. They also believe a deal with Labour would be almost as hard to achieve.
MPs, including frontbench spokesmen, with the party's most influential activists, say another deal with the Conservatives would not secure the approval of enough delegates at a conference that must be convened under party rules. "The activists will be saying to MPs: 'We haven't just bust a gut for you guys so that you can go off and be ministers for another five years,'" warned one long-serving MP. "In 2010, it was clear that we had to help create a stable country, and we were the only ones who could do it. If we've learnt anything from that, we've earned the right to say 'no' [to another deal]. There should be plenty of Scottish National Party MPs [elected this time]. We could say: 'Sod it, it's their turn – it's up to them to make an arse of themselves this time.'"
In pictures: Rainbow coalition

Show all 1
Delegates must vote in favour of any plan proposed by the leadership by a two-thirds majority. In 2010, all but about 50 of the 1,500 delegates who crammed into Birmingham's National Exhibition Centre approved the coalition agreement. Many were convinced that the dreadful economic situation meant the Lib Dems had to be part of a government of national unity. A frontbencher said: "If we'd walked away last time there would have been an enormous downside to it. We'd have looked terribly irresponsible. This time it would probably be a cliff-hanger vote – particularly with it needing two-thirds support."
Activists feel badly hurt by a bruising stint in government with a Tory party that many of them detest, during which they were battered in the polls and lost hundreds of councillors. They felt particularly let down when Mr Clegg dropped a pledge to oppose any increase in university tuition fees, to make the coalition work.
A member of the Federal Conference Committee warned: "I can't see the party voting for another Tory coalition. There are not enough people who want it. It would be difficult with Labour – more and more people are saying: 'Goodness, let's take a step back.'"
An MP who backed Mr Clegg for the leadership in 2007 agreed that even a vote to form a coalition with Labour would be on a "knife edge". He said: "Labour or Tory? It's difficult either way. The wider party would take an awful lot of convincing. The only way would be a coalition deal full of Liberal Democrat policies with no nasty stuff after last time. That's probably beyond what another party could offer."
A member of the Federal Executive, which acts as a kind of conduit between parliamentarians, councillors and activists, warned that party factions could end up turning on each other. "The hurdles to be jumped will be higher than they were before. One thing I'm starting to worry about is this two-thirds majority – what if you get 51 per cent support?"
Activists could even block a looser confidence and supply arrangement, whereby Lib Dem MPs would support a minority government on key votes. A member of the powerful Federal Policy Committee said their "reading" of the party's constitution was that this too might require approval at a conference.
A Lib Dem spokesman said: "If the opportunity arises in May, our party members will again vote for what they believe to be in the national interest – a liberal, more democratic Britain with a stronger economy and fairer society at its heart."
The Independent has got together with May2015.com to produce a poll of polls that produces the most up-to-date data in as close to real time as possible.
Click the buttons below to explore how the main parties' fortunes have changed:
All data, polls and graphics are courtesy of May2015.com. Click through for daily analysis, in-depth features and all the data you need. (All historical data used is provided by UK Polling Report)
Join our new commenting forum
Join thought-provoking conversations, follow other Independent readers and see their replies