General Election 2015: Miliband promises an end to 'zero hours Britain'
Labour will give zero hour contract workers a legal right to a regular contract if they have worked without guaranteed hours for 12 weeks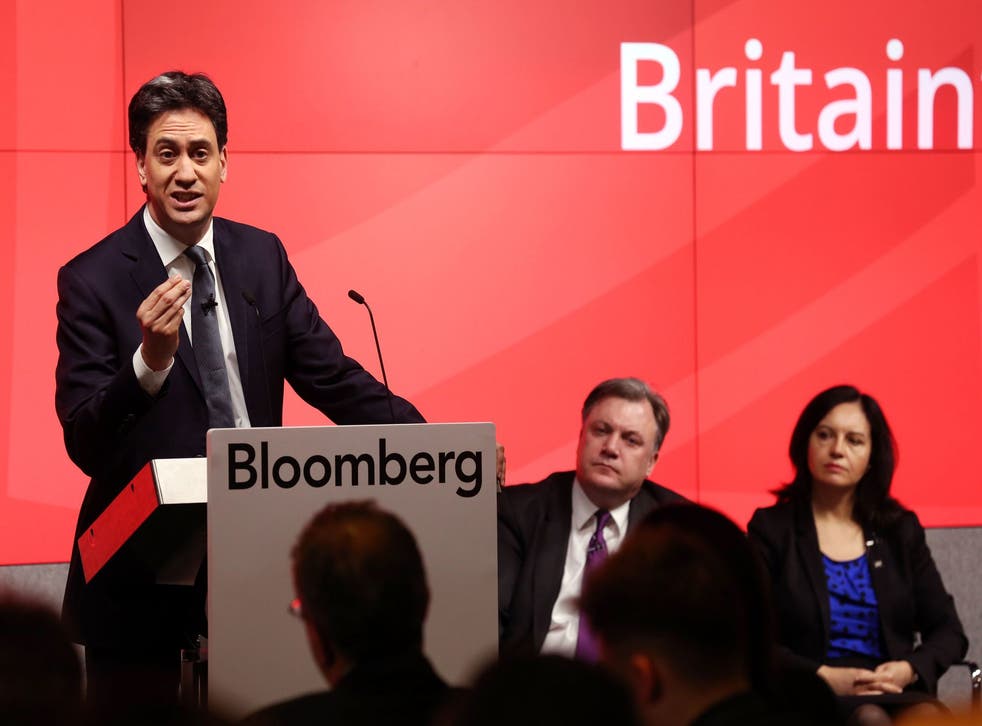 An end to "zero hours Britain" will be promised by Labour today as Ed Miliband seeks to compound David Cameron's problems on the issue by accusing him of being out of touch with ordinary people.
Mr Miliband will announce that the first Queen's Speech of a Labour government would include a Bill to give workers on zero hours contracts a legal right to a regular contract if they have worked without guaranteed hours for 12 weeks. Previously, Labour's policy was to allow such workers a normal contract after 12 months.
Labour officials insisted the tougher line has been under consideration for months. But speaking in Yorkshire today, Mr Miliband will attack Mr Cameron for the way he handled Jeremy Paxman's questions about zero hours contracts on the first leaders' TV programme of the election last Thursday. The Prime Minister was wrong-footed and eventually admitted he could not afford to live on such a contract.
Mr Miliband's move follows repeated personal criticism of him by Mr Cameron, who has called him a "Hampstead socialist" and said that "the personal is national." Labour is now returning the Prime Minister's fire. Writing for The Independent, Douglas Alexander, Labour's campaign chief, says the election is "a battle between two different kinds of leader." He describes Mr Cameron as "out of touch" and someone who "wants to run the country, not change the way the country is run", claiming his campaign is based on "painting a false picture of Labour."
An estimated 1.8m people in Britain are on zero hours contracts and Labour's new pledge would give 90 per cent of them the right to move to a regular contract if they wished. There would be exemptions for employees such as bank nurses employed by health trusts who want to work at another hospital as well as their usual base.
In pictures: Top 12 wacky candidates seeking your vote in 2015

Show all 12
The number of workers on zero hours contracts has risen four-fold since 2010. Independent analysts say they helped to keep down unemployment during the recession but that many firms, such as Sports Direct, have stuck with them since the economy returned to growth. The number of these contracts has increased by 20 per cent in the past year.
Office of National Statistics (ONS) figures show that "zero hours" workers do an average 23 hours a week, and that 58 per cent of them have been with their employer for more than a year.
The Coalition outlawed "exclusivity clauses" which prevented people working elsewhere employers when their "zero hours" employer did not need them. The Liberal Democrat manifesto may pledge further measures to clamp down on "abusive practices."
Under Labour's plan, provisions under existing employment law to stop workers being sacked just before they win new rights would be extended to zero hours contracts to prevent bosses getting round the 12-week rule.
Mr Miliband will say: "The problem of zero hours contracts is at the heart of the key question in this election: who does our country work for? Does it work just for the rich and the powerful? Or does it work for working people - the people looking for a job, trying to find enough money to support a family, to make ends meet?"
The Labour leader will say: "What's really worrying is that David Cameron isn't worried. Why should he? It's his plan for the economy. Do you remember what he told Jeremy Paxman last week when he was asked why are more and more people trapped on zero hours contracts? He said it was because people really want to be on them….Then he admitted he couldn't live on one himself. Well, I say, if it's not good enough for him, it's not good enough for you."
The Conservatives and Liberal Democrats trumpeted what George Osborne called a "hat-trick of good news" on the economy yesterday as evidence that the Government's strategy is working.
The ONS said that disposable incomes per head were 1.9 per cent higher at the end of 2014 than a year earlier and 0.2 per cent higher than when the Coalition was formed in 2010. Ministers said the figures undermined Mr Miliband's central campaign theme on the "cost of living crisis."
Meanwhile, GDP rose by 2.8 per cent last year, up from a previous estimate of 2.6 per cent, confirming Britain as the fastest growing of the G7 major advanced economies. The ONS also said that consumer confidence had risen to its highest level for 12 years. However, ministers are braced for less impressive figures on productivity today.
Mr Osborne said: "Living standards are higher than they were at the last election. Voters now face a stark choice: do we stick with a plan which is working, delivering growth and jobs, or do we put all that risk with Ed Miliband, whose policies of more spending, more borrowing and higher taxes will lead to economic chaos."
Danny Alexander, the Liberal Democrat Chief Treasury Secretary, said: "Handing back control of our economy to either Labour or the Tories in government on their own in this election will put all this hard earned progress at risk. Lib Dems at the heart of government are the rock of stability on which this recovery has taken root."
But Labour insisted that the recovery in living standards was meagre and that many voters were not yet feeling better off. Ed Balls, the shadow Chancellor, said the Tories were telling people "you have never had it so good" despite the slowest recovery for 100 years and five years in which wages did not keep pace with prices.
The Independent has got together with May2015.com to produce a poll of polls that produces the most up-to-date data in as close to real time as possible.
Click the buttons below to explore how the main parties' fortunes have changed:
All data, polls and graphics are courtesy of May2015.com. Click through for daily analysis, in-depth features and all the data you need. (All historical data used is provided by UK Polling Report)
Join our new commenting forum
Join thought-provoking conversations, follow other Independent readers and see their replies