General Election 2015: Paddy Ashdown handed chocolate hat on Question Time, then Alastair Campbell receives edible kilt
Lord Ashdown said he didn't believe the exit poll which said the Conservatives would claim a majority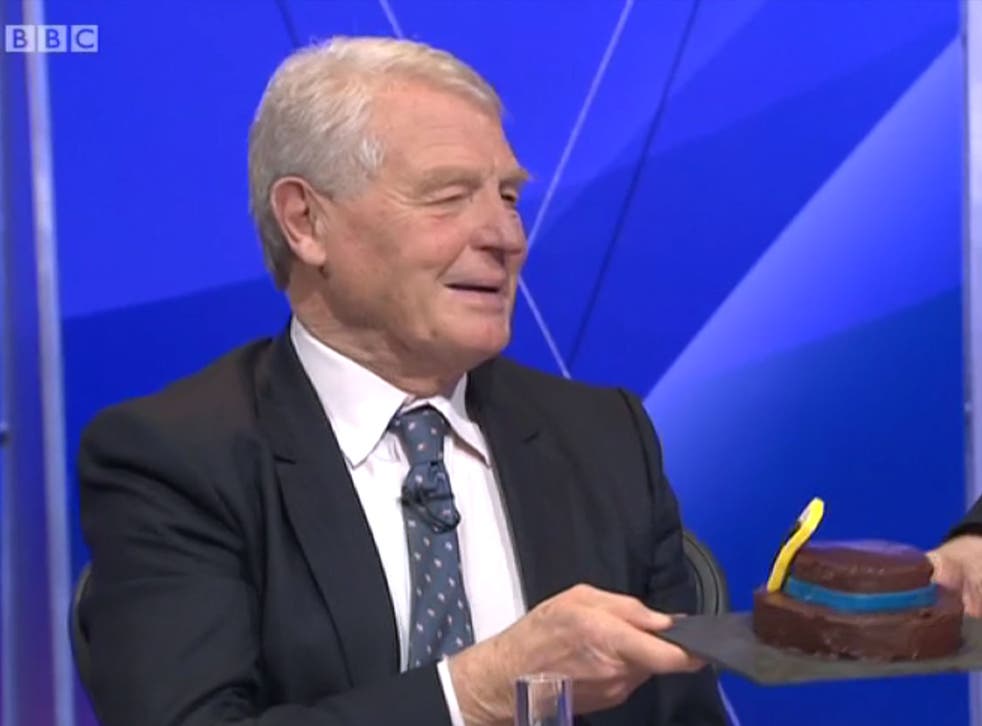 In a moment of TV gold proving that elections aren't exclusively serious affairs, former Liberal Democrat leader Paddy Ashdown was handed a chocolate cake during Question Time after he said he'd eat his hat if exit polls were correct.
When exit polls showed that the Conservatives would storm ahead in the election to secure a majority, Lord Ashdown was so sure they were wrong that he promised to "eat my hat" if they turned out to be correct.
He was even confident enough to specify that he'd prefer a marzipan flavour piece of millinery.
Best General Election 2015 quotes

Show all 10
But when Lord Ashdown was handed a marzipan hat during a later BBC interview, he said he would only eat it if former Labour spin doctor Alastair Campbell ate a kilt alongside him.
Mr Campbell had made a similar pledge on election night, and said: "I won't eat my hat, but I will eat my kilt if they (the SNP) get 58 seats".
And the BBC certainly didn't forget his suggestion. Lord Ashdown was handed a chocolate cake on BBC One, while Mr Campbell received a kilt.
It remains unclear whether the hat contained marzipan under the think chocolate icing.
Join our new commenting forum
Join thought-provoking conversations, follow other Independent readers and see their replies