General Election 2015: Public access to justice is at risk, says ex-prosecutor Sir Keir Starmer
Labour candidate seeks urgent review by any new government of Coalition reforms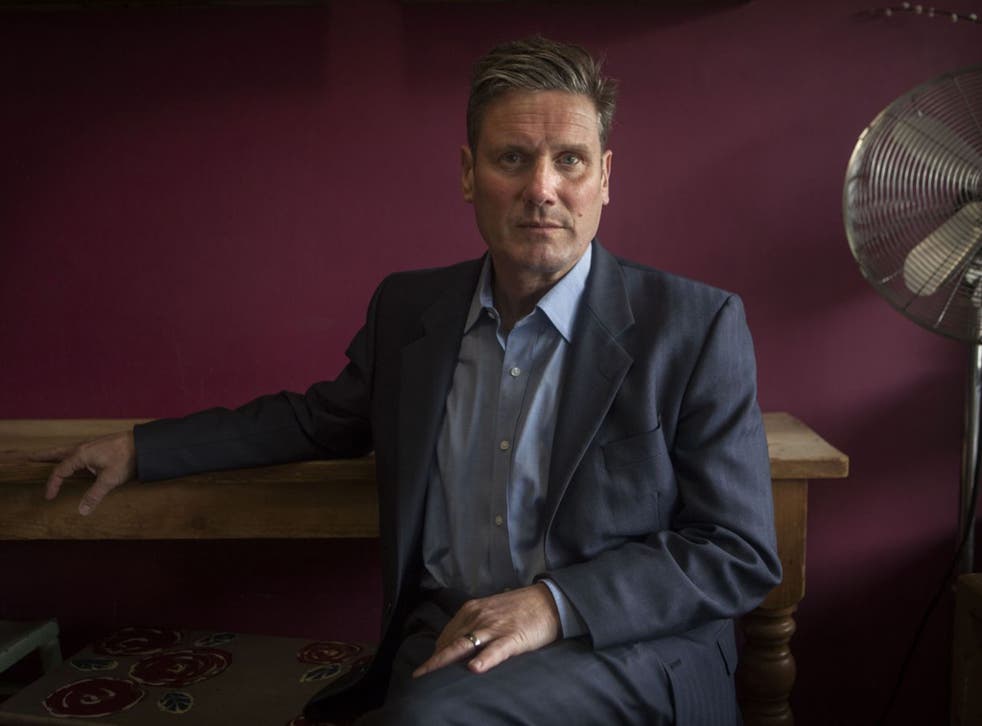 The former director of public prosecutions, Sir Keir Starmer, has called for a review of the coalition's much-criticised justice reforms as a "year one" priority for the next government.
The call will carry real weight should Labour win. Sir Keir will almost certainly defeat the Greens' Natalie Bennett in the rock-solid Labour seat of Holborn & St Pancras next month, and is tipped for quick promotion on entering Parliament.
Like most practising barristers, he has been angered by a series of cuts to the system, and believes that any continuation of coalition policy will mean "access to justice is in peril".
The legal aid budget has been slashed by £220m a year, much of the probation system has been privatised, and court fees have been hiked as Lord Chancellor Chris Grayling tried to reduce the Ministry of Justice's budget.
But this has led to accusations that victims and offenders are not getting the support they require, while senior barristers have pointed out that essential legal services inevitably cost money.
Sir Keir told The Independent on Sunday that Mr Grayling was wrong to have focused on budget cuts without ensuring that standards were maintained. He said: "We ought to have a review of our justice system and the funding of it. There needs to be pause and whatever emerges must be a values-led approach – in other words, access to justice must be a yardstick against which we measure success.
"The big mistake of this government is they moved to cutting before they'd done the analysis. The proof is in the pudding, because access to justice is in crisis. It must follow that an incoming government needs to carry out a review."
Sir Keir pointed out that a series of reports from Parliamentary and independent bodies had attacked the justice cuts. For example, a National Audit Office report last year said legal aid cuts might not provide value for money, as people are turning up at court without legal representation which leads to costly and lengthy delays.
The 52-year-old recently drafted a "victims' law" for Labour, with Baroness Lawrence, the mother of the murdered teenager Stephen Lawrence. This is expected to be included in Labour's election manifesto tomorrow and includes 14 recommendations to ensure that vulnerable victims are not scared off from reporting crime.
Sir Keir said that 80 to 90 per cent of rape and domestic violence victims "are not coming forward at all", and enshrined legal rights were needed to overturn this situation.
The Independent has got together with May2015.com to produce a poll of polls that produces the most up-to-date data in as close to real time as is possible.
Click the buttons below to explore how the main parties' fortunes have changed:
All data, polls and graphics are courtesy of May2015.com. Click through for daily analysis, in-depth features and all the data you need. (All historical data used is provided by UK Polling Report)
Register for free to continue reading
Registration is a free and easy way to support our truly independent journalism
By registering, you will also enjoy limited access to Premium articles, exclusive newsletters, commenting, and virtual events with our leading journalists
Already have an account? sign in
Register for free to continue reading
Registration is a free and easy way to support our truly independent journalism
By registering, you will also enjoy limited access to Premium articles, exclusive newsletters, commenting, and virtual events with our leading journalists
Already have an account? sign in
Join our new commenting forum
Join thought-provoking conversations, follow other Independent readers and see their replies