General Election 2015: Students being put off voting for Lib Dems over tuition fees U-turn
Only six per cent of finalists at leading universities plan to vote for the party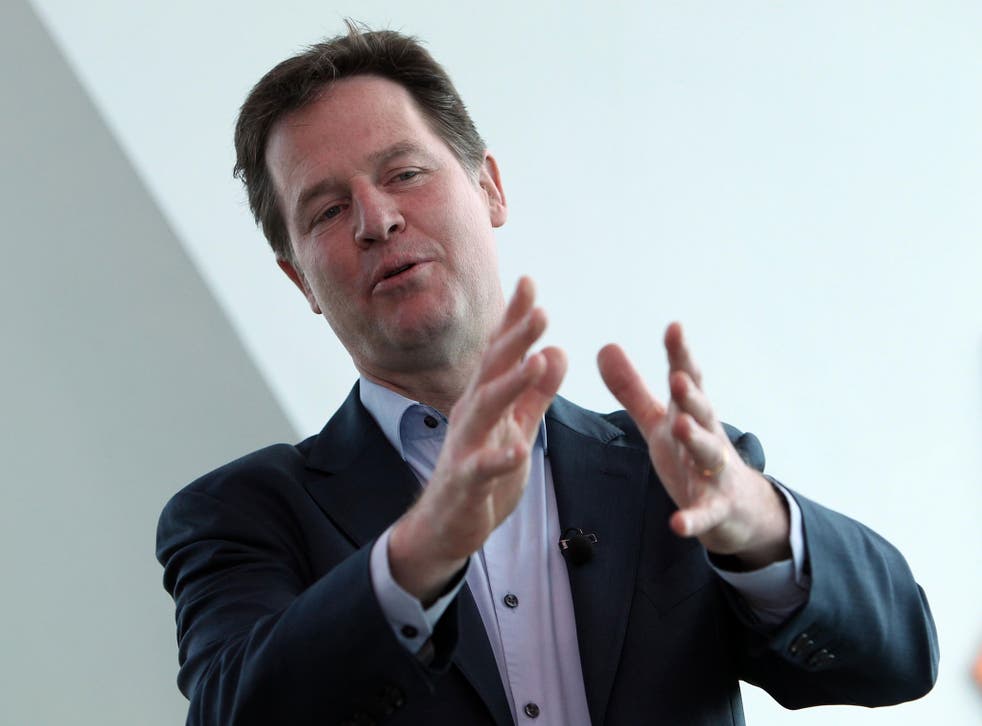 More than half of final year undergraduates say they would never vote Liberal Democrat because of its U-turn on tuition fees which saw charges rise to £9,000 a year, a new poll of more than 13,000 students has found.
Support for the party has collapsed with only six per cent of finalists at leading universities saying they planned to vote Liberal Democrat in next month's General Election - down from 23 per cent who took part in the same survey before 2010's election.
There has also been a huge surge of support for the Green Party with 25 per cent of finalists planning to vote for them next month, compared to just seven per cent in 2010, the poll by High Fliers Research, an independent market research company, found.
Meanwhile, Labour and the Conservatives had equal support on campus with each backed by 31 per cent of students. At the same point before the 2010 election 37 per cent of finalists said they would vote Tory and just 26 per cent Labour. Just one per cent of students planned to vote for UKIP. Overall three per cent of students expect to vote for the Scottish National Party, which was the leading party at Strathclyde and Glasgow universities.
Almost one in six students said they were undecided about who to support or did not intend to vote in the election at all.
The poll paints a gloomy picture for Lib Dem leader Nick Clegg who is defending the Sheffield Hallam constituency.
In 2010 the Liberal Democrats were the most popular party among students at Sheffield University with 34 per cent saying they intended to vote Lib Dem. But the poll shows the party pushed into fourth place among finalists attracting just five per cent of votes behind Labour (38 per cent), the Green party (29 per cent) and the Conservatives (25 per cent).
In pictures: Experts' predictions for the General Election - 19/04/15

Show all 10
There is better news for education secretary Nicky Morgan who is contesting the marginal seat of Loughborough with a majority of just 3,744.
Finalists at Loughborough University were the most likely to vote Conservative with 50 per cent saying they intended to vote Tory – the highest of any institution although slightly down from 52 per cent on 2010. But support for Labour has grown among Loughborough students with 29 per cent planning to vote for the party compared to 22 per cent in 2010.
The poll was based on 13,039 face-to-face interviews with final year students at 30 leading UK universities conducted in March 2015, just before the start of the Easter holidays.
The research also reveals that the characteristics of typical Labour and Conservative student voters follow traditional political stereotypes. Final year students intending to vote Conservative were most likely to have attended private school, were the most confident about finding a graduate job, and plan to work in management consulting, investment banking, finance or marketing and have the highest salary expectations.
Students supporting Labour mainly came from state schools or colleges and plan to work in areas like teaching, the media and the charity or voluntary sector after university. On average, they expect to earn around £3,000 a year less in their first graduate job, compared with Conservative supporters.
Those planning to vote for the Green Party were the least certain about their future after university, with lower salary expectations and fewer planning to get graduate jobs.
Martin Birchall, managing director of High Fliers Research, said: "Our research not only confirms that first-time voters at the country's top universities are set to vote for Labour and the Conservatives in almost equal numbers in the General Election but that there has been a huge surge in support for the Green Party on campus, taking them to within just a few percentage points of the two leading parties. By contrast, just 6 per cent of students are planning to vote Liberal Democrat, a quarter of the number who supported the party in 2010."
---
The Independent has got together with May2015.com to produce a poll of polls that produces the most up-to-date data in as close to real time as is possible.
Click the buttons below to explore how the main parties' fortunes have changed:
All data, polls and graphics are courtesy of May2015.com. Click through for daily analysis, in-depth features and all the data you need. (All historical data used is provided by UK Polling Report)
Join our new commenting forum
Join thought-provoking conversations, follow other Independent readers and see their replies