General Election 2015: Tories now 'an English party chasing UK votes in southern England', Clegg says
Nick Clegg said the Lib Dems had not been given enough credit when they got it right and had been 'overly blamed on the bad things'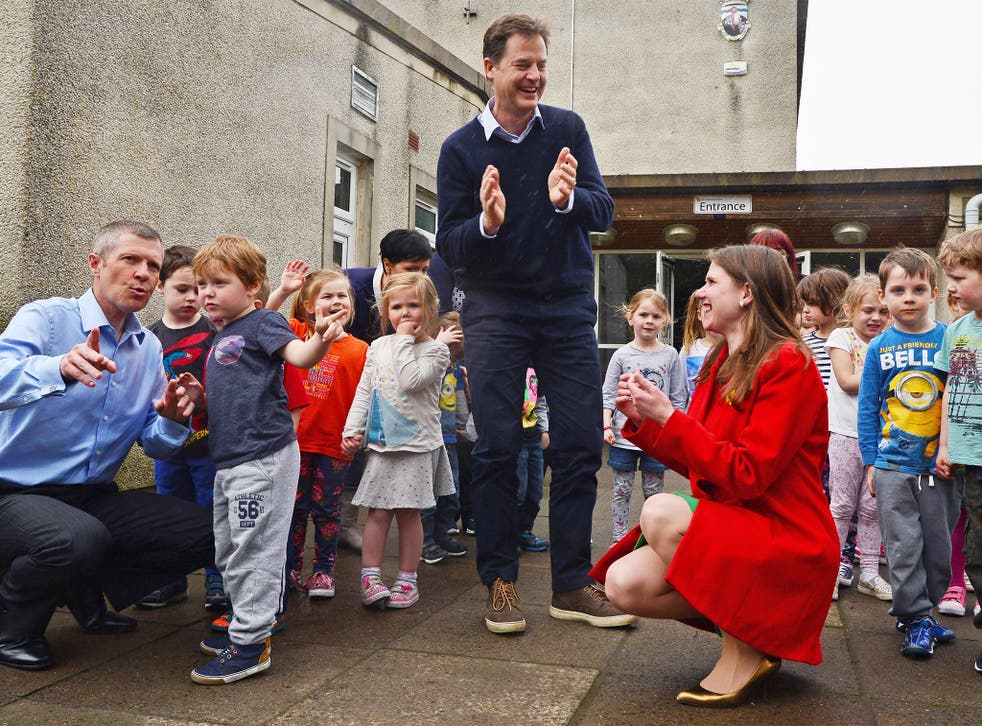 David Cameron has "given up pretending" to seek a mandate as the Prime Minister for the whole of the United Kingdom and has "morphed" the Conservatives into "an English party chasing UK votes in southern England", Nick Clegg claimed as his campaign came to a close.
On the final stages of his marathon Land's End to John O' Groats tour, the Liberal Democrats leader attacked his coalition partners of the last five years by accusing them of behaving like "something tantamount to the English Conservative Party".
After proudly saying his party had delivered 50 million leaflets and knocked on four million doors, he described the lengthy election run-in as "a rare opportunity to tell our story" without being misrepresented.
He said the Lib Dems had not been given enough credit when they got it right, such as lowering taxation, and had been "overly blamed on the bad things".
---
On a stop-off at a nursery in Bearsden on the outskirts of Glasgow, he said his party was being realistic about "an election that no one party would win". He promised that the "hard lessons" learnt during the 2010 negotiations with the Conservatives meant that unless there was agreement on tax cuts, no pay cuts for public sector workers, more money for schools, colleges and hospitals, and climate change given new priority, "then we will not go into government".
With a new survey saying the campaigns had made little difference and that more than half of voters had not changed how they would vote, Mr Clegg used the first stop of his day to warn voters that 2015 could be one of the "biggest political decisions of their lives".
Despite 2010 giving the UK its first post-war coalition government, Mr Clegg said no effort had been made by either Ed Miliband or Mr Cameron to plan or discuss in advance what another coalition could look like if today's vote is inconclusive. "They are sleep walking," he said, towards "messy and unstable minority government."
With polls still unable to offer any definitive prediction on the next government, Mr Clegg told activists in East Dunbartonshire, where the SNP is forecast to win, that the Lib Dems could be the "surprise story" of election night.
Although refusing to predict the results, he said that if his party won more seats, "there is the greater likelihood of having stability, decency and unity in the British government".
In pictures: Experts' predictions for the General Election - 03/05/15

Show all 10
After a visit to a nursery group, he spoke to activists promising his party would be rewarded "because what we offer the British people is in tune with their hopes, dreams and aspirations".
With polls in Scotland predicting a wipeout, however, and UK polls showing only 8 per cent support, this may not have been the place to boast of winning. The driver of a passing car shouted out his window: "Liar."
Appearing alongside Jo Swinson, the Lib Dem equalities minister, Mr Clegg ruled out any prospect of joining a grouping that included the SNP or Ukip. He said the "nature of our disagreements with these parties is of a different order" and said there was "absolutely no meeting point". He added: "I can't make it clearer: no pacts, no deals, no arrangements with either Ukip or the SNP."
Elsewhere the Business Secretary, Vince Cable, announced he would be happy to lead his party's efforts to form another coalition.
Mr Cable, still regarded as a possible party leader should Mr Clegg fall in Sheffield, said he would oppose the Tory plan to deliver a referendum on European Union membership in 2017. Mr Cable said a referendum could cause damage to the British economy for two years.
Join our new commenting forum
Join thought-provoking conversations, follow other Independent readers and see their replies