General Election 2015: Britain would become a 'communist dictatorship' under Ed Miliband and Nicola Sturgeon, claims wife of Michael Gove
Sarah Vine also insulted Scotland and the north of England in the space of one Facebook comment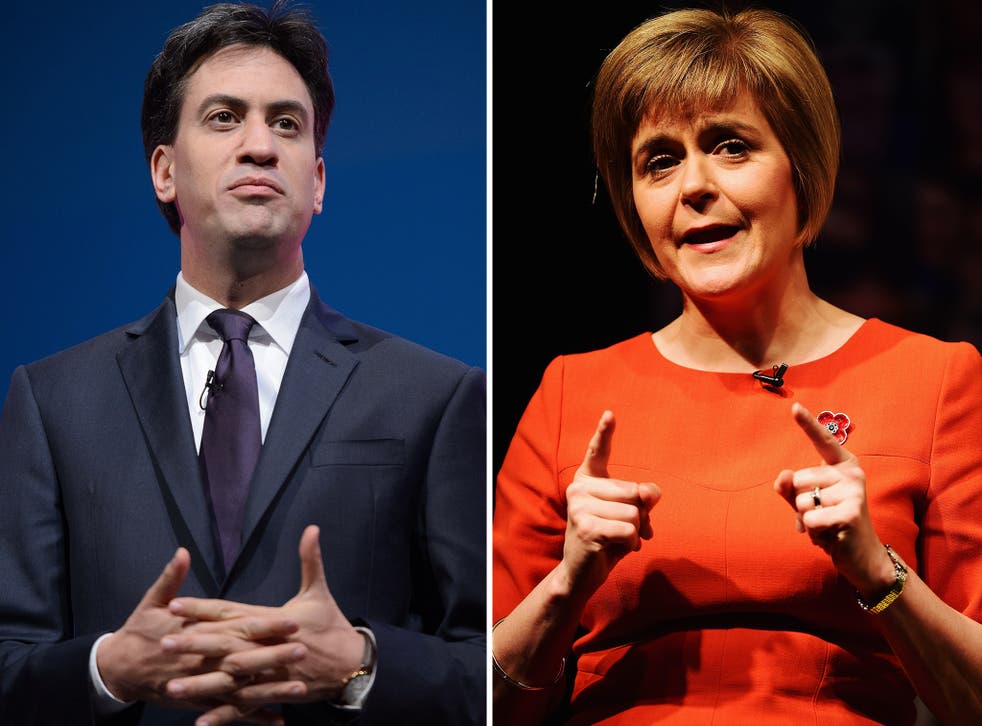 Britain would turn into a "communist dictatorship" if an Ed Miliband government was propped up by Nicola Sturgeon's SNP, according to the wife of Michael Gove.
Sarah Vine, the Daily Mail columnist, commented on a friend's Facebook status to warn of what life would be like if Labour was to form a minority government propped up by the SNP.
She also managed to insult northerners and Scots by claiming the north of England and Scotland would "leech off us until we die". "Might as well just open a vein and let them have it all now," she said as she poured out her innermost fears.
Mr Gove's wife even used a reference from the black comedy Withnail and I to depict Labour and the SNP as out of touch thieves.
"I fear the goldfish people are going to win," the PoliticsHome website reported. "To paraphrase uncle Monty in Withnail and I "I mean to have power even if it must be burglary."
"They will unite with Sturgeon - and take power. The north and then Scotland will then leech of [sic] us until we die. Might as well just open a vein and let them have it all now. This country will be a communist dictatorship."
I
t is the most hyperbolic scare story yet from a Tory figure warning of the dangers of a Labour/SNP deal.
Former Prime Minister Sir John Major was wheeled out by the Conservative party today to predict a government of "mayhem" if a minority Labour government was propped up by Scottish nationalists and he claimed the UK government would be left vulnerable to a "daily dose of political blackmail" by the SNP if this was the case.
It is the kind of scaremongering we have become accustomed to as the Tories attempt to exploit English voters' fears about the prospect of Mr Miliband doing a deal with Ms Sturgeon to win power.
Earlier this month the Defence Secretary Michael Fallon launched a highly personal attack on Mr Miliband by claiming the Labour leader was prepared to "stab the United Kingdom in the back to become Prime Minister".
He warned that his failure to commit to replacing all four of Britain's nuclear submarines suggested he was prepared to scrap Trident in exchange for SNP support in a post-election deal.
Making a bizarre comparison to his decision to stand against his brother in the Labour leadership race in 2010, Mr Fallon said: "Ed Miliband stabbed his own brother in the back to become Labour leader. Now he is willing to stab the United Kingdom in the back to become prime minister."
In pictures: Experts' predictions for the General Election - 19/04/15

Show all 10
Ms Vine's attack on Mr Miliband is not the first time she has had a pop at the Labour leader. Last month she wrote how extraordinary it was that, despite living in a £2m-plus townhouse, the Milibands had a kitchen that was a "mean, sterile, little box" that could have been in a "Communist-era housing block in Minsk".
It followed Mr Miliband's interview with the BBC, in which he invited the cameras into his home. It sparked the revelation from another columnist that the picture was taken in the Miliband's smaller, "functional kitchenette," and the family have a second, larger kitchen downstairs.
---
The Independent has got together with May2015.com to produce a poll of polls that produces the most up-to-date data in as close to real time as is possible.
Click the buttons below to explore how the main parties' fortunes have changed:
All data, polls and graphics are courtesy of May2015.com. Click through for daily analysis, in-depth features and all the data you need. (All historical data used is provided by UK Polling Report)
Join our new commenting forum
Join thought-provoking conversations, follow other Independent readers and see their replies