General Election 2015: Ukip leader Nigel Farage 'considered hiring a tank on polling day'
But the Ukip leader is 'not keen' after a previous accident on polling day in 2010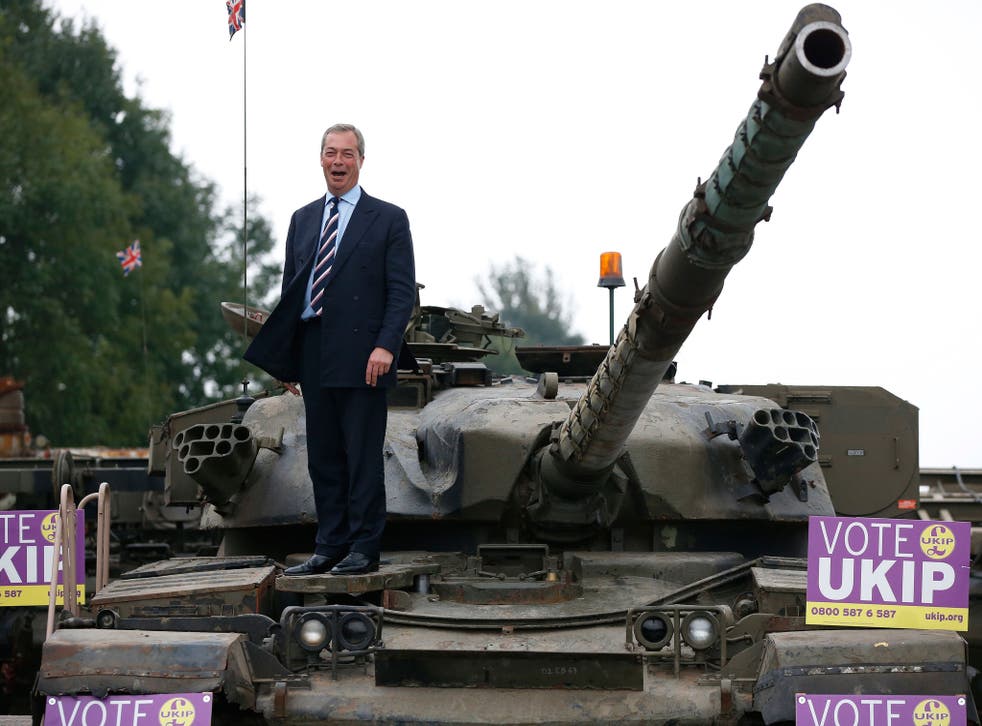 Nigel Farage reportedly considered hiring a tank for Ukip on polling day – but was scared off because of a previous election stunt that went badly wrong.
The Ukip leader was involved in a plane crash while campaigning near Brackley, Northants, in May 2010.
He was pictured at the time looking bruised and bloodied after being pulled from the wreckage of the light aircraft, which had flipped upside down and nosedived into a field.
The idea for the latest stunt was presumably inspired by The Stig, who drove a tank through London last month to deliver a petition asking the BBC director-general Tony Hall to reinstate Jeremy Clarkson to Top Gear.
---
Are you undecided about who to vote for on 7 May? Are you confused about what the parties stand for and what they are offering? Take this interactive quiz to help you decide who to vote for...
If it had gone ahead, it would have seen Mr Farage driving a tank into South Thanet next Thursday to encourage prospective voters.
Mr Farage's advisors proposed the idea, The Daily Telegraph reported, but he laughed it off and said he was "not keen" on election stunts.
"Hiring a tank? Why would I do something like that?" he told the newspaper. "There have been all sorts of ideas thrown around and suggested to me about what I should and shouldn't do.
---
"People have been suggesting different things to me but I am greyer, older and wiser to take such advice this time."
He added: "I would have thought that after my last election day stunt I may be more cautious this time, and I may not take the advice that has been offered."
---
The Independent has got together with May2015.com to produce a poll of polls that produces the most up-to-date data in as close to real time as is possible.
Click the buttons below to explore how the main parties' fortunes have changed:
All data, polls and graphics are courtesy of May2015.com. Click through for daily analysis, in-depth features and all the data you need. (All historical data used is provided by UK Polling Report)
Join our new commenting forum
Join thought-provoking conversations, follow other Independent readers and see their replies