General Election 2015: Union bosses tell Ed Miliband to offer Lib Dems electoral reform to shut Tories out
Senior trade union sources urge Labour leader to act swiftly to offer Nick Clegg proportional representation, even if Tories are largest party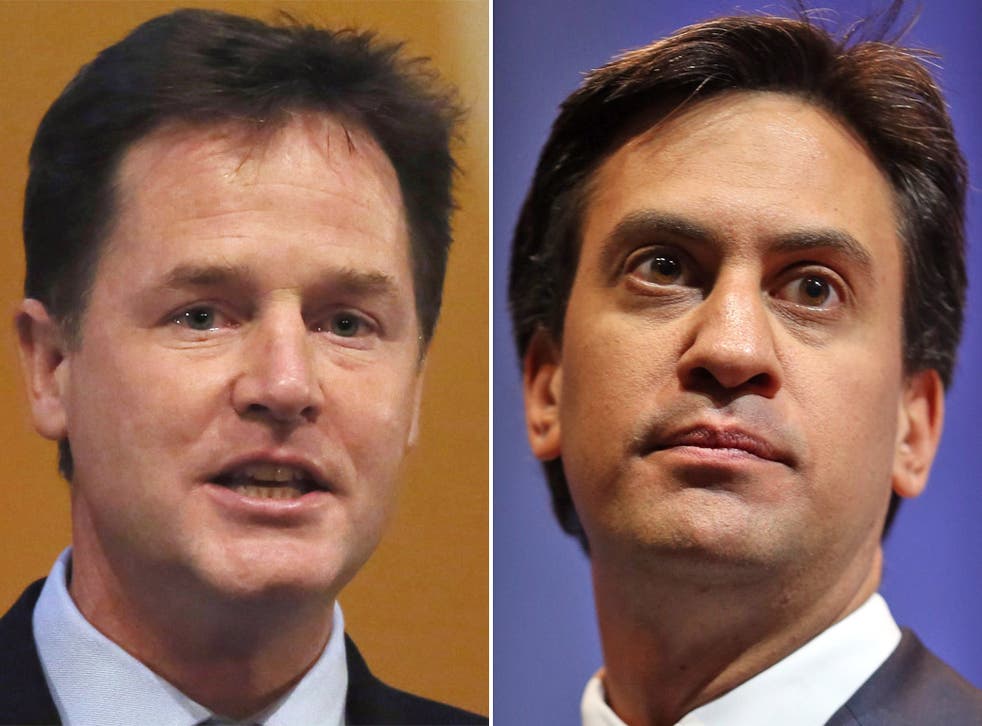 Union bosses have told Ed Miliband to offer the Liberal Democrats electoral reform in return for power, it has emerged.
Senior sources from two major unions affiliated to Labour told Channel 4 News that if the Conservatives fail to win an overall majority but remain the largest party, then Mr Miliband should act swiftly to form an anti-Tory deal with Nick Clegg's party to shut David Cameron out of power.
One of the figures called on the Labour leader woo the Lib Dems by promising reform to the way MPs are elected, mentioning proportional representation as a possible option.
A trade union official said: "The trade unions wouldn't like another government the same as the last five years," adding: "the Liberal Democrats have some very positive trade union policies – in some cases more positive than Labour."
However Mr Clegg has insisted that a government containing the second largest party would lack legitimacy if the largest party had not been given the opportunity to form a government first, saying he would fist open talks with the party with the "greatest mandate from the British people".
If the Lib Dem leader stuck by this approach then Labour would not be able to talk to the Lib Dems until negotiations broke down between them and the Tories.
The comments from the union bosses are surprising considering trade union leaders overwhelmingly rejected electoral reform in 2011, when Britain voted against the Alternative Vote system in a referendum.
Trade union leaders are likely to have an influential voice when the Labour party's National Executive Committee meets this Saturday – all the major unions that back Labour are represented on the NEC.
In an interview with the BBC earlier this week Mr Miliband said he was "not in favour of electoral reform".
In pictures: Experts' predictions for the General Election - 03/05/15

Show all 10
And Chuka Umunna, Labour's shadow business secretary, told Channel 4 News that suggestions they would offer the Lib Dems electoral reform in return for power was "rubbish," adding: there are no pacts, no deals, nothing".
---
The Independent has got together with May2015.com to produce a poll of polls that produces the most up-to-date data in as close to real time as is possible.
Click the buttons below to explore how the main parties' fortunes have changed:
All data, polls and graphics are courtesy of May2015.com. Click through for daily analysis, in-depth features and all the data you need. (All historical data used is provided by UK Polling Report)
Join our new commenting forum
Join thought-provoking conversations, follow other Independent readers and see their replies