General Election 2015: What happens if no one wins? Here is all you need to know
A working-class Tory peer could stand in for the Queen to present a minority government's legislative programme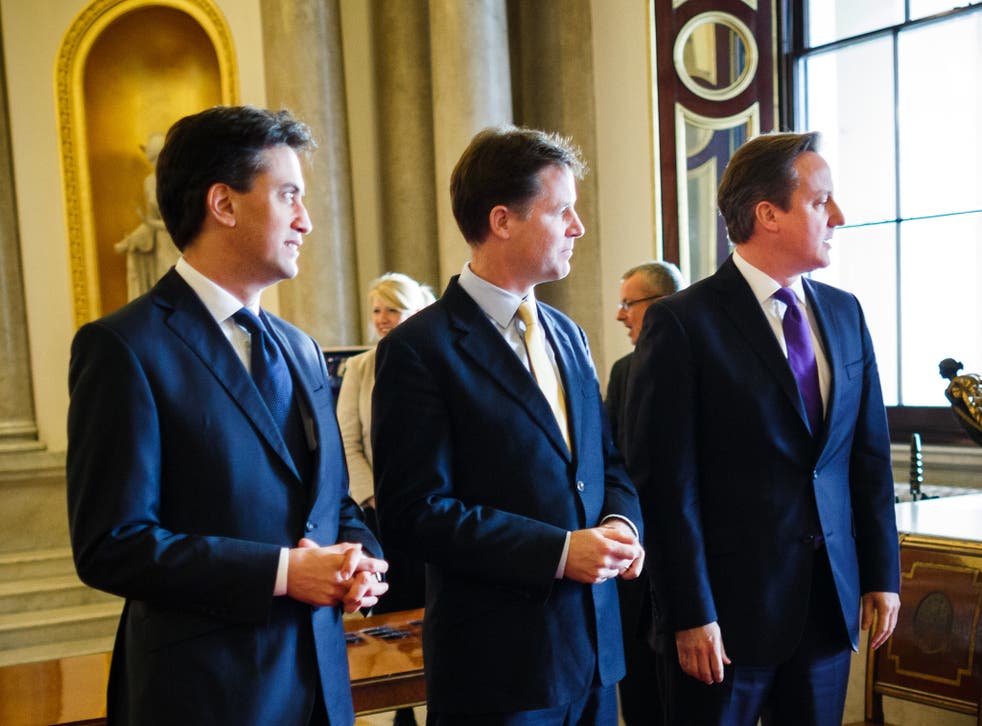 With polls predicting another hung parliament is by far the most likely outcome of the election, constitutional experts are fast-becoming the most sought-after professionals.
What would follow is unpredictable and unlikely to be resolved within five days, as happened in 2010.
We could be in for weeks of negotiations between the parties – although it certainly will not resemble the situation in Belgium, where it took a year and a half to form a Coalition.
The Conservatives or Labour could try to form a minority government. In such an event, the Queen would not deliver the traditional Queen's speech to prevent her from being "dragged into a highly contentious situation," according to the highly regarded constitutional expert Peter Riddell, director of the Institute for Government thinktank.
Instead, the Government's legislative programme would be presented in a "low-key" ceremony by the Leader of the House of Lords.
So Baroness Stowell, a working-class Conservative peer who shot to fame last year when she compared herself to Beyonce, could replace Her Majesty in the State Opening of Parliament.
To ensure you are well-prepared in the event of neither party winning an overall majority on May 7, this is what to expect:
David Cameron remains as Prime Minister until he is able to recommend a successor to the Queen (unless he shocks everyone by tendering his resignation).
This is what Gordon Brown did in 2010 – he stayed in Number 10 until Mr Cameron was able to show he had the numbers to form a majority.
During this period, any party can talk to any other party to try to form a majority government.
There is no constitutional priority given to the largest party to form a government, although Mr Riddell said the party winning the most seats would be "significant politically and arithmetically" as they would have the biggest mandate from voters.
Ministers – like the Prime Minister – remain in their government posts until a new Government is formed. So even if the likes of Danny Alexander or Nicky Morgan lost their seats, they could carry on temporarily as ministers.
But they cannot take any action that would bind future governments, such as policies or appointments.
Mr Cameron, as the incumbent Prime Minister, will have the first shot at forming a government.
He will either try to form a Coalition, as he did in 2010, or go it alone with a minority administration.
He would then present the new government's legislative programme – the Queen's Speech – to Parliament and MPs would vote on it.
If Mr Cameron lost the vote on the Queen's Speech, he would almost certainly face an immediate no-confidence vote from Labour.
Losing this would bring an end to Mr Cameron and the government.
He would then have to advise the Queen to invite the Leader of the Opposition – Ed Miliband – to form a government.
The Labour leader would have 14 days to try to win a confidence vote. But if he failed, a second election would be called and there would be another 25 days of campaigning before polling day.
Mr Miliband would be Prime Minister until the second election, albeit a very restrained one.
Regardless of the outcome, regardless of whether a government has been formed, MPs return to the House of Commons on May 18.
The Queen's Speech is scheduled to be held on May 27, but this could be delayed if necessary.
And as stated above, Her Majesty would be advised by officials not to give the traditional Queen's Speech if there was any uncertainty over whether MPs would pass it in the Commons.
Political spats

Show all 3
Mr Riddell said: "My strong view, and this is shared by other people, is that if there is any doubt about the future government – if David Cameron is in a minority and goes to the Commons – it will not be a State Opening.
"We will not see either the Queen or the guards outside. It will be a Royal Commission, which is rather low key.
"It would be lower key to avoid the Queen being dragged into a highly contested situation and it would be after three or four weeks."
In a sign of the unprecedented times we live in, the last time the Queen failed to take part in the event was in 1963 when she was pregnant with Prince Edward.
There we are. Clear as mud.
The Independent has got together with May2015.com to produce a poll of polls that produces the most up-to-date data in as close to real time as possible.
Click the buttons below to explore how the main parties' fortunes have changed:
All data, polls and graphics are courtesy of May2015.com. Click through for daily analysis, in-depth features and all the data you need. (All historical data used is provided by UK Polling Report)
Join our new commenting forum
Join thought-provoking conversations, follow other Independent readers and see their replies