Halifax selection row: Leaked emails reveal Labour's war with Unite over choice of candidate
Party stands accused of 'anti-democratic manipulation' of candidate selection as correspondence shows 'desperate attempts' to keep union official out of seat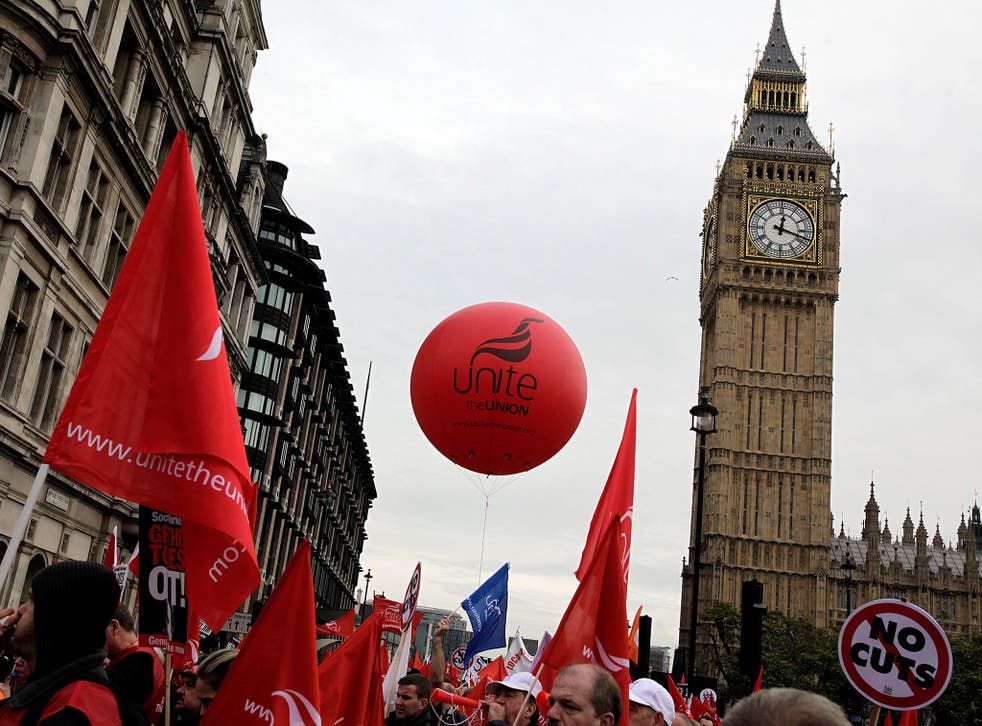 An extraordinary row broke out at the top of the Labour Party tonight after it emerged that a sitting Labour MP accused senior figures in her own party of an "underhand and anti-democratic manipulation" of a controversial candidate selection race.
In leaked emails seen by The Independent, Linda Riordan, the outgoing MP for Halifax, accused members of her party's National Executive Committee (NEC) of breaching rules by interfering in the selection of the candidate to replace her.
The emails – sent in late February – reflect concerns that national party figures were keen to promote potential rivals to Karie Murphy, a close associate of Unite leader Len McCluskey. Ms Murphy was controversially omitted from the all-female shortlist of six candidates published on Monday. Her supporters described the selection process as an "old-fashioned stitch-up".
Tonight, the senior Labour figures accused by Ms Riordan of interfering in the selection process issued vehement denials of any wrongdoing, insisting she was entirely misinformed. Ms Riordan could not be reached for comment.
The dispute threatens to be a pre-election headache for Ed Miliband, with echoes of the 2013 Falkirk candidate selection row in which Unite officials were accused but later cleared of rigging the selection process in favour of Ms Murphy.
Election 2015: Focus groups make unflattering comparisons

Show all 4
In one of the emails leaked to The Independent, Ms Riordan claimed an influential local councillor was offered a £350 private taxi journey from Halifax to London where he would personally meet Mr Miliband and be advised of the leadership's preferred choice for the seat. The taxi ride and the offer to attend a "diversity dinner" in London is alleged to have been made by Keith Vaz, a member of the NEC.
In the complaint email, sent to Labour's general secretary Iain McNicol three weeks ago, Ms Riordan writes: "The key role that members of the NEC – and in particular the special selection panel of which Mr Vaz is also a member – play during a selection so close to the general election should dictate that they especially do not engage in underhand and anti-democratic manipulation of the process, as has clearly taken place in Halifax."
In the email, the MP, who is standing down for health reasons, also accuses Mr Vaz of bending party rules by contacting the same councillor and discussing the preference for one candidate – Fiona Twycross. In the event, Ms Twycross did not make the shortlist.
Last night, Mr Vaz said: "I am just not going to comment on something that is not true. I have never been to Halifax, I have never discussed Fiona Twycross and the details in this letter – which was sent by the Labour MP Linda Riordan – have no basis in fact."
Mr Vaz said Ms Riordan was merely reporting what she had been told. Mr Vaz said he had made 500 calls on the "dinner" mentioned and that he was being misrepresented in his alleged role. He also pointed out he was not on the Halifax special selection panel.
In a second email of complaint from Ms Riordan, apparently sent on the same day, she passed on claims that another NEC member, Jonathan Ashworth, contacted a Halifax party member wanting to check the "validity" of local members.
Mr Ashworth denied such checks had been made. However Ms Riordan said "an impression of something untoward going on" had been given to members which raised concerns that there had been "an attempt to manipulate the open democratic process".
Responding on Monday night, Mr Ashworth said the allegations were untrue. "This is a completely bogus allegation which is utter nonsense – I haven't spoken to any member of the Halifax Labour Party about the selection, other than telling Linda Riordan that these claims were rubbish," he said.
It is understood that no decision has been made by Labour on whether to investigate Ms Riordan's allegations.
The Independent has also obtained a third email, sent close to 11pm last Friday, only days before the selection process concluded, in which a party official in Halifax invited Stephanie Booth, the step-mother of Cherie Blair, to put herself forward.
It read: "Dear Stephanie, Could you be the next MP for Halifax?" An official application form and details of the final interview dates two days later, were included.
Mrs Booth, who is the wife of Ms Blair's father, actor Tony Booth, stood in the nearby Calder Valley constituency in 2010. Today she told The Independent that she had rejected the surprise offer.
The apparent drive to promote alternative candidates to Ms Murphy appears linked to her controversial role in a vote-rigging dispute last year.
Ms Murphy decided not to stand as Labour's candidate in Falkirk in 2013 over allegations that the Unite union tried to manipulate the selection process in her favour. The union and Ms Murphy were both cleared of wrong-doing, but the episode led Mr Miliband to announce reforms to the party's links with unions.
Some local party activists believe the national party's imposition of a special selection panel, headed by Harriet Harman, Labour's deputy leader, effectively robbed the local party of making an independent choice.
After her failure to make the six-strong shortlist was announced on Monday night, Ms Murphy said: "I am disappointed that the Labour Party advised the media of my exclusion from the selection list more than three hours before they informed me."
A senior Unite source said: "The real losers of this fix are party members in Halifax and democracy in the Labour Party."
Labour's Halifax candidate: the letters
From: Linda Riordan
To: Iain McNicol
Subject: Re Halifax
It has been reported to me that Mr Vaz phoned [a local activist] to invite him to a "diversity dinner" in London. I'm told he went on to offer to cover the costs of a taxi from Halifax to London and arrange a meeting between the member and the Leader. Mr Vaz then placed a second call to the Councillor to discuss the selection of the next Labour candidate for Halifax, specifically mentioning ... Fiona Twycross. The key role that members of the NEC – and in particular the special selection panel ... – play during a selection so close to the election should dictate that they especially do not engage in underhand ... manipulation of the process, as has clearly taken place.
From: Linda Riordan
To: Iain McNicol
Re complaint Halifax
I am ...writing to you to make a second complaint regarding the conduct of another member of the National Executive Committee in the selection process currently under way in Halifax CLP. A local Labour Party member visited my office and told members of my staff that he had spoken to Jonathan Ashworth MP regarding the selection. He claimed Mr Ashworth had told him that he had been looking into the membership list of Halifax CLP to check the validity of members. Clearly, if this allegation is correct such behaviour by a member of the NEC and special selection panel is completely unacceptable. This gives the impression of something untoward going on. I am concerned that an attempt to manipulate the open democratic process of selecting Halifax's next Labour parliamentary candidate has taken place. Mr Ashworth has denied any involvement to me, however, as this allegation is now widely known amongst members I feel there is a duty on you to act.
Join our new commenting forum
Join thought-provoking conversations, follow other Independent readers and see their replies