How the Lib Dems and Labour came to be annihilated
The Lib Dems and Labour have both been trounced in their own way. How did this happen?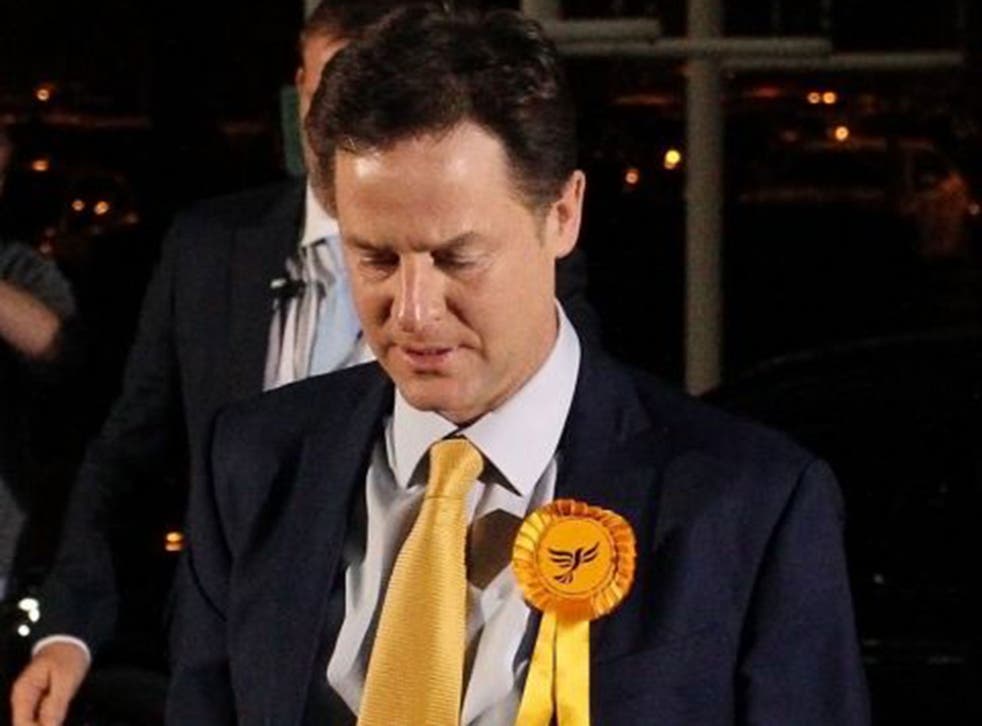 Labour lost badly in Scotland and the Liberal Democrats suffered a humiliating defeat across the UK.
But what were the events running up to the vote? If you weren't paying attention, here they are in order.
5 March
David Cameron rules out a head-to-head debate with Ed Miliband but says he will appear in one with seven party leaders.
11 March
Ibrahim Taguri resigns as a Lib Dem candidate after The Daily Telegraph revealed he had agreed to accept a potentially illegal donation.
15 March
Ed Miliband rules out coalition with SNP but does not exclude a looser deal.
16 March
Nigel Farage announces he will quit as Ukip leader if he fails to be elected as MP for South Thanet.
18 March
George Osborne declares Britain the "comeback country" as he delivers his final Budget of the Parliament.
19 March
Ukip MEP Janice Atkinson axed as election candidate over allegations she mis-spent EU expenses.
20 March
Tory candidate Afzal Amin suspended after conspiring with the far-right EDL group to win votes.
23 March
David Cameron rules out third term as Prime Minister and names Theresa May, George Osborne and Boris Johnson as possible future leaders, inviting accusations of arrogance.
25 March
David Cameron rules out a rise in VAT at the last Prime Minister's Questions.
25 March
The Government suffers a bitter defeat after ministers try to change the rules for electing the House of Commons Speaker, seen as a manoeuvre to oust John Bercow after the election; Labour MPs erupt with rapturous applause in an embarrassing defeat for the Government.
26 March
Ed Miliband takes most plaudits in counter-attacking Jeremy Paxman's hostile questions in the first TV showdown between the Labour leader and David Cameron, who comes under fire for failing to find answers on food banks and zero-hour contracts.
30 March
Dissolution of Parliament takes place.
2 April
SNP leader Nicola Sturgeon triumphs in the election campaign's only TV debate with all seven party leaders.
6 April
Nigel Farage issues an appeal for help from Ukip supporters around the country, after it emerged he is no longer favourite to win the South Thanet constituency.
8 April
The Tories are accused of panic and dragging their election campaign into the "gutter" after the Defence Secretary, Michael Fallon, launches a vicious personal attack on Ed Miliband, claiming he would "stab his country in the back" to become Prime Minister.
13 April
Labour launches its manifesto, claiming to be the party of economic responsibility.
14 April
David Cameron promises voters the "good life" as he attempts to change the tone of an otherwise negative campaign, promising to be "the party of working people".
14 April
The Tories unveil manifesto pledge to extend the right-to-buy scheme for social housing tenants in England.
15 April
Nick Clegg launches the Liberal Democrats' manifesto, pledging to "add a heart to a Conservative government and add a brain to a Labour one".
16 April
George Osborne wins the endorsement of the managing director of the International Monetary Fund, Christine Lagarde, for the Coalition's handling of the economy in recent years.
16 April
In a televised "challengers debate", Ed Miliband refuses Nicola Sturgeon's offer to do a deal that would "lock David Cameron out of Downing Street".
20 April
Nicola Sturgeon sets out Labour-friendly manifesto.
23 April
The Mayor of London Boris Johnson admits that "it would be wonderful to be seen as a contender for the leadership".
24 April
HSBC threatens to leave the UK over political uncertainty in the country.
24 April
Ukip unveils its manifesto, claiming to be the only party that has fully costed its policy plans.
25 April
David Cameron forgets which football team he supports in an embarrassing gaffe that exposes his fake love of the game; he mistakenly wishes West Ham good luck, instead of his beloved Aston Villa.
28 April
Ed Miliband is interviewed in a YouTube video by the comedian, Russell Brand, in an interview celebrated by some and lampooned by others.
29 April
David Cameron promises to enshrine in law a legal commitment not to raise taxes.
30 April
David Cameron, Ed Miliband and Nick Clegg take part in the BBC Question Time debate – the final TV showdown of the campaign – as all face hostile questions from a lively audience.
The Prime Minister says a referendum on the EU would be a red line in any Coalition negotiations and the Labour leader says he would rather lose the opportunity to become Prime Minister than do a deal with the SNP. A post-debate poll shows that 44 per cent of people thought Mr Cameron won, compared to 38 per cent for Mr Miliband and 19 per cent for Mr Clegg.
2 May
A slip of the tongue humiliates David Cameron as he says the election is a "career-defining moment". He quickly corrected himself, saying it was a "country-defining" moment.
3 May
Ed Miliband is ridiculed after unveiling a giant 8ft stone carved with Labour's manifesto pledges, which he says will be placed in the Downing Street garden if he wins.
3 May
Nick Clegg announces the final of his six red lines – the areas the Lib Dems will not sacrifice in Coalition negotiations – including a commitment to raise education spending, raising the personal tax allowance, holding a "stability" budget within 50 days of the election and £8bn NHS investment.
3 May
Nick Clegg hints that he would be willing to support an in/out referendum on Britain's membership of the EU in order to reach agreement on another Coalition with the Tories.
4 May
SNP protesters are suspended by the party after they hijack a Labour rally in Glasgow and abuse Scottish Labour leader Jim Murphy and Labour supporter Eddie Izzard.
5 May
Nick Clegg predicts a second election before Christmas unless the Liberal Democrats are in Government.
Join our new commenting forum
Join thought-provoking conversations, follow other Independent readers and see their replies