Jacob Rees-Mogg: Joining the ultimate Tory Boy as he knocks on doors in North Somerset
Tom Peck joins the Old Etonian who seems perfectly in his element as he campaigns on his home patch in North Somerset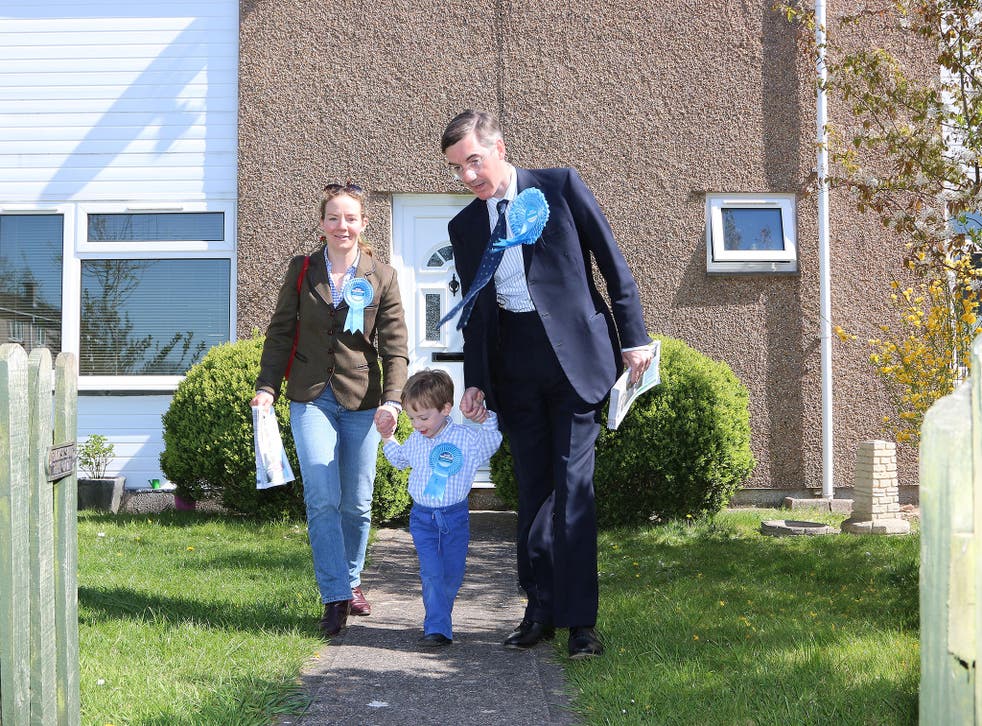 Jacob Rees-Mogg likes to claim the most rebellious thing he has ever done is stand up to an old Etonian teacher who dared to question the infallibility of the papacy, yet here he is, at the end of a Somerset driveway, playing Knock-and-Run with the former Chancellor of the Exchequer.
Norman Lamont is, without doubt, the ringleader. It's important to make that clear; the honourable member for North East Somerset an accomplice at best. But that doesn't make the spectacle any less shocking, and it's a relief, quite frankly, that Anselm Charles Fitzwilliam Rees-Mogg, aged two and three quarters and wearing a Tory rosette considerably larger than his face, doesn't compute the magnitude of what's just happened.
The excuses come pouring out before Baron Lamont of Lerwick has even made it off the property, and long before the smile has been wiped from his face. There is a sign in the window, in small, illegible handwriting, that reads "No political callers", which Lamont claims he saw too late, and so took flight in pre-emptive self-defence, not just for cheap thrills in the middle of a long morning's canvassing. What you choose to believe is up to you.
The pretty little village of Temple Cloud, 10 miles south of Bristol, is Rees-Mogg country, and not just since 2010, when Jacob was finally returned to Parliament. ("He's wanted to be an MP since he was seven," his mother Gillian tells me later, over lunch in the pub.)
---
Are you undecided about who to vote for on 7 May? Are you confused about what the parties stand for and what they are offering? Take this interactive quiz to help you decide who to vote for...
---
The Rees-Moggs made their home here in the rolling pastures of the south-west more than 400 years ago, but the name doesn't necessarily afford the deference it once did. Jacob is on only his ninth door of the morning and already he has tentatively pledged to do his best to lower the speed limit on the A37, end all immigration to the United Kingdom, stop the fortification of flour with folic acid, re-route the A37, build more affordable housing, get us out of the European Union, block plans to build affordable housing, and (please!) just do something about the A37.
These will be a difficult range of obligations to fulfil, but if he can pull it off, all 22(ish) votes up for grabs on Tiledown, a meandering row of detached houses in the village of Temple Cloud might well be his, a reward that is not to be underestimated.
"The great glory of our system is the constituency MP," he says. Which comes as a relief, as both he and Conservative Central Office appear to have agreed that this is likely to be the pinnacle of a political career that has arguably been unjustly slow in getting started.
Meeting Jacob Rees-Mogg is almost a disappointment. There is no valet. No top hat. No Bentley (just a Lexus). And nanny is nowhere to be seen.
The burden he has carried with admirable grace all his life – never failing to capture the attention of an endless stream of piss-takers, from The Oxford Student newspaper to Ali G – is that he just so happened to emerge from the womb, in May 1969, as a fully formed 45-year-old Tory MP.
Now that he finally is a 45-year-old Tory MP, he wears his eccentricities with an air of authenticity that the inconvenience of his youth seemed to deny him.
What is absolutely undeniable is that they like him around here, and he likes them. "There is a different level of job satisfaction in being the MP in your local seat," he says. "If you represent any seat in the country that is a means to an end. If you represent your own county that is an end in itself."
At one point, he is asked by an elderly lady to pop inside and "cheer up" her husband, who has had a stroke. It transpires that she is from the family that has laid out the bodies in the village for decades, a service of which many a Rees-Mogg has been the beneficiary.
He also admits that the most surprising aspect of his five years of being an MP is "how rewarding surgery work can be". He gives an example of having stepped in to sort out a row about a qualified bus driver being refused the proper licence, which he relates with particular gusto, given that for reasons not worth explaining in detail it involved sticking one to the European Union.
"I'm very happy doing what I'm doing, honestly. And one has to be realistic about what's available. You can't expect if you vote against the government to be offered advancement ahead of all the people that have dutifully supported the government."
First, he must win his seat, and although an Ashcroft poll of his constituency predicted he would make a gain on his 4,900 majority, if the area follows the national swing there'll be only a couple of percentage points in it.
That's when being local helps. As Jacob works the doors with the help of local activists, mother Gillian's Mercedes estate serves as the mobile control centre, occasionally slowing down to feed back information, drive-by style.
"Number 72! Two votes!" she bellows across the empty passenger seat at one point. "Says you helped him with his chemotherapy!"
"We're not posh," she says later. "All that stuff they write about him? About double breasted pyjamas? Come on. So he went to Eton. What 13-year-old boy chooses where they go to school?"
Over the past five years, he has had his rebellious moments, in a political sense. And many of his constituents saw, and did not like, his appearance on a recent Michael Cockroft BBC documentary in which he is shown at some length, filibustering down a Private Member's Bill to repeal the Bedroom Tax.
"I thought your attitude was disgusting," Sue Walker, who has recently started claiming her pension, tells him. "People shouldn't be coerced into leaving their homes."
He also rebelled against his government to vote against the equal marriage Bill, incompatible as it is with his views as a devout Roman Catholic. It is a fact that has not escaped the attention, or the campaign literature, of his Labour opponent, an American lawyer who is married to another man.
"I didn't think when I got elected in 2010 that the higher-ups in the Tory party thought that if I was desperately supportive they saw me as someone they were wishing to advance," he admits. "And then they started fiddling around with the constitution, most of which I disagreed with.
"It's quite hard to change tack now, to go from being someone who's independent minded and stands up for his constituents to someone who's a careerist."
He's quite right. In Westminster, unlike Somerset, once you've rattled the wrong letterboxes you can't expect to run off and get away with it.
Register for free to continue reading
Registration is a free and easy way to support our truly independent journalism
By registering, you will also enjoy limited access to Premium articles, exclusive newsletters, commenting, and virtual events with our leading journalists
Already have an account? sign in
Join our new commenting forum
Join thought-provoking conversations, follow other Independent readers and see their replies