Tory activist asked to step down after Labour candidate Rupa Huq is 'manhandled' while questioning Boris Johnson on the campaign trail
The Conservatives claim that Rupa Huq forced her way into a Conservative walkabout, forcing a woman into the road in the process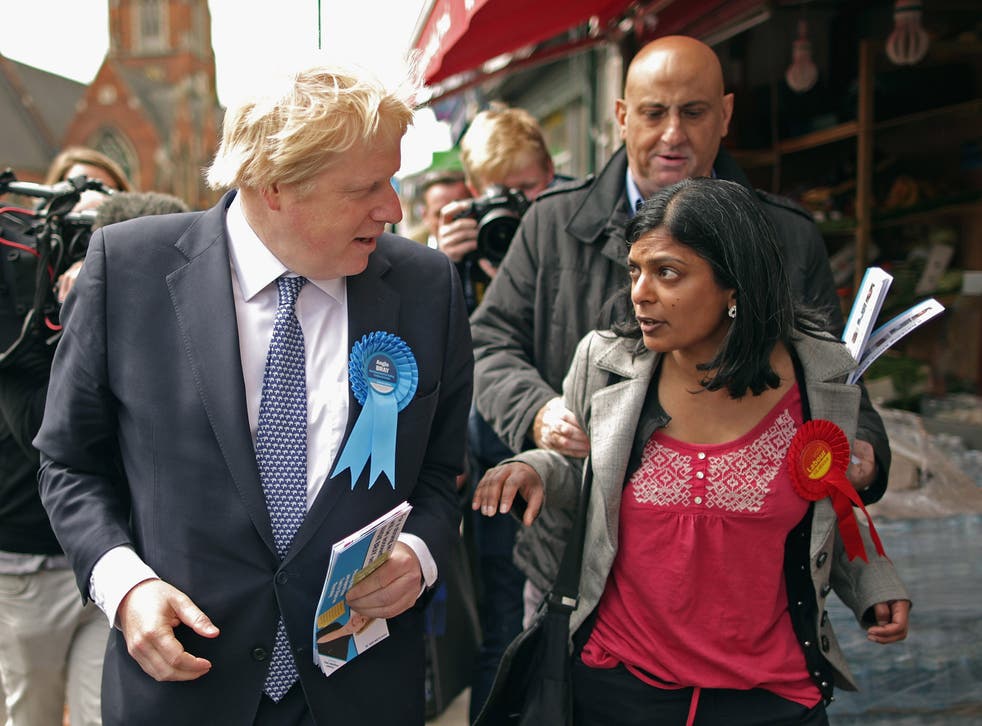 Labour supporters have condemned Boris Johnson and the Conservative Party after claims that their candidate for Ealing Central and Acton was "manhandled" by a Tory activist.
The incident took place during a walkabout, as the Mayor of London was canvassing support for the local Tory candidate, Angie Bray, when Rupa Huq attempted to draw him into debate about the issues facing Ealing.
The pair can be seen striding along the pavement when Dr Huq is repeatedly grabbed by the activist who attempts to drag her away from Mr Johnson. He then appears to push Angie Bray branded leaflets across her face.
Dr Huq however, has demanded that Boris Johnson apologise to her, saying that her treatment was an "example" of how women were treated.
Ms Bray, who can be seen in the background of film taken of the incident, subsequently asked the activist to step down, apologising to Dr Huq on Twitter.
Dr Huq said: "I was trying to ask him serious questions about issues affecting Ealing, and to be grabbed and shoved around by his supporters is disappointing.
"Boris Johnson and his team owe me an apology – it's about the example politicians like him set to people, particularly around how women are treated.
"If figures like Boris Johnson want to engage with voters, they can't react to questioning by manhandling people. You wouldn't accept it in other walks of life, and people expect better from the Mayor of London."
In response to the allegations, Julian Gallant, chairman of the Ealing Central and Acton Conservative Association, said that it was a regrettable situation, but that at no point was Dr Huq dragged or assaulted by the activist.
General election 2015: The worst gaffes and controversies

Show all 36
Mr Gallant said: "I understand that during a walkabout, with Boris Johnson and Angie Bray in Acton, the Labour candidate appeared suddenly between Angie and Boris, forcing a female supporter into the road in the process.
"After trying to ask Boris several questions and after a few minutes she refused to walk away and allow the walkabout to continue.
"It was a political stunt and only after several minutes did a conservative supporter place his hands on Rupa Huq's shoulders to encourage her to leave.
"At no point was she dragged or assaulted and when she reached the corner she left Boris and his entourage entirely voluntarily. None the less, this was a regrettable situation and we have apologised to Rupa Huq and have asked the supporter in question to stand down from the campaign team, which he has done.
"Angie was well behind and could not see clearly what was happening and she certainly wasn't smiling about it."
Join our new commenting forum
Join thought-provoking conversations, follow other Independent readers and see their replies