SNP vote will hand power to Tories warns Miliband at Scottish Labour Conference
Miliband tells Scottish Labour conference that voting SNP could mean more Tory cuts for Scotland
James Dunn
Saturday 07 March 2015 11:56 Comments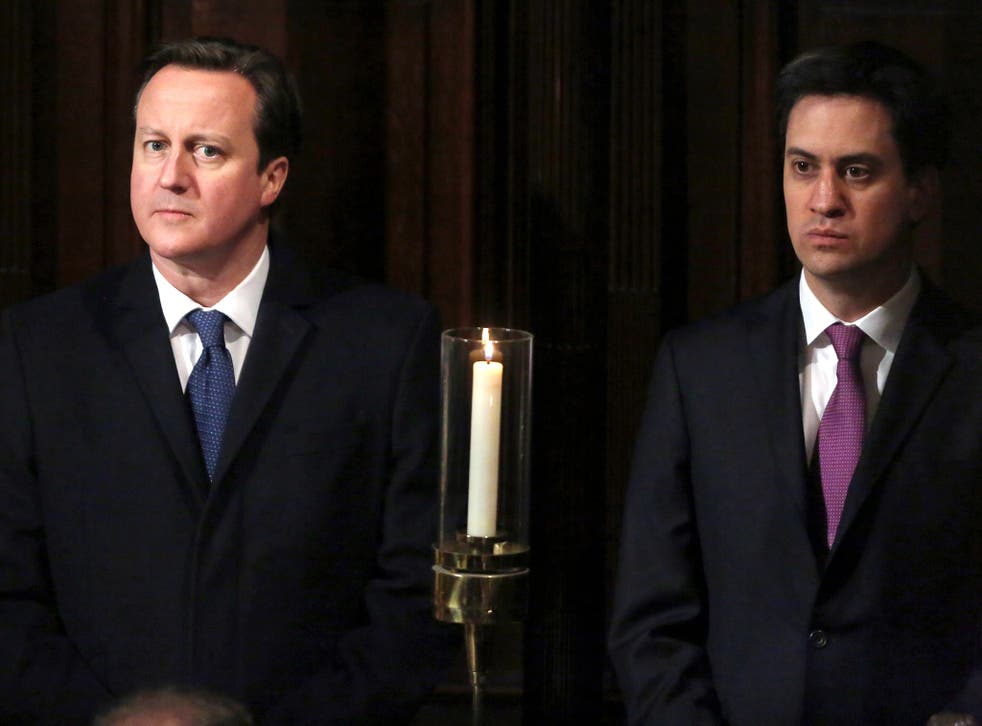 Ed Miliband issued a stark warning to Scots that voting SNP will hand power to the Tories and could lead to more cuts in Scotland as he attempts to stave off the threat of the Scottish National Party.
In his address to the Scottish Labour Conference in Edinburgh today, Miliband swept aside growing speculation over a "progressive alliance" between the two parties, as polls suggest the Scottish National Party will make huge gains in the next election.
He told the conference in Edinburgh that "every one less Labour MP" would make it more likely the Conservatives will win an overall majority in the May election, in which recent polls suggest Labour would lose nearly all of its 41 seats to the SNP.
But Miliband did not rule out an alliance with the SNP, despite pressure from his own MPs - and calls from David Cameron - to do so. David Cameron has been reported as saying he may form a minority Government if the Conservative Party doesn't win an overall majority in the election this May, which would mean alliances with smaller parties would be key to getting important votes through the Commons.
SNP leader Nicola Sturgeon has already warned that her party will not prop up a Conservative Government, ruling out any kind of alliance between them and the Tories, after widespread criticism of the Coalition's austerity measures.
Sturgeon has also hinted that the SNP may support Labour in key Commons votes, in exchange for concessions such as the scrapping of Trident and an end to austerity.
But Miliband is rumoured to be under pressure from his own MPs. His speech today comes just days after election chief and shadow foreign secretary Douglas Alexander was told at a meeting of 30 out of 41 Scottish MPs to relay a message to the leader to rule out the potential alliance.
Today, Miliband told the Scottish Labour Conference that an SNP vote would likely lead to more cuts for Scotland, as the deal could not be relied upon to defeat the Conservatives' failing austerity plan
He told the conference that only Labour can fight the proposed £2.7-billion reduction in Scotland's block grant from central Government, and £1-billion in cuts to their NHS.
Miliband also ramped up his criticism on austerity, something that the SNP has been very vocal about and one of the things that has won them support from the Scottish electorate.
He told the conference: "We now have the figures, independent figures from the Institute of Fiscal Studies: the Scottish block grant is about £30bn: the Tory cuts would mean £2.7bn would be taken away from Scotland – that's £500 for every man, woman and child.
"The Tories can wreak havoc in Scotland without winning a majority. They can do it simply by being in government as the largest party.
"It would mean a Tory decade for Scotland: ten years of David Cameron in Downing Street; ten years of injustice; ten years of unfairness; ten years of attacking everything we hold dear in our country."
It was an important plea for Labour, who are set to lose seats in the predicted SNP landslide.
A poll released this week by Tory peer Lord Ashcroft suggests a total wipe-out for Labour, with the SNP taking 56 of 59 Scottish seats. The poll predicts that even Gordon Brown, who won his Fife seat by a majority of 23,000 in the 2010 election, will lose out to the SNP. Former Chancellor Alistair Darling, the Labour MP who led the Better Together campaign against independence in last year's referendum, will retire from politics, but the same poll suggests an SNP victory in his Edinburgh South West constituency.
Former SNP leader Alex Salmond said this week that the election, which Miliband has called "the closest in a generation", will put Scottish voters in the driving seat.
But proposals for extra powers for Scotland after the Independence referendum – in which Scottish voters voted to stay part of the union after Westminster MPs offered last-minute concessions – have led to some anger among MPs, wondering why other regions will not receive the same devolved powers.
The six-party election: key figures

Show all 12
This week, Tory MP Lord Baker even suggested that Labour and the Conservatives form a coalition, to prevent a "nightmare situation" in which the SNP holds the balance of power.
Scottish Labour leader Jim Murphy told the BBC: "We don't need lessons from Tory Dinosaurs about how to run Scotland, what a ludicrous idea."
On social media, Independence supporters are claiming that Miliband is scare-mongering by claiming that voting SNP will give the Tories more power.
The Independence Daily account tweeted: "Ed Miliband is travelling to Edinburgh to scare Scotland into settling for Labour. Ed, it doesn't work anymore."
Register for free to continue reading
Registration is a free and easy way to support our truly independent journalism
By registering, you will also enjoy limited access to Premium articles, exclusive newsletters, commenting, and virtual events with our leading journalists
Already have an account? sign in
Join our new commenting forum
Join thought-provoking conversations, follow other Independent readers and see their replies