Nick Clegg in real danger of losing Sheffield Hallam seat: Labour's plan to 'decapitate' Lib Dems is working
Labour is leading the Liberal Democrats by two points in the Deputy Prime Minister's Sheffield Hallam constituency, according to the latest polling from Lord Ashcroft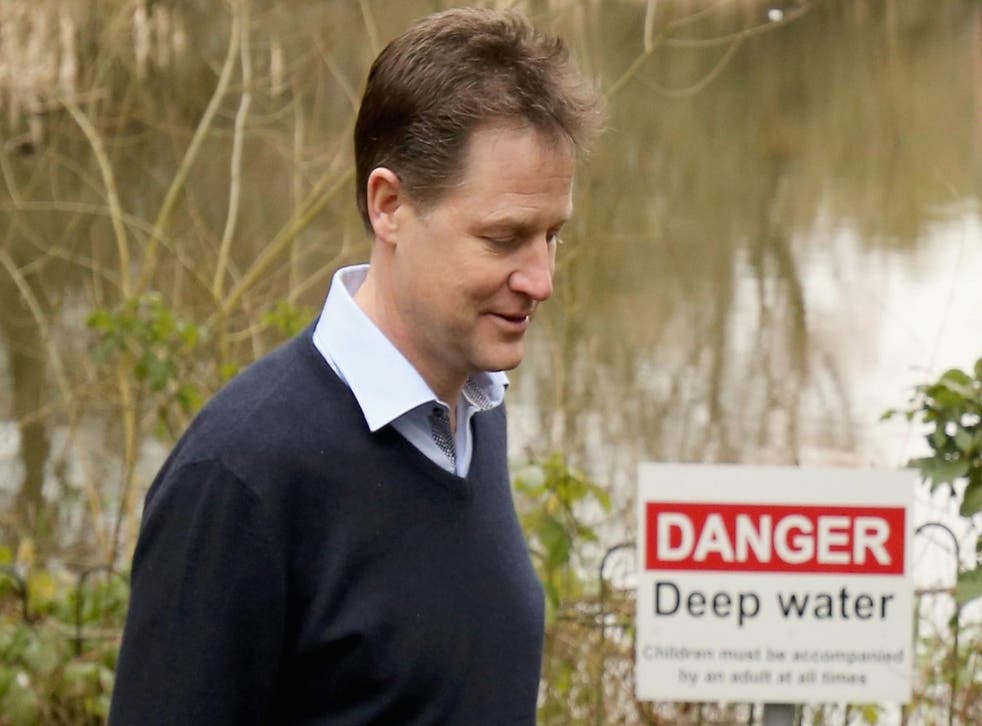 Nick Clegg is in real danger of losing his seat at the election, according to the latest survey of marginal constituencies by pollster Lord Ashcroft.
The Deputy Prime Minister trails Labour by two points in his Sheffield Hallam constituency, but polling in some of the other Liberal Democrat battleground seats shows the party is in line to hold on to more seats than their abysmal poll ratings suggest.
Polling carried out between March 22-28 put Labour on 36 per cent of the vote in Mr Clegg's seat, with the Lib Dems behind on 34 per cent.
It would a humiliating way to end his five-year stint as Deputy Prime Minister and would leave the Liberal Democrats without a leader going into possible post-election Coalition negotiations.
Mr Clegg came out fighting this afternoon, declaring: "I'm going to win", pointing to the fact that the poll did not mention candidates' names and claimed the party's own polling was much more positive for him.
"If you look at the way people have voted rather than what they've said to Lord Ashcroft since 2010 people in Sheffield has consistently voted Liberal Democrat," Mr Clegg said.
"Of the 16 local elections we've had since 2010, we've won 14 since 2010, so I'm confident, not complacent, but confident we're going to win."
It is a slimmer lead for Labour than Lord Ashcroft's last poll in Sheffield Hallam in November, when Mr Clegg trailed by three points, but with less than six weeks left until the election, it shows how much of a fight the Lib Dem leader faces to hold on to his seat.
However the other results of the poll will give hope to the Lib Dems that they can do much better than national polls predict.
The polling in seven Lib Dem-held seats and one Tory-held seat shows Mr Clegg's party is set to hold on to four, with the Tories making gains in the others.
Lord Ashcroft said it highlighted the "lack of any uniform swing and the hazards of trying to calculate seat numbers on the basis of national vote shares".
The six-party election: key figures

Show all 12
Mr Clegg won Sheffield Hallam in 2010 with a 15,000 majority but the Labour candidate Oliver Coppard has exploited his broken promise not to increase tuition fees and his failure to save Forgemasters, a local steel works.
"It frustrates and angers me that he hasn't done more for Sheffield, that he hasn't stood up for Sheffield, considering the position he's in," Oliver Coppard, the Labour candidate, told The Independent. "He has let us down."
He suggested today's polling was down to Mr Clegg's lack of canvassing in the constituency. "He's never here," Mr Coppard said. "He's certainly not been here yet in this election campaign and it's been three days now."
The survey of Sheffield Hallam also suggests the Conservatives are not putting much effort into the seat – a sign that the party hierarchy are hoping Mr Clegg survives and can lend support in the event of a hung parliament.
The Tory contact rate in the seat is the lowest of the eight constituencies in Lord Ashcroft's eight polls.
This might be why Mr Clegg is sending out leaflets that look remarkably like Conservative campaign literature, in a bid to win over blue votes.
A recent leaflet Mr Clegg's team sent out to constituents was titled, in blue lettering, 'What will you get if you vote Ukip or Conservative in May? A Labour MP who backs Ed Miliband'.
But the Tory candidate Ian Walker is in no position to roll over and as Sheffield born-and-bred, he is fighting to rid Sheffield of Mr Clegg and he said focusing on Mr Clegg on the doorstep boosted his support.
"I don't want to decapitate the Liberals – I don't care about them – I just want to de-Clegg Sheffield," he says.
Mr Clegg's team insists the polls are not reflective of what will happen on polling day because the poll questions did not include the candidates' names.
The poll disguises his real support, a spokesman for the Lib Dem leader said, and claimed there is much more support for Mr Clegg on the doorstep and acknowledgement of the sacrifices he has had to make in office than a simple party poll suggests.
However the language coming out of the Lib Dem camp clearly shows they have considered the prospect of a Michael Portillo-style moment - a reference to the then Tory Cabinet minister who was unseated in the 1997 Labour landslide by a 31-year-old Stephen Twigg in the Enfield constituency.
"This is a fight between us and the Labour party; the winner of this seat will be either a Lib Dem or Labour," one of Mr Clegg's members of staff said. The team is "confident but not complacent," and take comfort in their mantra that no MP should find it easy to win a seat.
Lord Ashcroft surveyed seven Liberal Democrat-held marginal seats and one Tory-held seat. Mr Clegg's party will hold on to four of them, the results suggested, with the Tories set to increase their lead in the Cornwall seat of Camborne & Redruth.
In another two seats – North Devon and St Austell & Newquay – the Conservatives are set to win Lib Dem seats as polls show they have leads of six and seven points respectively.
The Lib Dem MP for Julian Huppert has managed to make the most of his large personal vote by increasing his lead to nine points over Labour, but he faces the threat of a large Green party following taking votes from him.
The Independent has got together with May2015.com to produce a poll of polls that produces the most up-to-date data in as close to real time as possible.
Click the buttons below to explore how the main parties' fortunes have changed:
All data, polls and graphics are courtesy of May2015.com. Click through for daily analysis, in-depth features and all the data you need. (All historical data used is provided by UK Polling Report)
Join our new commenting forum
Join thought-provoking conversations, follow other Independent readers and see their replies