Leaders' debate: SNP gets more than 2,000 new members in under 24 hours after TV battle
Leader Nicola Sturgeon was crowned the debate winner by one opinion poll
Lizzie Dearden
Friday 03 April 2015 16:04 Comments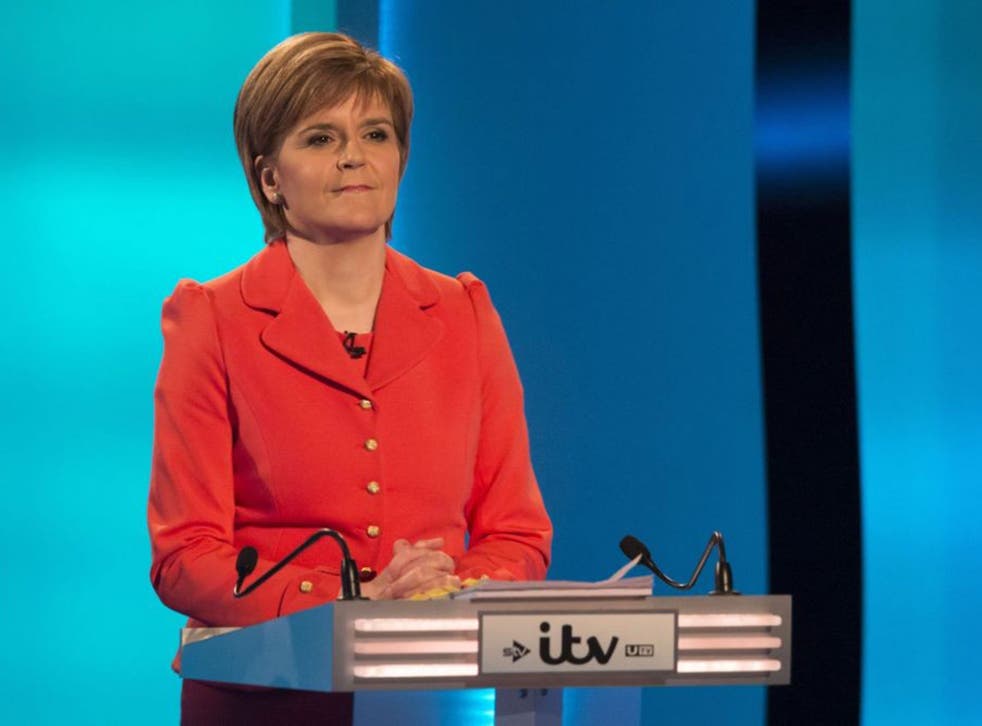 More than 2,000 people have joined the Scottish National Party (SNP) in the wake of the leaders' debate.
Leader Nicola Sturgeon was hailed the winner of the seven-party clash in one poll, although averages of four surveys later put her in a close fourth place two points behind joint winners Ed Miliband and David Cameron, and one behind Nigel Farage.
Her performance topped the social media battle, with Twitter analysis showing she was mentioned more than 113,000 times during the live debate and that the overwhelming majority of tweets were positive.
By the end of the evening, Google data showed that the sixth most searched question was "can I vote for the SNP?" and this morning, Ms Sturgeon's name was the most searched term on the website in the UK.
Some voters were even calling for her to become Prime Minister, even though she is already the First Minister of Scotland and her party does not field candidates in England, Wales or Northern Ireland.
A spokesperson for the SNP said that since the start of the debate at 8pm, an additional 2,022 people had joined the party to take its membership to over 105,000.
Angus Robertson, its general election campaign director, said: "This extraordinary surge in SNP membership reflects the energy and enthusiasm with which we are campaigning across Scotland. With membership of the SNP now at over 105,000, we have never been in better shape going into an election.
"Nicola Sturgeon set out the clear, positive case for electing a strong team of SNP MPs to make Scotland's voice heard at Westminster - and help to deliver progressive politics right across the UK - and clearly that has inspired many people to join the SNP."
The Conservatives and Labour Party, shown to be the joint winners of the event by opinion polls of the leaders' performances, could not say whether membership numbers had been affected.
TV leaders' debate 2015

Show all 8
A spokesperson for Labour said running updates were not given out but the last reported figure was nearing 194,300.
Conservative Campaign headquarters did not respond to The Independent's request and Plaid Cymru could not be reached.
The Liberal Democrats said membership figures are only published quarterly but have "reached the 45,000 mark and rising", while the Green Party said it had 58,000 members – 12,000 more than this time last year.
A spokesperson for Ukip said he did not have statistics from last night to hand but noted that the party had seen a surge in support on its social media accounts since the debate, with an extra 2,000 "likes" on its official Facebook and 3,000 on Mr Farage's page.
Register for free to continue reading
Registration is a free and easy way to support our truly independent journalism
By registering, you will also enjoy limited access to Premium articles, exclusive newsletters, commenting, and virtual events with our leading journalists
Already have an account? sign in
Join our new commenting forum
Join thought-provoking conversations, follow other Independent readers and see their replies