Ed Miliband lost the election because he ditched New Labour, says Tony Blair
Although Blair won three general elections, other party figures dismissed calls for a return to New Labour,  saying the party needed to 'move on'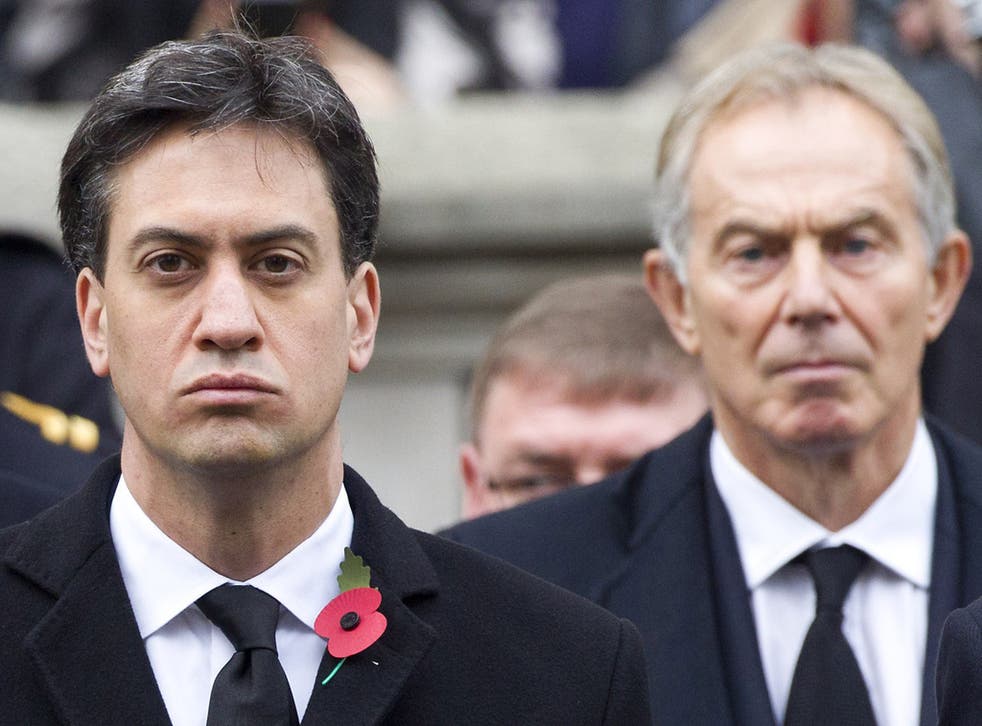 Tony Blair and his allies have blamed Labour's crushing election defeat on Ed Miliband's decision to ditch New Labour as they tried to prevent the trade unions installing another left of centre figure as his successor.
Rival factions clashed as Labour's disaster sparked an intense debate over the party's direction. Lord Mandelson, one of the architects of New Labour, urged the party to stop a repeat of what he called the "abuse and inappropriate influence" that unions enjoyed in the 2010 leadership election. Union backing for Mr Miliband helped him win a wafer-thin majority over his older brother David, who enjoyed more support among MPs and party members.
Lord Mandelson's intervention will be seen as an attempt to scupper the chances of Andy Burnham, the shadow Health Secretary, who is likely to win strong union backing after his campaign accusing the Conservatives of "privatising" the NHS.
Although Mr Blair won three general elections, other party figures dismissed calls for a return to New Labour, saying the party needed to "move on" and not re-fight old battles. There were calls for the leadership contest, due to be concluded by the end of July or early August, to be extended to the autumn so the party could have a proper debate about the causes of last week's disaster. Labour's national executive committee will fix the timetable this week.
Several MPs want Labour to "skip a generation" and choose a leader not linked to the Blair-Brown era. That would rule out Mr Burnham and Yvette Cooper, the shadow Home Secretary, who both served as ministers in the previous Labour Government. They are both expected to run. The other likely candidates became MPs in 2010 – Liz Kendall, the shadow Care Minister, who was the first runner to declare officially; Chuka Umunna, the shadow Business Secretary and Tristram Hunt, the shadow Education Secretary. Dan Jarvis, a former soldier who was elected in a 2011 by-election, may also stand. Under party rules, candidates need to be nominated by 15 per cent of Labour's 232 MPs, which means there would be a maximum of six candidates.
Who will be the next Labour leader?

Show all 7
Lord Mandelson claimed that the Unite and Unison unions sent out material promoting Ed Miliband's candidacy with their ballot papers for the 2010 leadership election, while "no other candidate got a look in."
In the 2010 contest, the unions, Labour MPs and members each had a third of the votes. In this year's election, there will be a "one member, one vote" system but 2.5m union members will be able to vote if they register as "affiliated supporters". Lord Mandelson said Labour officials must validate every union members to prevent abuse by "trade union machines."
In a withering assessment of the general election, the former Cabinet minister said: "The reason we lost it, and lost it so badly, was because in 2010 we discarded New Labour rather than revitalising it and re-energising it and making it relevant for new times that we faced. That was a terrible mistake."
He described the party's message to voters as "you know we're for the poor, we hate the rich, ignoring the vast swathe of the population who exist in between." He told the BBC's Andrew Marr Show: "In a sense were sent off in 2010 the sort of giant political experiment in which we were sort of sent out and told to sort of wave our fists you know angrily at the nasty Tories and wait for the public to realise how much they missed us, well they weren't missing us and they didn't miss us."
The former Business Secretary said Mr Miliband's attempt divide businesses into "predators or producers" was "completely useless." He argued that Labour's plight is now as serious as it was in the late 1980s, during its 18 years in the political wilderness, and called for a "remodernisation" of the party.
Another Blairite, Patrick Diamond, said: "The election was lost over five years of strategic failure. The party's calamitous defeat was not the rejection of a man, but his ideas." Writing on The Independent's website, the former Downing Street adviser to Mr Blair and Gordon Brown said: "The party's unease about economic credibility meant Labour fought the campaign on health, entirely vacating the economic debate: no compelling critique of the Coalition's record emerged. Cameron's scare tactics about SNP co-operation with Labour only succeeded because of English voters' anxieties about the party's economic management credentials."
Mr Diamond added: "Miliband's vision of 'productive capitalism' hardly resonated beyond university seminar rooms: the attendant policies risked alienating the majority of British voters working in the private sector. The party was unable to set out an alternative vision of a society based on a strong economy and social justice that people might actually want to live in. The Liberal Democrats have been routed to the delight of many within Labour, but in large swathes of Southern England, there is no longer a viable alternative to Conservatism. "
Mr Blair urged Labour to return to the "centre ground", saying the party had to "be for ambition as well as compassion and care." Writing in The Observer, the former Prime Minister said that "hard-working families….want to be better off and they need to know we don't just tolerate that, we support it."
But Paul Kenny, leader of the GMB union, rejected a return to the centre ground. He said: "Clearly a return to New Labour or anything like it would hardly win back Scotland." He told Lord Mandelson to "go back to his deck chair in the garden", and said that if the peer thought David Cameron would bring in state funding for parties so Labour did not depend on the unions for money, it was "time to call in the men in white coats." He denied the unions had abused Labour rules in the 2010 leadership election.
Mr Kenny said: " I know Peter Mandelson likes to reinvent history [but] there were no photos on ballot papers, this is just – this is just nonsense." However, he admitted that unions made a recommendation to their members on who to support for Labour leader.
Although Ms Kendall is seen as a Blairite, she is seeking to appeal to all sections of the party. She told the BBC's Sunday Politics programme: "I think going back to the past isn't what we need. We're going to have to build something genuinely new in future." But she said Labour needed to keep its working class voters while reaching out to Conservative supporters and Middle England.
Ms Kendall likened Labour under Mr Miliband to a "moaning man in the pub". She explained: "Often you get someone who's going on and on and on. Now, they've got a good point at the heart of it, but you just stop listening. What people are more engaged with is someone who can say something positive about what they're actually going to do, not what they don't like."
Mr Umunna said: "For middle income voters, there wasn't enough of an aspirational offer there….We cannot have a message that anybody is too rich or too poor to be a part of our party." He added: "What the Labour Party does well is build a big tent of people of different backgrounds, creeds, colours, races,. religions, economic circumstances. And it is when we have an offer that is big tent and appeals to a lot of people, that's when we win."
Mr Hunt told BBC Radio 5: "The reason why this debate needs to be long and deep and painful for the Labour Party is we are in a real hole The issue in England is this double bind of losing traditional Labour communities often under pressure from Ukip, and not speaking to an aspirational, John Lewis couple who we should be on their side."
Profile: Liz Kendall
Liz Kendall became the first Labour leadership contender to throw her hat in the ring. And while her quick rise makes her a relatively unknown quantity to the public, she is not an unfamiliar figure within the party itself.
She held a string of health roles at influential charities and think-tanks before serving as a special adviser to the current interim leader Harriet Harman and former Health Secretary Patricia Hewitt, playing a key role in the introduction of the smoking ban.
It was Ms Hewitt's Leicester West constituency that Ms Kendall inherited in 2010 and she was immediately drafted in to Mr Miliband's frontbench team as a shadow health minister. She may also appeal to the youth vote that Mr Miliband tried so hard to mobilise. Not only does she admit to loving rap music she also has a celebrity partner in Greg Davies, a comedian and star of the comedy sitcom The Inbetweeners.
But it is music from the 1980s that she uses to motivate her before making a speech in the House of Commons, taking Public Enemy's 'Fight the Power' message to the green benches. Before she can focus on winning over the public though she has a tough fight to win over the backing of her party and her "Blairite" tag will not help, despite her New Labour politics likely to fare much better with voters than Mr Miliband's interventionist approach.
Matt Dathan
The other labour race: Deputy Leaders?
Tom Watson
The former engineering union official, 48, has been an MP since 2001. A close ally of Gordon Brown's, he resigned as a Defence minister in 2006 to call for Tony Blair to stand down as Prime Minister to make way for Mr Brown. In the 2010 leadership election he voted for Ed Balls. Ed Miliband appointed him deputy chairman in charge of Labour's election campaign, but he resigned in protest at the party's handling of alleged vote rigging by Unite in the selection of Labour's parliamentary candidate in Falkirk.
Angela Eagle
The 54-year-old shadow Leader of the Commons (below left) is considering whether to run for the leadership or the deputy post. A former party chairman, she chairs Labour's national policy forum and has strong links with members and unions. She was Pensions minister in the Brown government and backed David Miliband in the 2010 leadership contest. She is the twin sister of Maria Eagle, the shadow Environment Secretary.
Caroline Flint
A former GMB union official, she was a minister under Tony Blair and Gordon Brown. The 53-year-old shadow Energy and Climate Change Secretary (below right) is seen as a New Labour figure and backed David Miliband in 2010. But she prospered under Ed Miliband's leadership and was trusted by his team to become a frontline media performer.
Join our new commenting forum
Join thought-provoking conversations, follow other Independent readers and see their replies