National Union of Students warns Nick Clegg ahead of general election – 'It's payback time'
An advertising campaign that brands 32 MPs as "liars" will be unveiled across the country in the run up to the election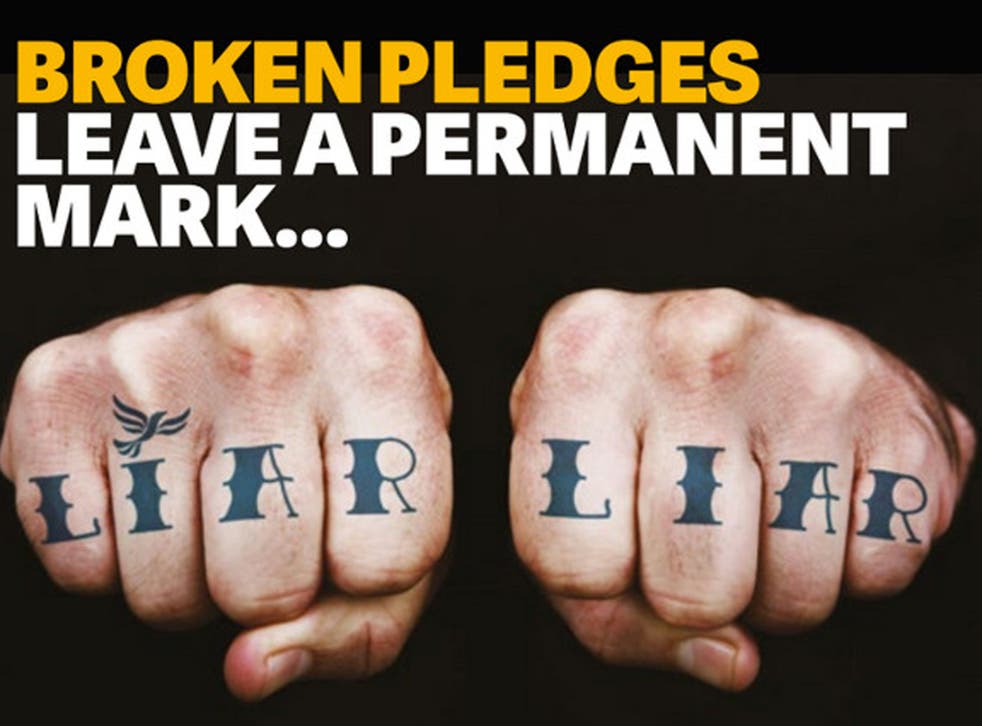 The National Union of Students (NUS) will target Nick Clegg in a hard-hitting billboard campaign in his own constituency, claiming he "traded lies for power" in supporting a rise in tuition fees.
The billboards, which show two fists with the words "liar liar" and the Liberal Democrat logo tattooed on the knuckles will be unveiled in London, Manchester, Sheffield and Liverpool.
The campaign is aimed at 30 so-called "pledge breakers" - Lib Dem and Conservative MPs who promised to vote against a tuition fee rise before the 2010 election, but either abstained or voted for the fee rise in parliament.
Included in the NUS 'hit list' are 28 Liberal Democrat MPs, including Chief Secretary to the Treasury Danny Alexander and Deputy Prime Minister Nick Clegg.
21 Lib Dem MPs including ex-party leaders Charles Kennedy and Sir Menzies Campbell, kept their promise and voted against a rise in tuition fees.
The billboards will be accompanied by vans bearing the billboard, that will travel across the country and tour the pledge breakers' constituencies in the run-up to the general election on 7 May.
In a 2012 party political broadcast, Nick Clegg apologised for his party's broken manifesto promise, a video that was widely mocked online.
Toni Pearce, NUS President, said: "It's payback time."
"They pledged to scrap tuition fees – they lied. We won't let them trade lies for power again. We represent seven million students and are urging every single one across the country to vote against broken pledges."
Sheffield Hallam, Nick Clegg's constituency, has a high number of student residents, and the NUS hopes to mobilise them to vote against the party leader.
NUS polling has showed that 54 per cent of student believe that the government's tuition fees policy has failed, and a similar number have had their trust in government affected by the tuition fees hike.

Tuition fees are high on the agenda of the Labour party, who have promised to cut the maximum tuition fee to £6,000, rather than the current £9,000.
The Conservatives have called for better value for money for students, and have pledged financial support for students taking maths or physics degrees who want to become teachers.
A Lib Dem spokesman said: "The system now is fairer than Labour's fees system."
Join our new commenting forum
Join thought-provoking conversations, follow other Independent readers and see their replies