Nick Clegg: I won't gamble my party on a deal with the Tories
Lib Dem leader reveals to Jane Merrick his sixth and final 'red line' –  the environment, a subject resolutely resisted by the Conservatives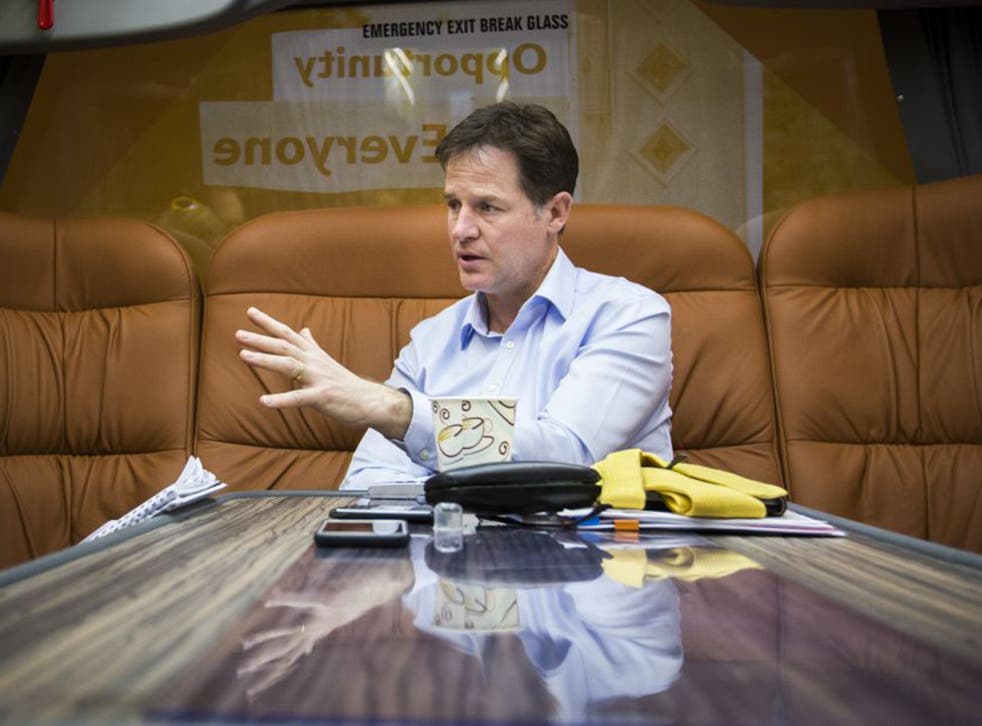 Nick Clegg stepped back from a second coalition with the Conservatives, saying he would refuse to sacrifice the unity of his party and threaten a "disastrous" split for the sake of another five-year deal with David Cameron.
The Liberal Democrat leader, who is likely to play kingmaker once again after this Thursday's election, acknowledged the intense pressure from many of his party's MPs and activists to not go into government with the Conservatives again.
He pledged not to defy the Lib Dems' "collective will" – as he exclusively revealed the sixth and final of his "red lines" with which he will arm himself in any negotiations next weekend.
Speaking to The Independent on Sunday from his election battle bus, Mr Clegg said he personally – along with his party –was "wary" of a coalition with the Tories, because of the way in which they had behaved in the last parliament, particularly over the issues of the environment and climate change: and these are his final "red line".
---
Are you undecided about who to vote for on 7 May? Are you confused about what the parties stand for and what they are offering? Take this interactive quiz to help you decide who to vote for...
---
Mr Clegg recalled the damaging split the Liberal Party suffered in the 1930s when David Lloyd George failed to take his party with him – eventually leading the movement to the brink of extinction.
Asked whether he would go against his party even if a second coalition with the Tories seemed the most obvious option on the table, Mr Clegg said: "When we're subjected to a great deal of pressure, as I've discovered all parties do going into a coalition – what happened then was that previous Liberal parties split and that's when pressure turned into disaster.
"And every single day of my leadership I have always said the one thing I will never, ever do as a leader is allow my party to split ... I would never have the party go into a coalition government against its own collective will. I will not go against the collective will of my party. You can't weather all the pressures, you can't hang tough, you can't stay the course unless you've taken a collective decision. At all levels of the party, including the leader, there is wariness, of course there is."
Mr Clegg's comments are in stark contrast to the mood after the 2010 election, when the Lib Dem leader presented his party with a coalition with the Conservatives as the only way to solve a national economic crisis and ensure a stable government. The intervention, with only four days until polling day, leaves a Labour-Lib Dem government, with Ed Miliband as prime minister, looking more likely.
Mr Clegg confirmed that he could foresee a Labour-Lib Dem minority government that then relied on vote-by-vote support of SNP MPs, saying: "I have had so many questions on this I am now going to let rip: it's astonishing we've got to the point where – shock horror – one party can't control how another decides how to vote. Of course not: it's called parliamentary democracy."
Mr Clegg revealed the final of his six red lines was a "green line" on the environment – including strong leadership at the Paris climate talks later this year, which he said was in danger with the Tories, and protecting the natural environment at home, an area in which Labour had been "weak".
In addition to a fifth red line, unveiled last night, pledging that public sector workers will have guaranteed increases in pay, the six non-negotiable demands do not include blocking an EU referendum in any circumstances – which is a Conservative red line.
In pictures: Experts' predictions for the General Election - 03/05/15

Show all 10
Mr Clegg said he was laying down his "green line" because the Lib Dems had had to fight "constant trench warfare" with Mr Cameron and the Chanceller, George Osborne, in government, particularly on renewable energy and carbon emission reduction targets, where there had been "relentless, remorseless foot-dragging and resistance from the Tories".
Asked why he thought the Conservatives' attitude to the environment would be any different in a second coalition, particularly if they were under greater pressure from their right wing, Mr Clegg said: "That's why I'm being very up front now, to bind my hands, and to leave no ambiguity – that we won't sign up to a coalition agreement unless it did commit to leadership at the Paris talks, and real reformist ambition on our own natural environment at home."
Mr Clegg warned the Labour leader that Mr Miliband's flagship pledge to freeze energy prices could be part of his "green line" because the policy "will discourage billions of pounds of investment in exactly the kind of renewable energy technology that he claims he's interested in. It is clearly not consistent with a green approach to the economy".
Asked why he wasn't making an EU referendum a red line, Mr Clegg said: "I'm not against a referendum, of course not … To be pro-European doesn't mean you're frightened of putting the question to the British people … What the debate is about is what triggers a referendum."
As his yellow battle bus hurtled down the M42 after a campaigning visit to Solihull, where the Lib Dem Lorely Burt is defending a tiny majority against the Conservatives, Mr Clegg said he found it frustrating that his key pledges on childcare and education, including offering free childcare to parents straight after maternity leave, was not cutting through to voters across the country.
The Lib Dem leader confirmed that any formal deal – including a confidence and supply arrangement as well as a coalition – would have to be approved by a special conference of the party.
But he pointed out that there would be extensive consultation with the party at all levels, including its powerful committees, before a decision even got to a special conference.
"Any formal undertaking the party makes would have to be agreed collectively. Anything that just relies on us deciding vote by vote will be decided vote by vote.
"It's not as if I suddenly pop up one Tuesday morning and say 'I've got an idea,' without warning, 'What do you think, oh party?' I am as much a party member as everyone else. I am part of the fabric of our party.
"I'm really proud of what we've done [in government] but it's come at some cost. We've lost councillors, dear old friends of mine who've lost their seats through no fault of their own. I'm not some rogue, I'm a human being.
"Of course you are wary, but in the end I would say to you don't underestimate the strong sense of national duty the Liberal Democrats have to do the right thing for the country if there's no clear majority. So wariness, yes, which is a good thing, but we're not going to impose a fatwa against a coalition because we believe in plural politics.
"It doesn't mean we should always be in coalition, we should never, ever, as a party seek or long for power for our sake, of course not."
Mr Clegg, who insists he will keep his Sheffield Hallam seat, said he was "more perky now than I've been for a long time … I went into politics because I want to serve my country in the way that I believe is best and any chance for me to do that is a chance that I grab with both hands."
Register for free to continue reading
Registration is a free and easy way to support our truly independent journalism
By registering, you will also enjoy limited access to Premium articles, exclusive newsletters, commenting, and virtual events with our leading journalists
Already have an account? sign in
Register for free to continue reading
Registration is a free and easy way to support our truly independent journalism
By registering, you will also enjoy limited access to Premium articles, exclusive newsletters, commenting, and virtual events with our leading journalists
Already have an account? sign in
Join our new commenting forum
Join thought-provoking conversations, follow other Independent readers and see their replies